Silence – By Erling Kagge
This breathtaking, inspiring little book teaches us how to find precious moments of silence - whether we are crossing the Antarctic, climbing Everest, or on the train at rush hour. Published by Pataki Publications in Greece and translated by Krystalli Glyniadaki.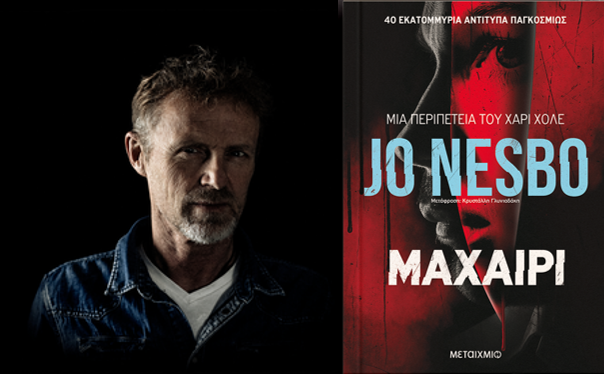 Knife – By Jo Nesbø
Knife' is the new Harry Hole thriller from number one bestseller Jo Nesbø. This book picks up where The Thirst left off, and Harry Hole wakes up covered in blood, with a bad hangover. Someone's out for him, and soon it appears that they have crossed paths with the Oslo detective somewhere before. According to the author, he has never been this brutal to Harry before, so we can expect desperate measures from a cop who has pushed it to the limit many times in the past. Published by Metaixmio Publications in Greece and translated by Krystalli Glyniadaki.


The History of Bees - by Maja Lunde

This book has been a global success and is already being released in 35 languages. It is inspired by the life and importance of bees. The three stories in the book highlight the invisible thread linking people's world to the bee world. The book was released in Greece a year ago by Klidarithmos Publications ΕΚΔΟΣΕΙΣ ΚΛΕΙΔΑΡΙΘΜΟΣ. Translated by Sotiris Souliotis.
When it Grows Dark – By Jørn Lier Horst
Stavern 1983: Christmas is approaching, snow is falling heavily, and a young ambitious police officer named William Wisting has just become the father of twins. After a brutal robbery he is edged off the investigation by more experienced officers, but soon he is on another case that is not only unsolved but has not even been recognized as murder. Published by Dioptra Publications in Greece and translated by Despoina Papagrigoraki.
Story of a Marriage – By Geir Gulliksen
The Norwegian author brings true-life experience to this compelling novel about a man who is complicit in his wife's infidelity. In his struggle to understand what has happened to his family, how his wife could fall in love with another man after twenty happy years, Jon attempts to tell the story of the painful collapse of his marriage, but from her point of view. Published by Potamos Publications in Greece and translated by Sotirios Souliotis.
Martin Luther – By Maria Tryti Vennerød
The poetic drama 'Martin Luther' by the contemporary Norwegian dramatist Maria Tryti Vennerød is published as a book for the first time, and in Greek. Could the religious and spiritual questions that are so strong in our time create a revolution as Martin Luther created 500 years ago? The book deepens itself in thoughts about the relationship between man, society, grace, sin and God. The book is published by Theodosis Papadimitropoulos Publications in Greece. Translation by Theodosis Papadimitropoulos.