Through the "Schools for All project", school directors and teachers are trained to create safe and inclusive schools and classrooms where refugees are welcomed into a learning environment which aims to provide quality education to all. Albeit in a very demanding manner, due to the covid related restrictions across the country, the project has already brought together 226 teachers and school directors into 25 school workshops, while 21 schools across Greece are already part of the "Schools for All" network. The objective of the project, which is funded via the EEA Grants Local Development and Poverty Reduction programme for Greece, is to involve as many as 150 schools.
"This has been a challenging year for everyone, but for a school community like ours with a great diversity in its population, it has been extremely difficult to cope", says Vaios Diamandidis, the headmaster of the 30th High School of Thessaloniki in northern Greece, which belongs to the network.
"We are not talking about the need to pursue more educational activities but about a complete collapse of learning opportunities in the first place. It is indicative to say that the participation rate of students in the long and extended period of tele-educations does not exceed 45%. The inability of children to participate without this being their fault is a very negative factor that affects our efforts".
To highlight the issues at hand and take the debate into the public sphere, the European Wergeland Center hosted an online event 5 March, with the participation of 300 people from all around Greece, including students, teachers, headmasters and parents who are part of the "Schools for All" network.
All speakers spoke enthusiastically about the potential contribution of refugee school kids to the school community as well as their local community, should they be given the possibility of inclusion in the first place.
The concept of a receptive school was also largely discussed, a school that allows everyone who participates in its community to exist in their own integrity, bringing along their personal characteristics and skills. A receptive school is receptive of our diversities, not because it is charitable or merciful, but because its community can in itself learn and be empowered by such diversities.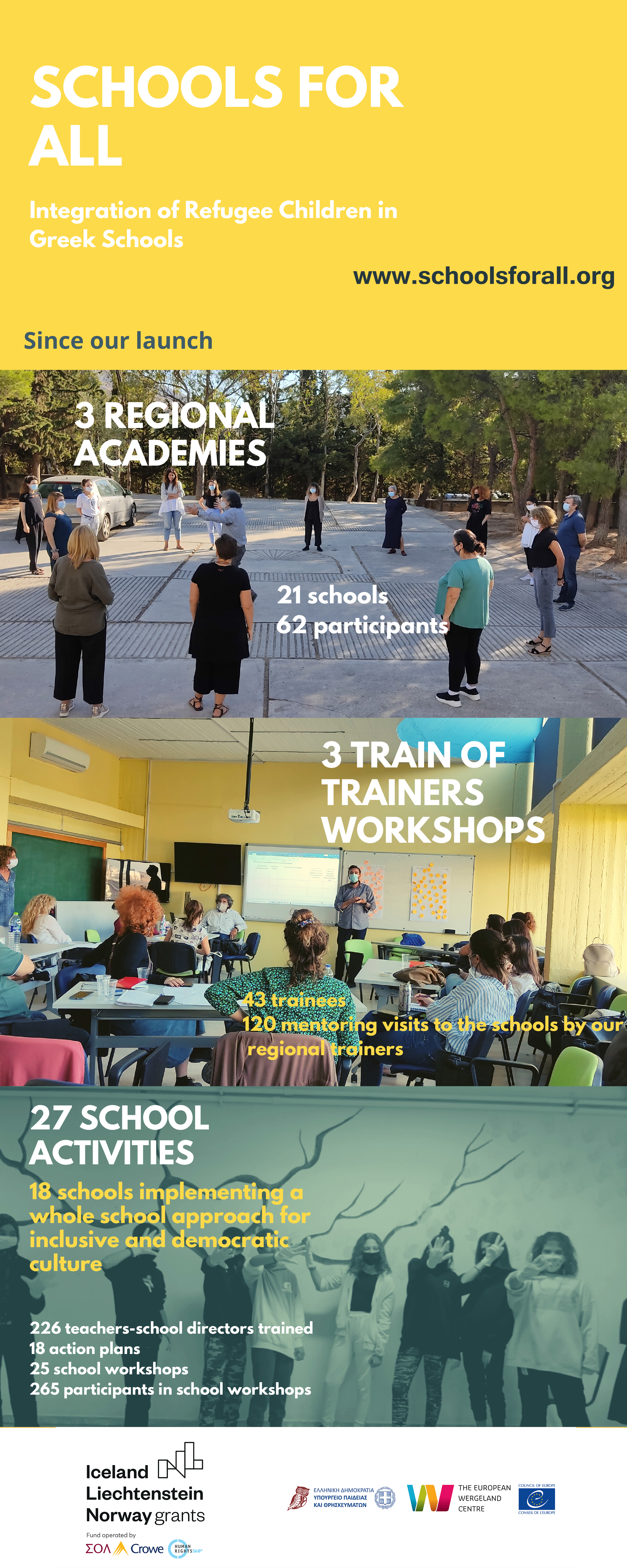 While the world is faced with the devastating consequences of one year into covid-19 pandemic, some 860 refugee kids in Greece have had limited access to education for the last year. For many of the local schoolchildren, access to education has been safeguarded through remote learning and e-classes. This requires a certain level of IT infrastructure and access to internet, to say the least, which is not the reality for refugee kids currently residing in closed accommodation facilities. The extended lockdown of those facilities because of covid-19 has only made access to education more challenging.
Find out more about the Schools for All project here