Visitor's visa and residence permit
A visitor's visa allows you to stay in Norway or other Schengen countries for up to 90 days over a period of 180 days. A residence permit gives you the opportunity to work in Norway and to stay for more than 90 days.
Due to the Covid-19 pandemic our ability to provide services for applicants who wish to apply for visas and residence permits has been affected. As changes can happen fast, we will update this article with relevant information regarding the application process for those who wish to submit their visa or residence permit applications in the United Arab Emirates (UAE), Saudi Arabia, Iran and Pakistan. In addition, the Embassy receives applications for residence permits from Kuwait, Qatar, Bahrain and Oman.
Norway has introduced its strictest entry rules since March 2020
From midnight on Friday 29 January 2021, the Norwegian Government has imposed stringent rules for entry into Norway for citizens from all countries.
The main rule is that Norwegian citizens (regardless of where they live) and only foreigners registered as residing in Norway can enter Norway. You can document that you are resident in Norway by showing a residence certificate that you can order from the National Population Register (folkeregister)
The entry restrictions also apply to citizens of all countries, including citizens from the EU/EEA and Nordic citizens.
There are some exceptions to this general rule on who can enter Norway.
For information about the exceptions/ overview of the persons who can travel to Norway, and general information on entry to Norway, please refer to the Norwegian Directorate of Immigration (UDI), corona information webpages:
https://www.udi.no/en/about-the-corona-situation/entry-to-norway-for-all-citizens/#link-19307
Information about the corona situation from the Norwegian government can be found here: https://www.regjeringen.no/en/topics/koronavirus-covid-19/id2692388/
Information about Covid -19 tests, quarantine hotel, quarantine rules and registration before entry to Norway.
Most people must stay in quarantine hotels, and test for Covid 19 during the quarantine period.
Everyone travelling to Norway must complete the registration form prior to crossing the border. This also applies to Norwegian citizens.
For more information, please see: National online health services in Norway (Helsenorge):
Travel advice - helsenorge.no
Requirement to give biometrics when applying for a residence permit in Norway
Starting on March 18th 2021 persons applying for a residence permit in Norway will be requested to submit biometrics in the form of a live photograph.
As of 16th of April a requirement to also give fingerprints when applying for a residence permit is required.
The fingerprint requirement applies to persons above the age of 6.
Persons over the age of 10 have to provide their signature as well.
The matrix below gives a full overview of the biometric requirements for the different groups of applicants: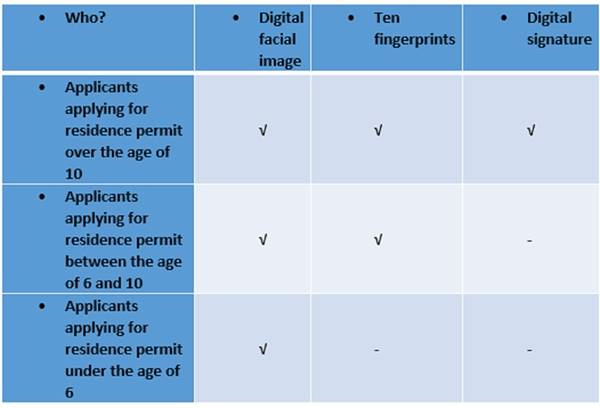 The requirement for biometrics in visa cases remain unchanged.
The Norwegian Embassy in Abu Dhabi is responsible for handling visa and residence permit applications for Norway for the following countries: UAE, Saudi Arabia, Iran, Pakistan and Afghanistan.
In addition to the above-mentioned countries, the Embassy receives applications for residence from Kuwait, Qatar, Bahrain and Oman.
For information about the application procedures and requirements for other nationals, please select your country from the list on www.norway.no.
Please note the following:
VFS Global: VFS' Visa Application Centers in the UAE, Saudi Arabia Pakistan, and Teheran are open, but with reduced capacity. Please visit www.vfsglobal.com for more information and to book an appointment.
Interviews: Interviews are being conducted through the VFS Application Centres. However, to protect our staff and the applicants from the risk of contracting Covid-19, it is not possible for interviews to be conducted at our Embassies in Teheran and Islamabad at this time.
DNA-tests: DNA-tests are being conducted. However, to protect our staff and the applicants from the risk of contracting Covid-19, the tests are being done with very limited capacity. The missions in Islamabad, Teheran, the UAE and Saudi Arabia will contact the applicant to schedule a date for the DNA- sample to be collected.
Representation agreements: Due to the Covid-19 pandemic the representation agreements Norway has with the Netherlands in Oman, Germany in Kuwait, Qatar and Bahrain, are until further notice suspended. As a result, applicants in the afore-mentioned countries who wish to apply for a visa to Norway must now travel to the nearest VFS Visa Application Centre to submit their applications. In the UAE, we have until further notice suspended our representation agreement with Iceland. Subsequently, we do not receive applications for Iceland.
You can contact the Norwegian Embassy in Abu Dhabi, visa section- visa.abudhabi@mfa.no