Visitor's visa and residence permit
A visitor's visa allows you to stay in Norway or other Schengen countries for up to 90 days over a period of 180 days. A residence permit gives you the opportunity to work in Norway and to stay for more than 90 days.
Requirement to give biometrics when applying for residence permit and visa for Norway
Persons applying for a residence permit in Norway are requested to submit biometrics in the form of a live photograph. This means that, applicants will have to meet at a VFS application Center to submit their application.
Applicants will, in addition to fingerprints and photographs, have to submit a signature when applying for a residence permit with VFS.
The matrix below gives a full overview of the biometric requirements for the different groups of applicants: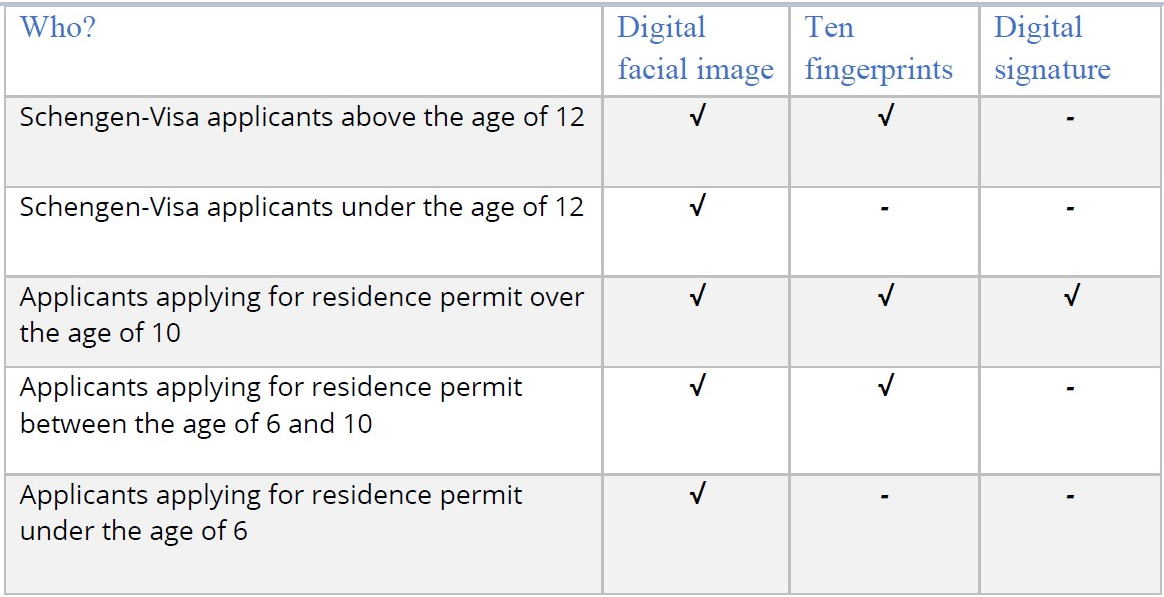 Where and how to hand in my application?
The Norwegian Embassy in Abu Dhabi is the responsible hub for visas and residence permit matters for Norway from the following countries: UAE, Saudi Arabia, Iran, Pakistan, Afghanistan, Yemen and Qatar.
In addition to the above-mentioned countries, the Embassy receives residence permit applications from Kuwait, Bahrain and Oman.
For information about the application procedures and requirements for applicants outside UAE, please select your country from the list on www.norway.no.
Please note the following:
VFS Global: VFS Visa Application Centers in the UAE, Saudi Arabia, Pakistan, Iran and Qatar are open for receiving applications. Please visit www.vfsglobal.com for more information and to book an appointment.
Interviews: Interviews are being conducted through videolink at the VFS Application Centers. If you are waiting for an interview, please note that the Embassy will contact you to schedule the appointment once it is your turn.
DNA-tests: DNA-tests are being conducted. The missions in Islamabad, Teheran, the UAE and Saudi Arabia will contact the applicant to schedule a date for the DNA- sample to be collected.
Representation agreements
Visa applications to Norway are handled by the Netherlands in Oman, and by Germany in Kuwait and Bahrain. Applicants in the afore-mentioned countries who wish to apply for a visa to Norway can submit their applications to the Embassy of the Netherlands and German in the respective countries where they represent Norway.
The Embassy of Norway in Abu Dhabi represents Iceland in visa matters from the United Arab Emirates.