The Oceans play an essential role in the green transition
The oceans are essential to human survival and to solving some of the greatest challenges humanity has ever faced. Not least, to climate change. For instance, international shipping alone accounts for between 2-3 percent of the global greenhouse gas emissions. The High-Level Ocean Panel was established in 2018 for this exact reason. Co-chaired by Norway and Palau, the Ocean Panel represents 15 nations of highly diverse oceanic, economic and political perspectives.
The work of the Ocean Panel has shown that we can build an ocean economy where effective protection, sustainable production and equitable prosperity go hand in hand. We know that ocean-based climate action can deliver 21 percent of the reduction in greenhouse gas emissions needed to limit the global temperature rise to 1.5℃ by 2050 – the equivalent of taking 2.5 billion cars off the road.
Sustainable ocean investments could create 12 million new jobs. According to economic forecasts this could yield more than 15 trillion dollars in benefits over the next three decades.
In his Glasgow speech, the Panel co-chair and Norwegian Prime Minister, Mr. Jonas Gahr Støre, said that Norway is positioned to take a lead in developing ocean-based low-carbon solutions such as electric mobility, hydrogen, and offshore wind, as well as carbon capture, utilization and storage. Furthermore, he stated that Norway wants to develop and export new technology that can be of use beyond our borders.
Norway will harness market forces while supporting green technologies in reaching their tipping points through an active industrial policy. To achieve this, he emphasized that correct carbon pricing is essential, in combination with open markets and international trade.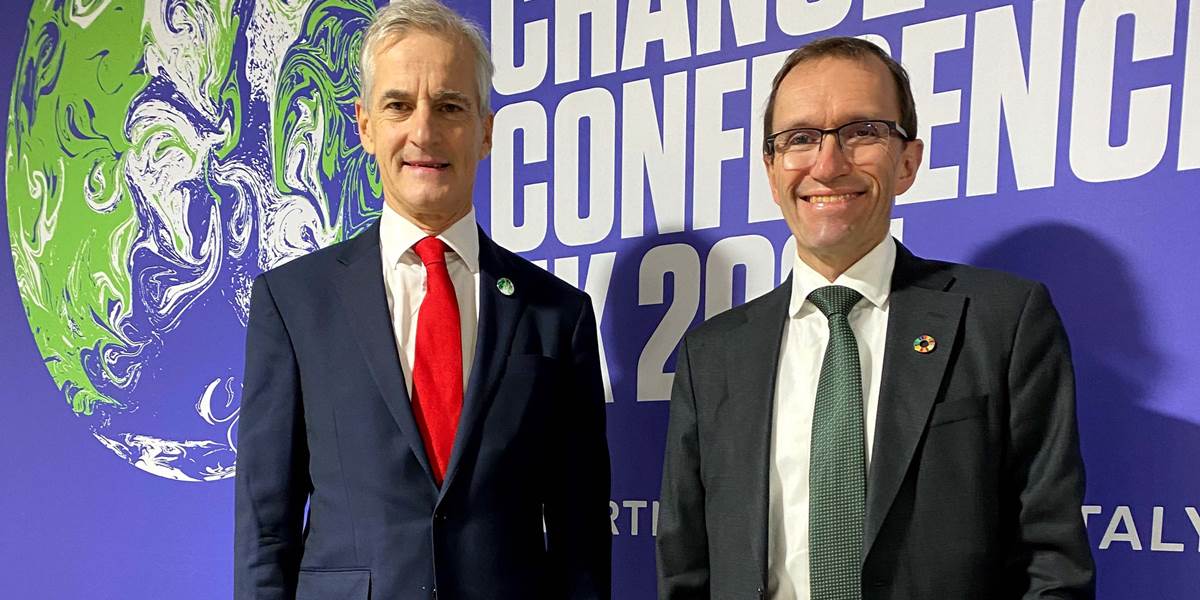 At COP26 in Glasgow, Prime Miniser Jonas Gahr Støre and Minister of Climate and Environment, Mr Espen Barth Eide (Photo: Anne Kristin Hjukse/Prime Minister's Office).
Green finance and responsible investments
The Prime Minister said that the financial sector must play its part. He made clear that the Government's goal for Norway's Pension Fund Global, the world's largest sovereign wealth fund, is to make it the leading fund in responsible investment and the management of climate risk.
Singapore has similar high ambitions for its green transformation: to become a global center for Green Finance, and a regional hub for bunkering and trading of low carbon fuels such as hydrogen and ammonia. To be in the forefront of maritime innovation, as demonstrated by its newly established Global Centre for Maritime Decarbonisation.
Norway commends the Maritime and Port Authority of Singapore for this initiative and are pleased that the Norwegian companies BW Group and DNV are among the Centre's six founding partners.
On the global arena, Norway will continue to be a constructive partner in the negotiations of new emission requirements for ships in the International Maritime Organization.

Zero-emission shipping by 2050
Norway believes that zero-emission shipping by 2050 must be our target. The world needs to establish measures ensuring that the target is met, and a global and fair transition. Developing countries must be given opportunities and support for all of us to succeed.

In Norway, zero-emission shipping is growing rapidly, and our shipowners have already committed to the goal of climate neutrality by 2050. Batteries, hydrogen, ammonia, and biofuels have been - and are being – introduced in ships operating in our waters.

Our first full-electric ferry has been in use since 2015. Around 80 full-electric ferries will be in operation in Norwegian waters in 2022, as well as the world's first hydrogen-fueled ferry. LMG Marin, owned by Singapore's Sembcorp Marine, did the design and installation of the hydrogen storage and fuel cell system for this ferry. The same company will also design the world's first green ammonia-fueled tanker for Grieg Edge, the innovation unit of Norway's Grieg Maritime Group.

These developments all happened because of the Norwegian government's target to cut emissions from domestic shipping and fishing operations in half by 2030. Furthermore, it is made possible thanks to a very innovative Norwegian maritime industry, and our Green Shipping Program, established as a private-public partnership initiative by DNV in 2015.

Financing for climate friendly investments also needed
We also experience that further substantial investments are needed, both from the private and the public sector.

On the global scale, we need clear and predictable framework for the energy sector, ports, and shipping, leading to investments in the transition to zero-emission shipping. The bulk of investment need is related to onshore infrastructure and energy production. We need to ensure that developing countries will have financial support.

Norway has therefore decided to double our overall climate financing contribution, from seven billion Norwegian kroner in 2020 to 14 billion kroner by 2026 at the latest.
Singapore and Norway, two advanced and key maritime nations, will have to be global leaders of the green transformation. Norway is certain that through our close bilateral cooperation and the joint efforts of our industries and research institutions, together we will be able to deliver on such high ambitions.
This article was first published in INDiplomacy ANNUAL2021/22