When: Monday 30 May 2022 - Sunday 05 June 2022
Where: Singapore
Who: Persons who are physically located in Singapore
How: By joining a Nordic team and recording your walk/run on the Strava app. No cycling, driving etc. allowed. Click here to register for the Norwegian team.
With more than SGD 59,000 collected for the regional non-profit organisation Coral Triangle Center (CTC) last year, the Nordic Embassies once again invite you to join the Nordic Green Run in 2022.
This year, the proceeds will go to the organisation Seven Clean Seas, an ocean clean-up organisation whose mission is to preserve the marine environment by ridding the ocean of plastic for good. Since inception in 2018, Seven Clean Seas has recovered over 200,000kg of plastic pollution from the marine environment alone and is focussing on infrastructure and technology solutions to stop plastic from reaching the ocean
From Monday 30 May to Sunday 05 June 2022 the Embassies of Denmark, Finland, Norway, Iceland and Sweden jointly organize Nordic Green Run 2022. Last year, 1,600 participants joined the run and covered 46,000 kilometres. It is possible to join the run if you are located in Singapore and willing to support a good cause through healthy exercise. Simply join ONE of the country teams. Nordic companies operating in Singapore are invited to sponsor 1 SGD for every completed km by the relevant teams.
Join us - run for a good cause and help make sure Norway takes the lead from the start!
The strong Norwegian sponsor support has been key to this event – thank you so much Equinor, Wilhelmsen, Steem1960 & VIKING Life-Saving Equipment!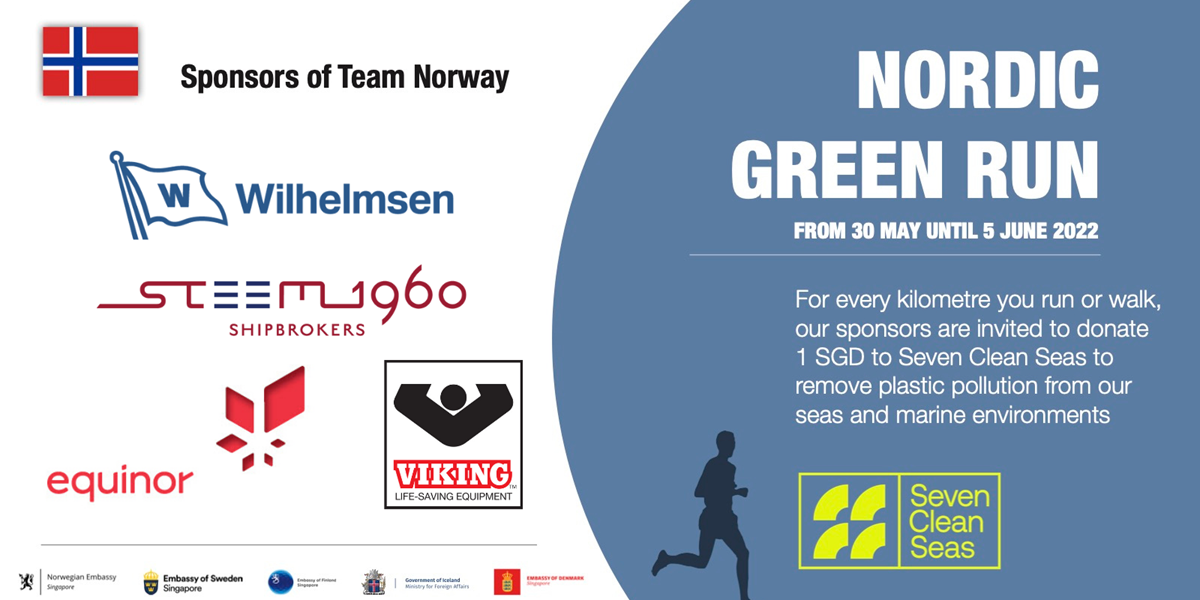 To register for the run, please join the team of ONE of the countries below:
Click here to register for the Danish team.
Click here to register for the Finnish team.
Click here to register for the Norwegian team.
Click here to register for the Swedish team.
Click here to register for the Icelandic team.
Please note that it is only possible to join one team.
For questions, please contact:
Team Denmark: Niels Storgaard: niestr@um.dk
Team Finland: Suvi Niskala: suvi.niskala@formin.fi
Team Norway: Elise Johannessen: Elise.Johannessen@mfa.no
Team Sweden: Lisa Broberg: lisa.broberg@gov.se
Team Iceland: Halldór Élis Ólafsson: halldor.olafsson@utn.is
Guide to get started with Strava
Download the app on App store or Google Play (it has an orange logo)
Create a user with either a social media account or an email address

Note: You don't need to start the trial – the free version is sufficient

Join your club with one the following links:
Track you walk or run with the app (Remember to press the "finish" bottom when you are done with your activity)
Note: Make sure to have your privacy settings set to "everybody can see" and have the activity as either a walk, a hike or a run. If not, your valuable kilometres will not be counted in the app.
Note: Only top 100 is visible on the leaderboard. You can see your activity on "recent activity"
If your activity is not counted in the strava club
Go to your Strava profile -- Select an activity -- Click on the 3 small dots -- Click "edit" -- Check if the type of activity is set as a walk/hike/run and check if the visibility is set to "everyone".
If you are still experiencing problems, please contact Jan Høegh on whatsapp: +45 5096 6638 or text +65 9885 7752