The Norwegian Embassy in Singapore invited Professor Benjamin Horton, Professor Andrea Marinoni, Yan Yu Ting and Toh Yun Fann to hear more about their climate change research and Yun Fann and Yu Ting's upcoming AKMA 3 research expedition in the Barents Sea.
Toh Yun Fann holds a BSc. in Marine and Antarctic Science and majored in Geology and Geosciences. She is now employed as a research assistant at the Sea Level Research team at EOS, aiming to conduct a PhD in submarine geomorphology. Yan Yu Ting is a final year PhD student focusing on the reconstruction of past environmental and climate changes in Singapore using sedimentological, micropaleontological and geochemical methods. She has a BSc. in Environmental Earth System Science, with a specialisation in Geosciences from NTU.
I hope I get to see how they use organisms found in sediments to determine past environmental changes, to help with future projections of environmental change, says Yu Ting.
The Arctic is particularly vulnerable to the effects of climate change. Increased release of methane and other greenhouse gases generates an increasing global temperature. This leads to permafrost thaws, loss of reflective sea ice, ecosystem changes and -collapse, to mention some.
Sea levels are rising faster than they have in 2000 years. Are we living in an unusual time? Horton asks.
Methane hydrate is a solid crystal particle, similar to ice. Interlocked water molecules surround a methane molecule, which together form methane hydrate. In nature, you find methane hydrate under ice, stored in large natural reserves in the Arctic. When the ice melts, methane hydrate can destabilize; the temperature increases and the methane escapes from the ice particles.
Why study the effects of methane in the Arctic? The release of methane gas increased exponentially with regards to human activity on the scale of time. When methane gas is released into the atmosphere, it drives up the global temperature. And that affects the whole climate system. From the Arctic to the tropics as well, Yu Ting informs.
Global temperature has gone up about 1.1 degree. Methane is commonly overlooked. When released from melting of sea ice and melting of permafrost, it consists of such high volumes that will take us well beyond the 2-degree tipping point, Horton adds. There is a large research gap on methane.
The IPCC states that human activities will cause global temperature to increase at least 1.5 degrees in total within the next three decades.
Chief scientist Professor Giuliana Panieri and co-chief scientist Professor Stefan Bünz from Department of Geosciences at the Arctic University of Norway UiT will be leading the excursion. In an email, Professor Panieri tells us about the research expedition:
The expedition will focus on the interplay between changing ocean conditions and the physical, biological, and chemical response of extreme environments such as methane and oil seeps on several sites in the Barents Sea. The science plan comprises collecting data and physical samples on greenhouse gas that naturally emits from the seafloor using the Remotely Operated Vehicle (ROV) Aurora from REV Ocean ROV and performing sea surface surveys using drones. Understanding methane from natural sources is essential for assessing the global methane budget and finding realistic pathways to mitigate climate change.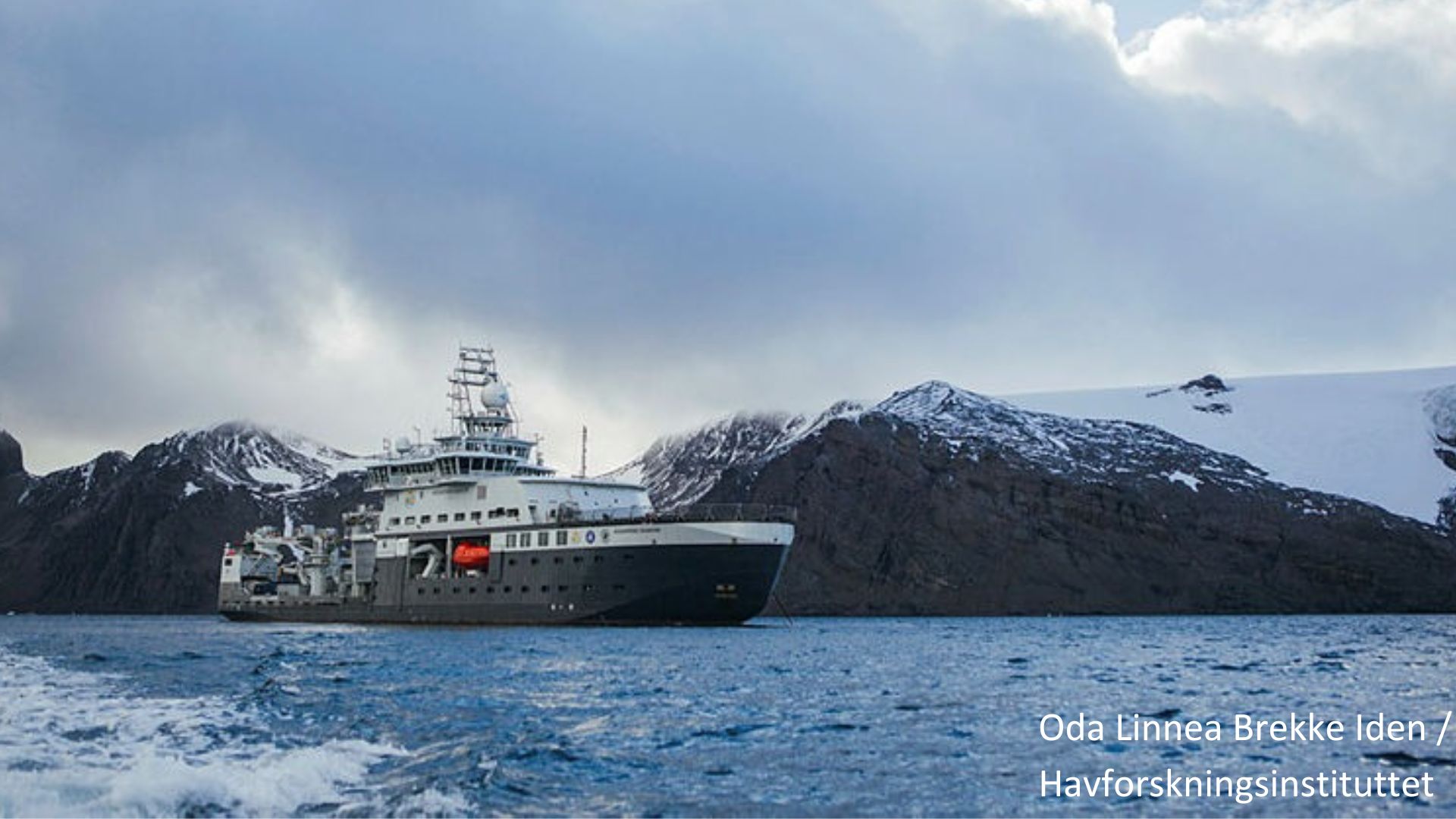 Kronprins Haakon is one of the world's most advanced marine research ships. The multi-purpose research icebreaker is supplied with scientific equipment. It is also home to 15 laboratories, student training facilities, freezing rooms for samples and more.
Hoping to see extreme weather. Yun Fann: I hope I'd get to video a 12-meter swell (wave), that would be fun. To see the waves crash up to the boat. I've never really seen an ROV being operated. The ROV multibeam echo sounders, made by the Norwegian company Kongsberg, is an instrument for underwater navigation and sampling of methane hydrate. It's kind of like driving hot wheels at the bottom of the ocean.
I'm worried about being seasick. But I hope to see the northern lights, Yu Ting tells.
It was Professor Benjamin Horton, the director of the Earth Observatory of Singapore, who selected the two for the expedition. Professor Horton is a professor at the Asian School of Environment in NTU and holds a PhD in Geography. His research concerns sea-level change, with the aim of understanding and integrating the mechanisms that have determined past and future sea-level changes. Professor Horton's research is highly relevant to the ecological, ethical, social, economic, and political problems facing coastal regions. Professor Horton has published over 250 articles in peer-reviewed journals, participated actively in the COP26, and his research was cited by Obama in his 2015 State of the Union Address.
Professor Hortons spoke at Arctic Frontiers in in Tromsø in May 2022. After Tromsø he flew to Svalbard to film a documentary on the Polar Impact on Asia. The chief scientist of the AKMA expedition Professor Giuliana Panieri was onboard the flight.
That's how it all started. She came up to me at the end of the flight and said, "I'm Giuliana, what are you doing?". Professor Giuliana told me she was leading this research group. She had this fascinating, state-of-the art project. I thought it would be a great experience if we could get some Singaporean students on board.
What brings Singapore to the Arctic? Singapore's interest for arctic involvement is the danger of sea level rise from the melting of ice sheets, to understand other impacts of climate change to Singapore, and the Northern Sea Route's potential to change Singapore's role as a global shipping hub. Singapore has an observer status in The Arctic Council. There are 8 members including Norway, and 13 observer states.
Singapore's research interests complement the mission of the Arctic, which is to preserve people, places, and environment, Horton says.
The EOS, in conversation with Mr Sam Tan, Singapore's Special Envoy for Arctic Affairs, was then granted funding from the Ministry of Education for conducting research on the Arctic. The EOS mission is to conduct fundamental research earthquakes, volcanic eruptions, tsunamis and climate change in and around Southeast Asia, toward safer and more sustainable societies.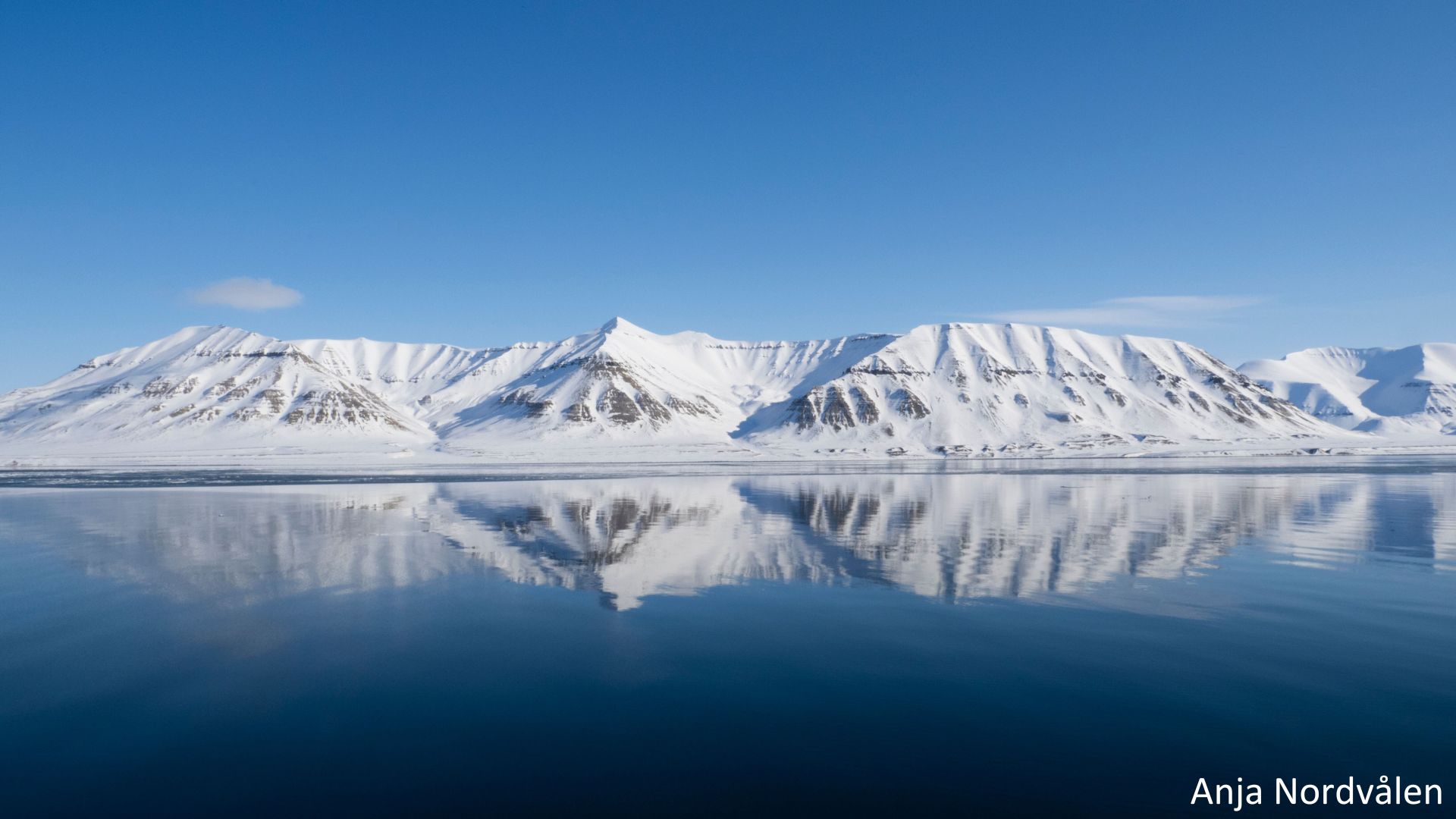 The documentary film we did last year shows the importance of the Arctic, Horton says.
Horton recently returned from Antarctica. It was amazing and scary at the same time because the ice was melting like crazy. The people in the British research base said they have never in 50 years recorded the amount of snow they had now. And that all melted. Catastrophic flooding, damage to buildings. Antarctica is getting very unstable now. Just like the Arctic has been for maybe the past 20-30 years.
The future way to solve climate challenges involves multi-disciplines, not just scientists. The goal of AKMA is to provide training for the next generation of experts in Arctic marine sciences and greenhouse gas phenomena. The project includes scientific and technical exchanges, research expeditions, courses in Arctic cold microbe biogeochemistry, and webinars for further research.
If you're going to solve the problems of climate change, you have to have an international, diverse and inclusive team who have different skills sets. The future way to solve climate involves multi-disciplines, not just scientists. You have to involve artists and the media. It's important that there are Singaporean scientists that have the knowledge, expertise, activities, and collaborations in Antarctica and the Arctic. What controls the weather and climate is our poles, Horton tells.
A responsibility to convey the effects of climate change. Communicators, that's what scientists have to be now. It's too important a problem not to communicate. We work closely with the Science Centre Singapore on exhibits, but we also need help from governmental agencies, he says.
This trip provides training for students to develop their knowledge in collecting, curating, and processing data to engage in Arctic marine science fully. The scientists will engage with universities and school classes worldwide via streamed seminars on marine environment, sustainability, climate change and co-creation of knowledge, Panieri writes.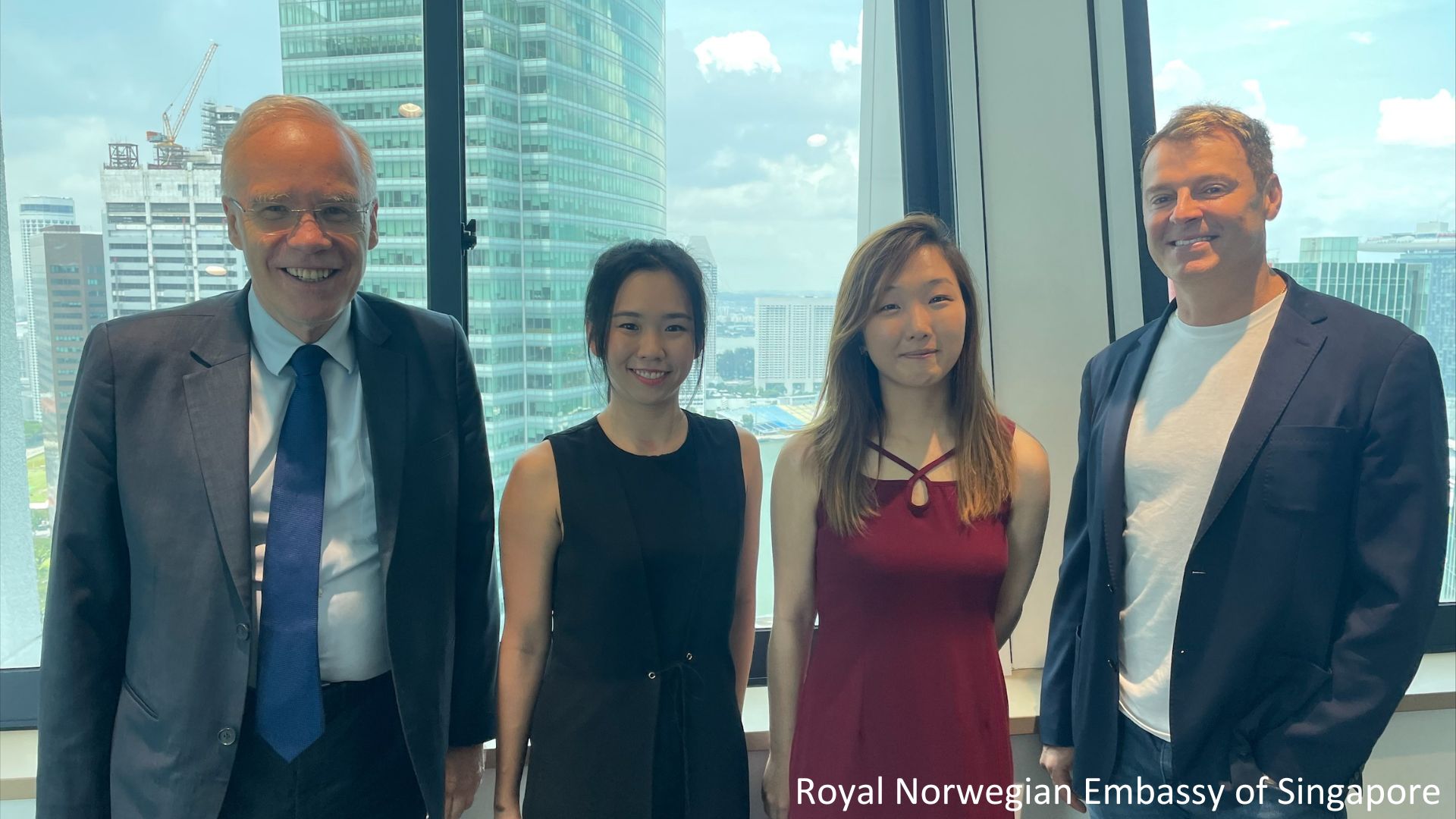 Ambassador Eivind S. Homme (left), Yan Yu Ting (middle left), Toh Yun Fann (middle right) and Professor Benjamin P. Horton (right).

The two scientists emphasize the opportunity this trip gives to connect and collaborate with other researchers abroad.
Personal stories inspire future leadership. Yun Fann: Hopefully, this sparks a public interest. Maybe some little kid likes to be on a boat, like me. That was my personal story. I like the oceans. I went into science and then down the rabbit hole. I look at what my interests are, my strengths, and I try to find an overlap to what I can contribute back to society.
We need climate research that decision-makers can use to make better decisions
Partnering for climate. When Horton met Professor Andrea Marinoni in Tromsø in May 2022, he invited Marinoni to be an international collaborator on AI for a new climate initiative at EOS in Singapore. UiT, with professors Panieri and Marinoni, is one of several international partners on this new research initiative.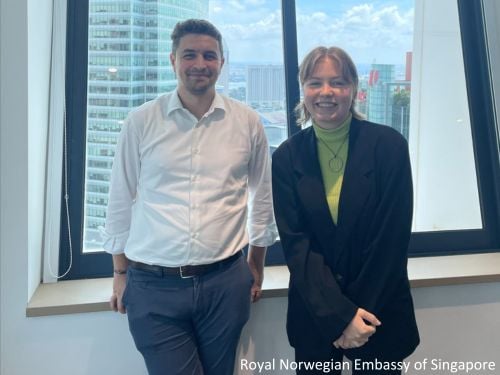 Professor Andrea Marinoni (left), Helene Rian Heggtveit (right).

When working on climate change, you have to be ready to be multidisciplinary, to work and talk with everybody. I am the only one in my team in UiT specialising in data analysis; I appreciate the diversity of my group.
Marinoni is an associate professor at the Earth Observation Group under the department of physics and technology at UiT. His research focus on information extractions from multimodal remote sensing, earth observation interpretation and Big Data mining, analysis, and management for human-environment interaction assessment. Marinoni is the founder and current chair of the IEEE GRSS Norway chapter, a Geoscience and Remote Sensing Society of researchers and practitioners cooperating and designing tools to understand our interaction with Earth's ecosystems.
UiT in EUs Green deal initiative. Marinoni, together with Giuliana Panieri, was chosen by the UiT to lead the group for the Arctic in the EU program EUs IMPETUS, an existing program similar to the upcomning new climate initiative at EOS. The IMPETUS project develops new strategies for climate change adaptation mitigation in the 7 biogeographical regions in Europe, one of them the Arctic. This lies under The Green Deal, an initiative in the European Union on how to address climate change, with several plans and strategies under the European Adaptation Strategy. IMPETUS has 35 partners and around 15 m EUR in funding. We focus on future scenarios from now until 2100, Marinoni says.
The stakeholders involved are governments, universities, private companies, agencies for environmental protection and civil society. This way we can ensure that everyone is onboard and committed, and we can study and find things that are possible to do something with.
Aquaculture, warning of mass movements and sea level rise. For the Arctic area, including Tromsø Finnmark County municipality, we are focusing on three main aspects. One is the design of a marine special planning framework to address climate change for aquaculture and fishery. Second, we are developing early warning systems for mass movements to improve the ability to predict disasters like landslides and snow avalanches. Third, we find solutions for Tromsø urban area's infrastructure affected by sea-level rise, like water pumps that provide drinking water to the city, Marinoni tells us.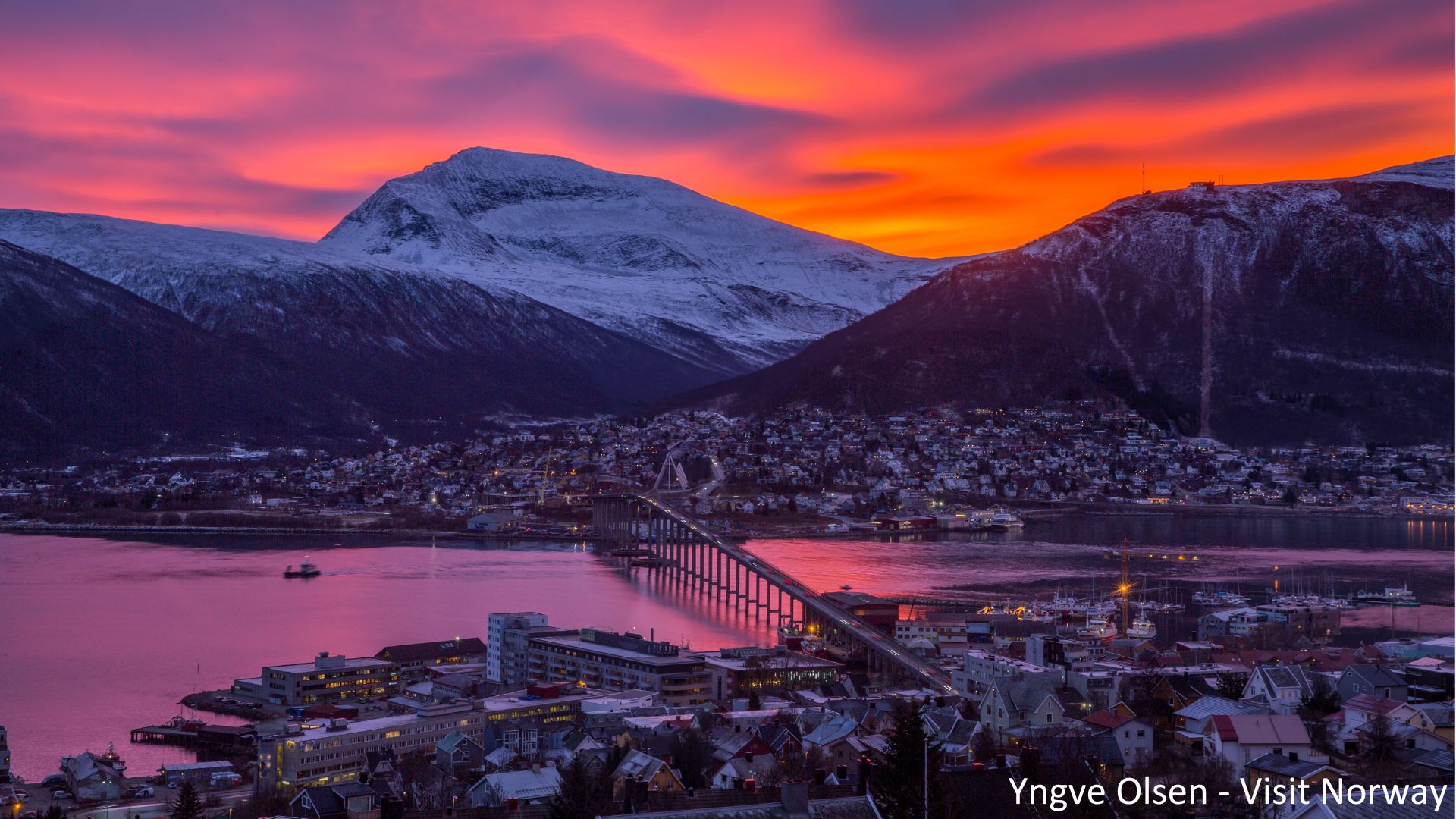 Tromsø is a city in northern Norway above the Arctic Circle. The expedition will start and end here, at the northernmost university in the world: UiT – The Arctic University of Norway.
Short term dangers. In the coming months, people could experience an increase in disaster events. The number of snow avalanches in north of Norway is dramatically increasing. The level of ice that hold the snow down is becoming thinner because of the increase in average temperature. If sea level rises to a level that is not dangerous by itself, and you have a landslide going directly into the sea, that might generate little tsunamis that affect a town on the other side of the fjord, Marinoni continues.
These immediate dangers accumulate together, which shows a need for a new, multi hazard system.
The future prospects are not great. In the Arctic, some of the climate changes are more evident. But what happens in the Arctic doesn't stay in the Arctic. If the sea level rises too much in Singapore (and in Tromsø), it will have a huge destruction on many activities. Soon they will have to act, if not, important infrastructure will be flooded. Long term consequences might affect not only the welfare, but the mindset of people to act, Marinoni says.
Reaching out from the academic community to public opinion is not easy. People in your own circle think "of course we have to study climate change". But when you speak to fishermen in Tromsø, for example, they might ask: Why? You need find a language to reach out to people. My ambition is that if I develop better data analysis, I can provide a better understanding of anything that goes on on Earth. Then we have information that decision-makers can use to make better decisions. In the EU Green Deal, it is clearly stated that to address adaptation to climate change, you need a decision-making system that is better informed, Marinoni concludes.
A new climate initiative at EOS plans to design new approaches for climate change adaptation mitigation. An example is artificial intelligence methods for applicable scenarios, including sea level rise, air and water pollution, and coastal protection. In this regard, the EOS hope to see scientists and students coming from Norway to Singapore.
The new climate initiative at the Earth Observatory of Singapore is a big climate program that we need to fill with bright, smart minds, Horton says.
There is so much Singapore and Norway, in addition to climate science, in common that we could work on, Marinoni tells us. He emphasizes the importance of support and funding from institutions and universities for this to happen.
Written by Helene Rian Heggtveit, Intern at the Royal Norwegian Embassy in Singapore.