Hydrogen is considered one of the cleanest fuels for transportation as well as power generation application. It will be a key component for India's vision to have 450 GW capacity of renewable energy by 2030, and the Indian Government has announced a National Hydrogen Mission 2021-22 to support this green shift. At the same time, Norway recently announced a 'hydrogen strategy' that aims at contributing towards the process of developing new low emission technologies and solutions. Therefore, participation at this summit comes at a crucial point in furthering Norway-India cooperation on hydrogen and green technologies.
More than 2000 national and international scientists are expected to connect with the event, which will likely be streamed in over 150 countries. High profile speakers from Norwegian companies including Equinor, Greenstat, Gexcon, Arena H2Cluster and Innovation Norway, among others, are expected to attend. The summit is a precursor to the 26th Conference of Parties (COP) to the UN Framework Convention on Climate Change (UNFCCC) to be convened in November 2021 at Glasgow.
An increased focus on hydrogen in Norway is in line with the goal of having internationally competitive businesses which develop the technology and solutions addressing tomorrow's challenges. Norway can benefit from adding India as a new market for our knowledge and technology in blue and green hydrogen, fuel cells and Carbon Capture Utilization and Storage (CCUS), and we look forward to taking part in the event.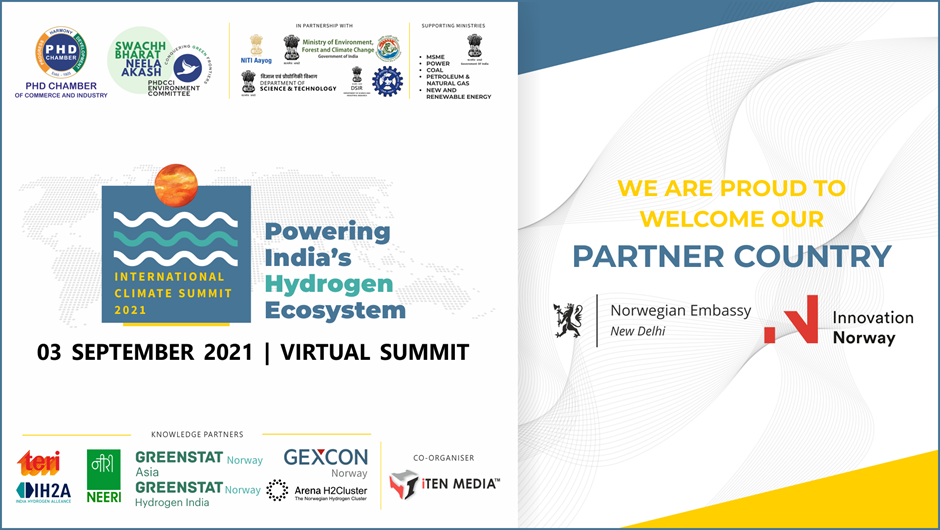 About the Summit: International Climate Summit 2021 is planned in cooperation between PHD Chamber of Commerce and Industry, Team Norway and Norwegian businesses. The event is an initiative by the Environment Committee, PHD Chamber of Commerce and Industry in partnership with NITI Aayog, Ministry of Environment, Forest & Climate Change, Department of Scientific & Industrial Research, and the Department of Science & Technology, Government of India. The summit is supported by the Ministry of New & Renewable Energy, Power, Petroleum & Natural Gas, Coal and MSME, Government of India.