TERI's Research Initiative at Supi for Himalayan Advancement (TRISHA), situated at 7,500 feet, in Mukteshwar district of Uttarakhand, is a distinct venture towards sustainable mountain development. This centre was set up in 2003 when the Government of Uttarakhand provided 7.5 hectares in Supi village on lease for 30 years.
Since then, various facilities have been developed at the centre. These include a vermicomposting unit to produce biofertiliser, polyhouses and glasshouses, an oil distillation unit, herbal garden, rainwater harvesting system, air quality monitoring unit, a knowledge-cum-training centre, and the Kumaon Vani community radio facility, among others.
Since agriculture is the main occupation, research and extension has been largely undertaken to improve the livelihoods of local farmers. The aim is to enhance land productivity using sustainable biotechnological approaches and harmonizing modern technologies and traditional knowledge.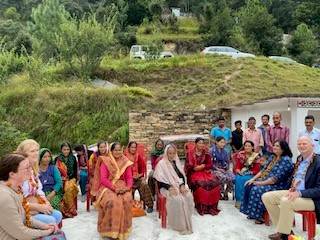 The Ambassador visited some of these projects and also interacted with members of women self-help groups in the village Sunkiya Naveen. The women and girls from the village talked about how TERI's intervention helped them into livelihood activities and also shared their interest in gaining computer literacy to keep up with the times.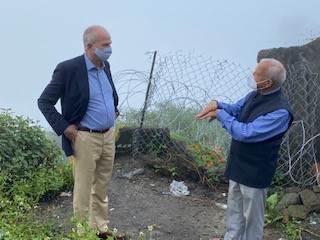 On way to Mukteshwar, a short journey break was taken up in Nainital and a meeting with Prof Charu Pant, formerly with Kumaun University was organized to learn about the fragile geology of Nainital. The region is often faced with landslides and earthquakes of varying capacities. The Professor took the Ambassador to a few recent landslide site also. The Ambassador also visited the revered Naina Devi temple.
Mukteshwar hosts the oldest veterinary research institute in India; established in 1893. A visit to the institute was made a part of the programme. Mukteshwar was chosen for setting up this veterinary research institute due to its salubrious climate, unpolluted natural environment and cold climate which is suitable for the preservation of vaccines and sera and for work on infectious microorganisms.
The campus spread over 3500 acre of land, houses the Division of Virology and the Division of Temperate Animal Husbandry. The Virology Division conducts basic, adaptive and applied research on viral diseases of animals. The Division of Temperate Animal Husbandry conducts research on livestock production under temperate conditions and improvement of goats for pashmina production. There is a proposal to develop National Veterinary Museum at Mukteshwar.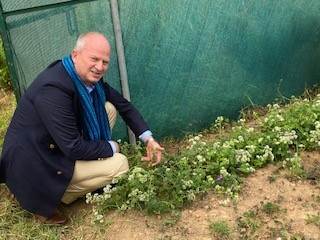 In a neighbouring district Ranikhet, the Foundation for the Contemplation of Nature, a registered trust, is working towards combining meditation and yoga with an experience of Himalayan village life. The Foundation runs a residential programme which is an opportunity for the participants to experience first-hand a sustainable way of life, in tune with our natural surroundings. One of the founders, Mr Ajay Rastogi, held a discourse on Mindful Contemplation of Nature with the visiting delegation. The idea was influenced by the Deep Ecology concept of Norwegian ecologist Arne Næs. The delegation also visited the famous Jim Corbett National Park.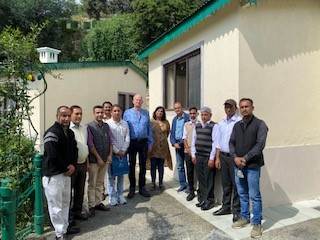 Mountains, forests and nature in general being very close to Norwegians, it was a good learning trip to understand the challenges facing hill communities in India and find out similarity or differences with the situation in Norway.
Photos (1-4):
Prof Charu Pant explaining the fragile nature of Nainital region; Interaction with women self-help group; At the Polyhouse; and; with TERI Mukteshwar team