On the 12th and 13th of May 2022, in Ha Noi, Vietnam (the Ministry of Natural Resources and Environment) and Norway (the Ministry of Foreign Affairs) co-organised the "International Conference on Sustainable Ocean Economy and Climate Change Adaptation" in coordination with the support of the United Nations Development Programme (UNDP) in Vietnam.
Norwegian Foreign Minister Anniken Huitfeldt and Vietnamese Deputy Prime Minister Le Van Thanh opened the Conference The plenary session of the Conference was cochaired by the State Secretary of the Norwegian Ministry of Foreign Affairs Bjørg Sandkjær and Deputy Minister of Natural Resources and Environment of Vietnam Le Minh Ngan.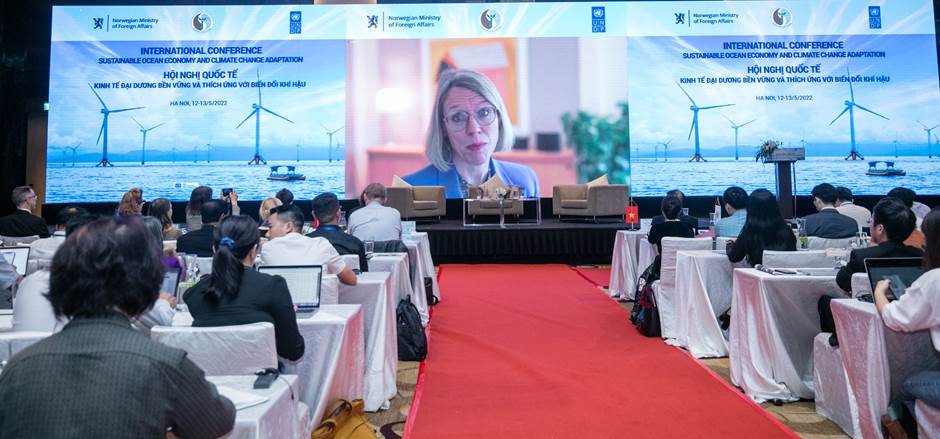 In her speech, Norwegian Foreign Minister Huitfeldt said "This conference is addressing some of the most important issues of our time. Norway and Vietnam's objective is to push the climate and ocean agenda forward. We live in a time of global turbulence. Global cooperation is more important than ever. We need consequential and immediate action. And it is our responsibility to keep building the momentum."
This hybrid (both online and in-person) conference brought together more than 400 representatives from over 70 countries, including leaders, experts, scientists; non-governmental organisations, social organisations, financial institutions, and research centres all over the world.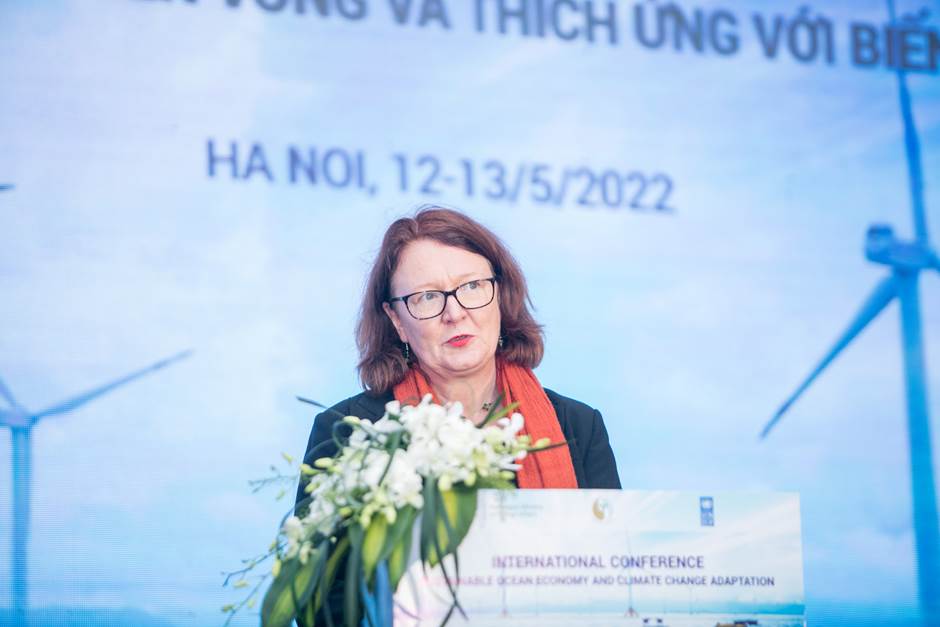 The objectives of the "Conference on Sustainable Ocean Economy and Climate Change Adaptation - Solutions for a Resilient Blue Economy" were to discuss key opportunities to promote and use marine resources sustainably as well as the main challenges of the COVID-19 crisis, climate change and pollution, especially ocean plastic waste pollution; to identify opportunities to promote actions to protect marine ecosystems targetting at marine economic recovery and economic development, and enhance the resilience of vulnerable communities and countries; and to exchange experiences, best practices and research results to promote knowledge sharing of successful sustainable ocean economy, climate change adaptation strategies and actions. The Conference was a forum mobilising international cooperation and promoting the sustainable development of Vietnam's ocean economy.
The International Conference contributed to affirming Vietnam's position in the international arena, showing itself as an active member, a reliable and responsible partner, contributing more to the joint efforts of the international community in ensuring peace, security and sustainable development, especially in the sustainable development of the ocean economy, the protection of the ocean environment, and the response to climate change.
A key outcome of the Conference is a Co-Chairs' Statement which provides key contents and conclusions of the Conference, inputs for the United Nations and 2022 and later agendas, including the United Nations Decade of Ocean Science for Sustainable Development in 2021-2030.
Read the full-text of the Statement in English and Vietnamese.