This event reaffirms Norway's willing and determination to contribute to the development of Vietnam's offshore wind industry and to be part of Vietnam's green transition process and implementation of the country's commitments in the Paris Agreement and in COP26.
On this occasion, Ambassador of Norway H.E, Ms. Grete Løchen and Senior Vice President of Equinor, Mr. Jens Olaf Økland hosted an opening ceremony which spotlighted the attendance of representatives from Vietnamese agencies such as Ministry of Industry and Trade (MOIT) and its Electricity Regulatory Authority of Vietnam (ERAV), Ministry of Planning and Investment, Ministry of Natural Resources and Environment and its Vietnam Administration of Seas and Islands (VASI), PetroVietnam, Global Wind Energy Council (GWEC) Vietnam, Vietnamese and Norwegian business representatives and other guest members.
In her opening remarks, Ambassador Grete Løchen said "Renewable energy and climate are the top priorities for the Norwegian Government. Climate change is the main challenge of our time. Meanwhile, globally, the energy sector is the primary source and makes nearly three quarters of the greenhouse gas emissions. We have to transform the way we produce and consume energy if we want to achieve the goals envisioned in the Paris Agreement and COP26. For this cause, Norway will continue its active engagement in international climate diplomacy and work towards further strengthening global cooperation in this process. It is a priority for the Norwegian Government to work closely with business and industry to succeed in a just transition towards a renewable, circular and sustainable future. Therefore I'm very pleased and proud today that Equinor is making its commercial presence in Vietnam and opening its country office in the Hanoi Capital".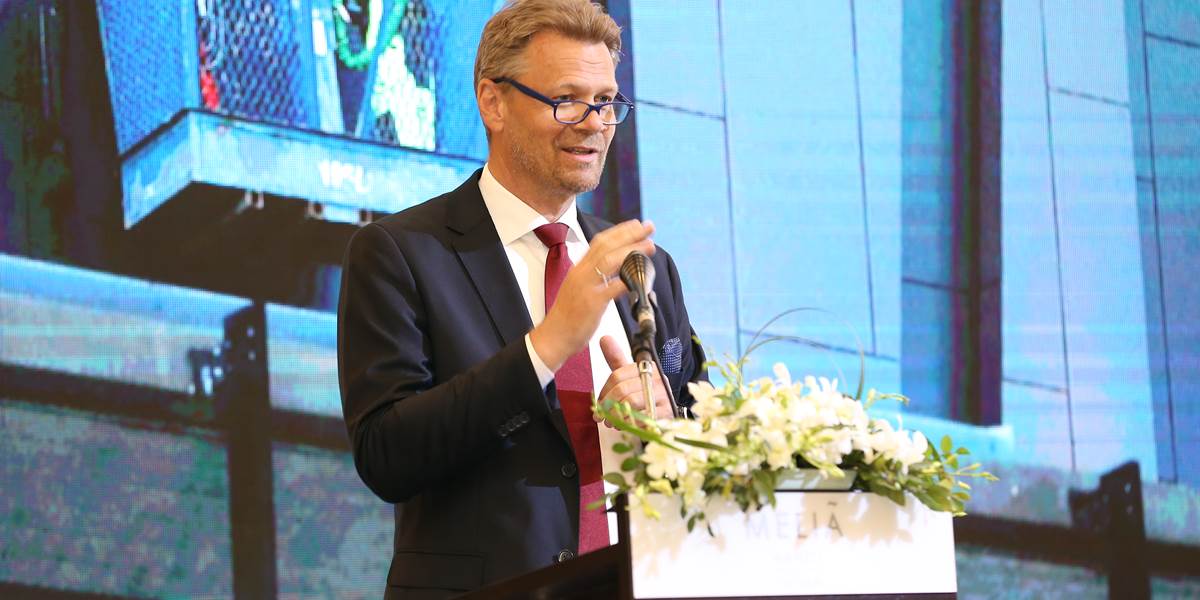 To get there. Together.
"Vietnam is one of the worlds' fastest growing economies and power markets. With its long coastline and favorable wind conditions, the country has among the best wind resources in Asia and a strong desire to develop an offshore wind market. We believe Vietnam has high potential to become an interesting growth market for offshore wind. Equinor wants to take part in maturing the offshore wind industry in Vietnam and is therefore happy to establish local presence in Hanoi. Together with our local partners, our ambition is to utilize our offshore experience and broad energy competence to support Vietnam's energy transition, paving the way for renewables growth", stated Equinor's Senior Vice President Mr. Jens Olaf Økland.
Norway has been actively supporting green transition efforts globally. Technically, we build on our world-leading competence and technology from the oil and gas industry in new sectors, including offshore wind power, hydrogen, carbon capture and storage, and green shipping. Financially, Norway will continue to be a leader in climate finance and other support to the developing countries. Norway will double its climate finance by 2026 including a plan for allocating NOK 10 billion (approx. USD 1 billion) over five years to a new climate fund, which will be managed by Norfund, the Norwegian Fund for Developing Countries.
With the establishment of its local presence in Vietnam, Equinor wants to use its experience and competence together with its local partner, PetroVietnam, to successfully:
develop Vietnam's offshore wind industry by implementing successful offshore wind projects
improve local competence and capacity
build a strong local supply chain for offshore wind industry
create more skilled jobs locally
generate power at lower costs
gradually make renewable energy affordable for all; and
assist Vietnam's green transition agenda and implementation of its international commitments on climate and environment.