According to UN Women, Women's Access to Justice is a conceptual framework for providing women with laws and remedies to enforce their rights under national and international law. To make the Convention on the Elimination of All Forms of Discrimination Against Women (CEDAW) effective in practice, justice systems need to become mote gender-responsive. In traditional and patriarchal societies, women's access to justice gains a specific dimension, and requires an integrated and multi-level approach. Despite a solid legal framework, domestic violence and discrimination against women still remain a serious issue in Kosovo. Eliminating obstacles to women's access to justice is needed, as well as a change in the cultural and social setting, through promotion of women's rights to justice. Raising the awareness of both the target group of women and the public at large is also an important element of this process.
Legal empowerment of women is central to creating a culture of justice in any society, but raising awareness of prosecutors and judges on various aspect of domestic violence is also of great importance. This is especially true when it comes to economic violence, which, according to the European Institute for Gender Equality (EIGE), is any act or behavior which causes economic harm to an individual. Some examples of economic violence are property damage, restricting access to financial resources, education or the labor market, or failing to comply with economic responsibilities, such as alimony. While Kosovo institutions are getting more and more involved in fighting and preventing domestic violence, the number of victims reporting various forms violence increases each year. It is estimated that the number of unreported cases is at least twice as high. While physical and psychological violence is widely recognized as a matter of concern, scarce attention is paid to economic violence, even among the institutional bodies and civil society organizations involved in combating violence. However, the fact that judges and prosecutors often fail to recognize this type of violence during court proceedings, is of special concern. As a result, women are often denied access to justice in cases of divorce, division of property, or alimony and child support, due to improper interpretation of articles of Family Law and Law for Protection against Domestic Violence.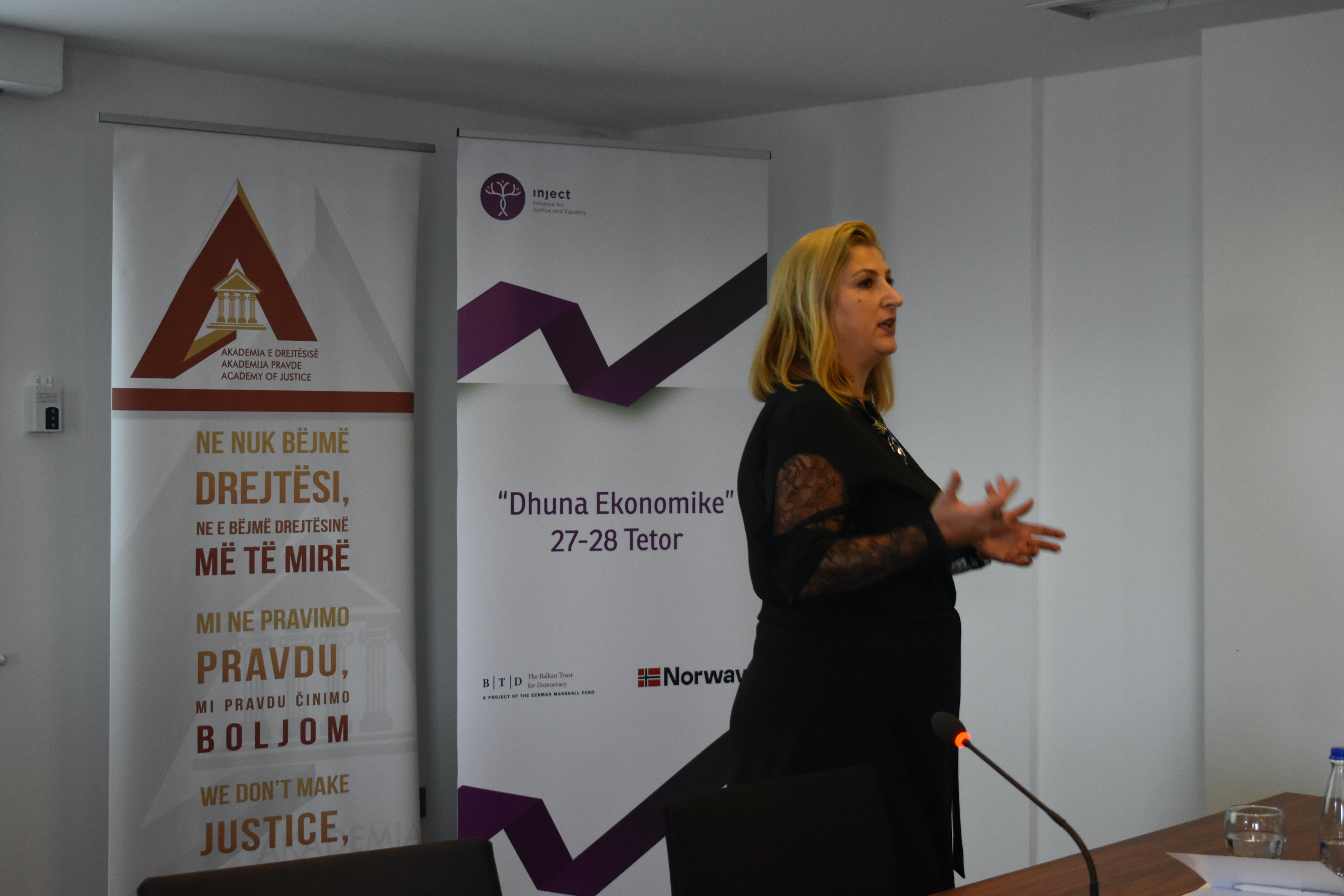 Recognizing the fact that economic violence, while a frequent from of abuse in Kosovo, is often neglected, the Initiative of Justice and Equality – INJECT, a recently established Kosovan NGO, sent a request to the Committee for Human Rights of Kosovo Parliament for the amendment of Law for Protection against Domestic Violence in 2018. The main points of the request were for economic and psychological violence to be specified within law, for institutional competences of police and prosecution to be divided clearly, and for communication between institutions to be formally registered. At the same time, through public discussions, INJECT initiated a debate aimed at raising public awareness and advocating on the importance of addressing economic violence and empowering women's access to justice. The law is currently being amended, taking into consideration the amendment proposals made by Ms. Aliu, as well as other proposals coming from civil society stakeholders.
INJECT, an organization focused on empowering women to claim their rights in the justice system, through providing hands-on support and advocating for policy change, was founded in March 2018 by Luljeta Aliu, who herself was a victim of domestic violence. Ms. Aliu grew up in Switzerland, studied in Zurich and holds a master's degree in International Relations. She married her Kosovo-Albanian husband in 2004 in Switzerland, and in 2008 they came to live in Kosovo. Sadly, in 2017, she had to report her husband for domestic violence. Due to the treatment of her case by police and judiciary officials, and the institutional discrimination she experienced, Ms. Aliu decided not to return to Switzerland, but rather stay in Kosovo, establish INJECT, and engage in the fight for women's access to justice.
Ms. Aliu explained how she came to this decision: "I was researching for my PhD in International Relations when, in 2016, the scale of domestic violence I was experiencing became to grave to endure. I was torn between going to Switzerland to file against my ex-husband and to surely win the case, or staying in Kosovo and fighting against the system to improve other women's lives, albeit risking my own. I stayed here."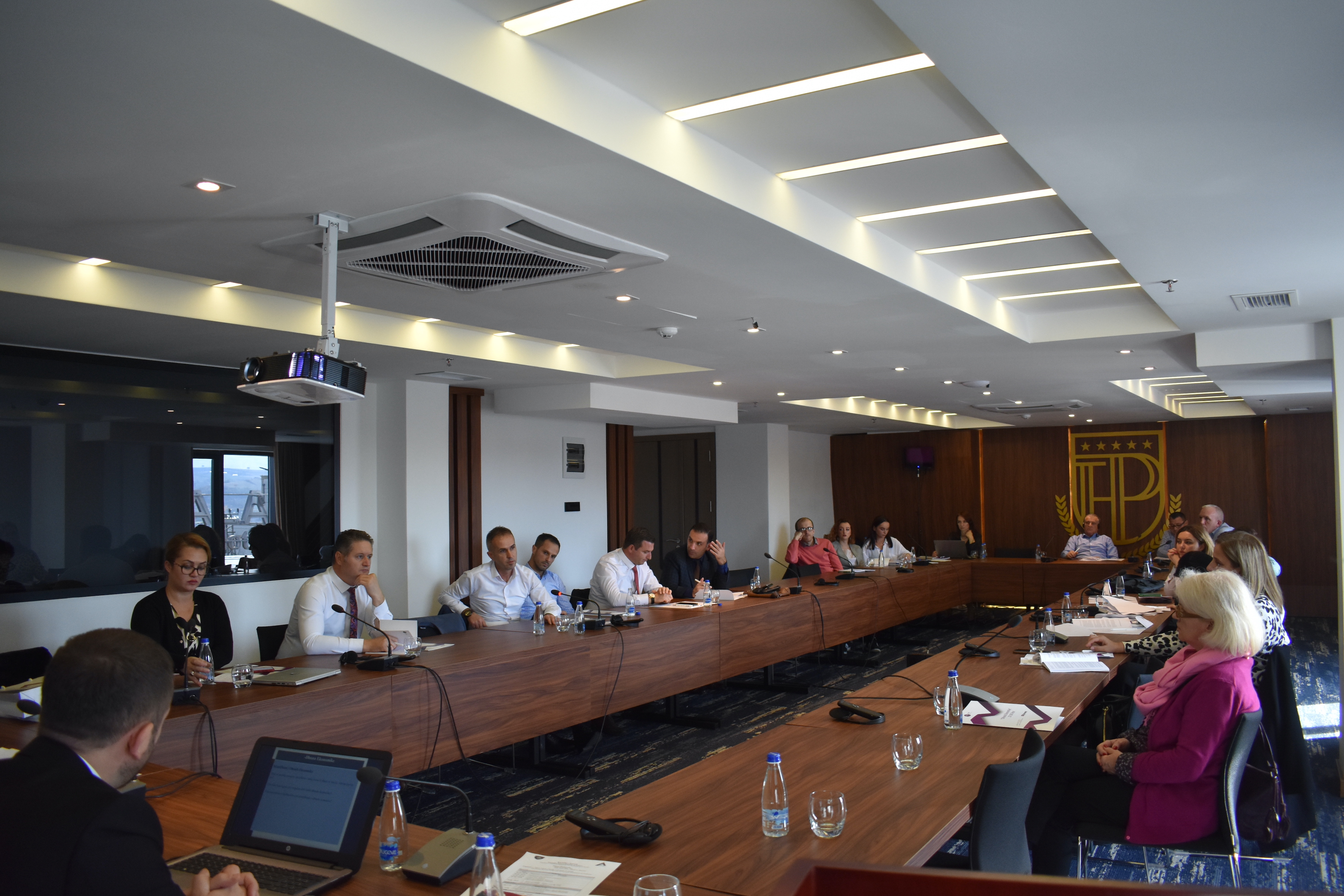 In cooperation with the Academy of Justice (responsible for training and coordinating trainings for capacity building of Kosovan courts) INJECT conducted and informal research, in which both judges and prosecutor pointed out a lack of proper understanding and legal practice pertaining to legislation concerning economic violence. To address this issue, INJECT organized a training for judges and prosecutors on economic violence, with a special emphasis on court proceedings, since it has been identified that it is through proceedings, rather than through legal provisions, that victims of violence are denied their right to justice. The training was organized within the scope of the project "Women's Rights are Human Rights. Protect them" supported by Balkan Trust for Democracy and Embassy of the Kingdom of Norway in Belgrade. One of the participants, Mrs. Shemsije Jonuzaj, a Kosovo Police investigator, commented: "The Kosovo Police has been learning about domestic violence for almost 20 years now, and there is progress in this field. However, economic violence is not something we have knowledge about. We need to learn not only that this form of violence exists, but also how to identify it when working with victims, and what to do in such cases. I can't emphasize enough the importance of 'investigator-prosecutor' collaboration. It is only when both parties learn about this at the same time, that we can give justice to victims". Another participant, Mr. Faton Ademi, a Basic Court of Prishtina judge, concluded: "The worst way in which a person can be humiliated or brought into submission is to control the finances of that person."