According to UN Women, one in three women worldwide experience physical or sexual violence, mostly by an intimate partner. Domestic abuse and sexual violence are issues that traditionally did not attract special attention in Montenegro, a predominantly patriarchal society. However, in the 1990s, women's rights organizations started to point out the importance of tackling these issues, and as a result, a SOS hotline for women and children, victims of domestic violence, was launched in 1996. The hotline very quickly revealed the seriousness and extent of domestic violence in Montenegro and three years later, in 1999, the first shelter for victims of domestic violence was opened under the name "Women's Safe House". In the course of the years WSH has broadened its activities and is now operating as an NGO, with the primary goal of providing services for victims of violence, advocacy and lobbying related to pertinent legislation, as well as promoting women's right to life without violence.
Within a project entitled "Protected and Safe: Combating Sexual Violence in Montenegro", supported by the Balkan Trust for Democracy and the Royal Norwegian Embassy in Belgrade, WSH has carried out an extensive study of the perception of sexual violence against girls and women. The results of this study confirmed that the reported cases of sexual violence are just the tip of the iceberg. Namely, out of 80 cases of sexual violence included in this study, only 10, or a mere 12,5%, were reported to the authorities, and out of these 10, only two went to trial, while the perpetrator was found guilty in one case only. Jovana Hajduković, program manager for public advocacy in WHS commented: "This is very important to us, because we need to be reminded every day what kind of problem we are actually facing. Regardless of many years of experience, this shows us that we can always be surprised again when it comes to sexual violence in Montenegro."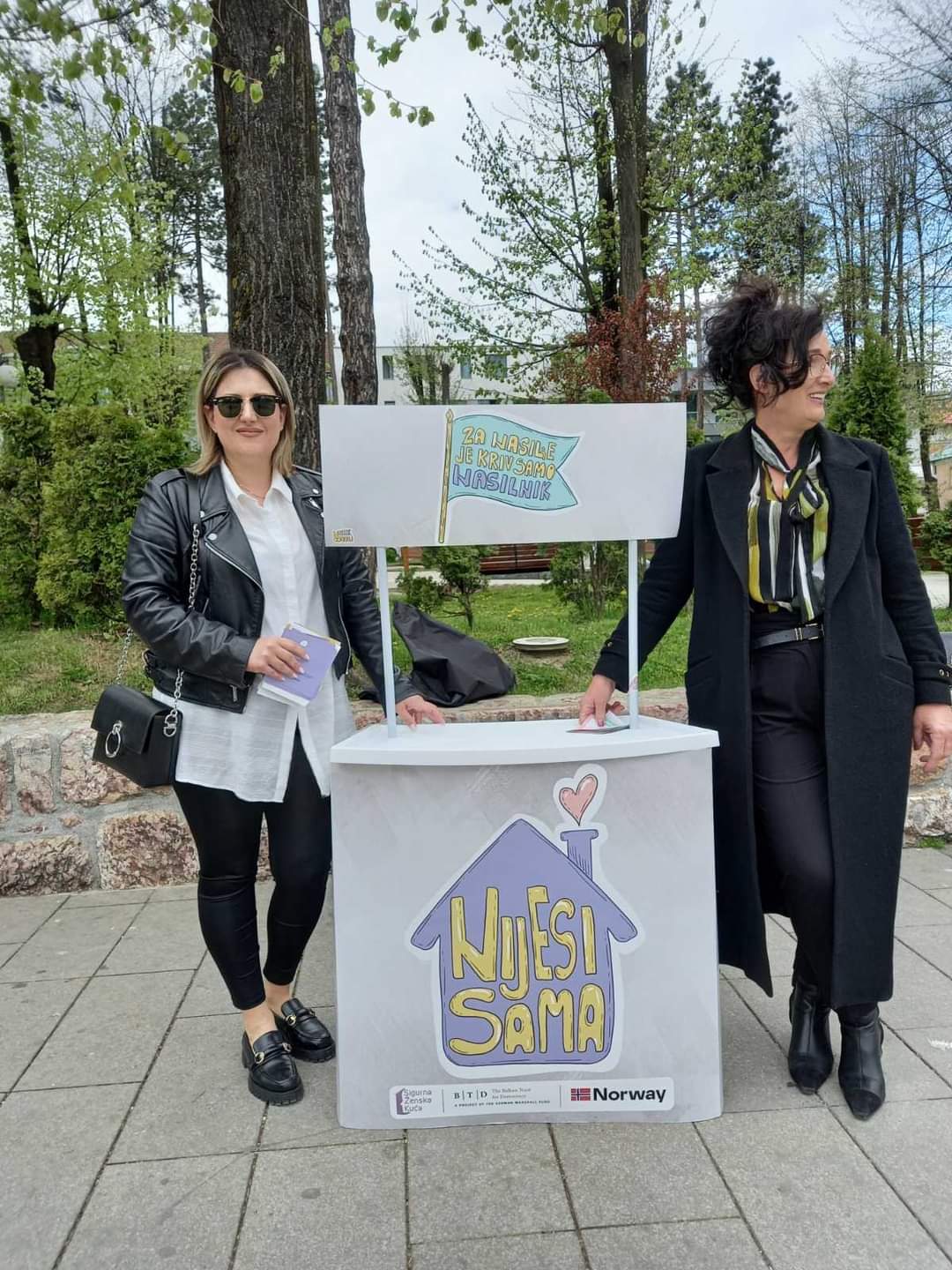 WSH realized the necessity of encouraging the victims of violence to report the sexual assaults to which they were subjected, make them understand that they are not guilty and have the right to effective and efficient protection and support. To that end, but also to raise the awareness among the general public that sexual violence against women and girls is happening in Montenegro, WSH launched an original and appealing campaign on social media. They engaged a visual artist and regionally popular influencer Andrijana Vešović, a.k.a Zombijana Bones, who started designing memes for their campaign, which quickly attracted attention and reactions from people both on their social media pages, but also Zombijana's pages, as she also started sharing messages created in this campaign. On Zombijana's Facebook page, under a post saying "A women cannot provoke you to rape her. All responsibility is on the perpetrator", one of the comments was: "As long as we are a society that always blames the victim for everything, we will not make much progress. I believe that education and teaching are the key to a better future, but I can only hope that someday, some generation of our women, will find themselves in a better position."
To enhance the impact of their campaign, WSH has created and distributed leaflets, stickers, and other promotional material, and published videos, and other social media content. There were also public actions in different cities in Montenegro, in which over a thousand people participated directly. Finally, WSH welcomed to their premises a number of students from the Faculty of Political Science and the Faculty of Law, as well as journalists, representatives of Roma organizations and young girls from vulnerable groups.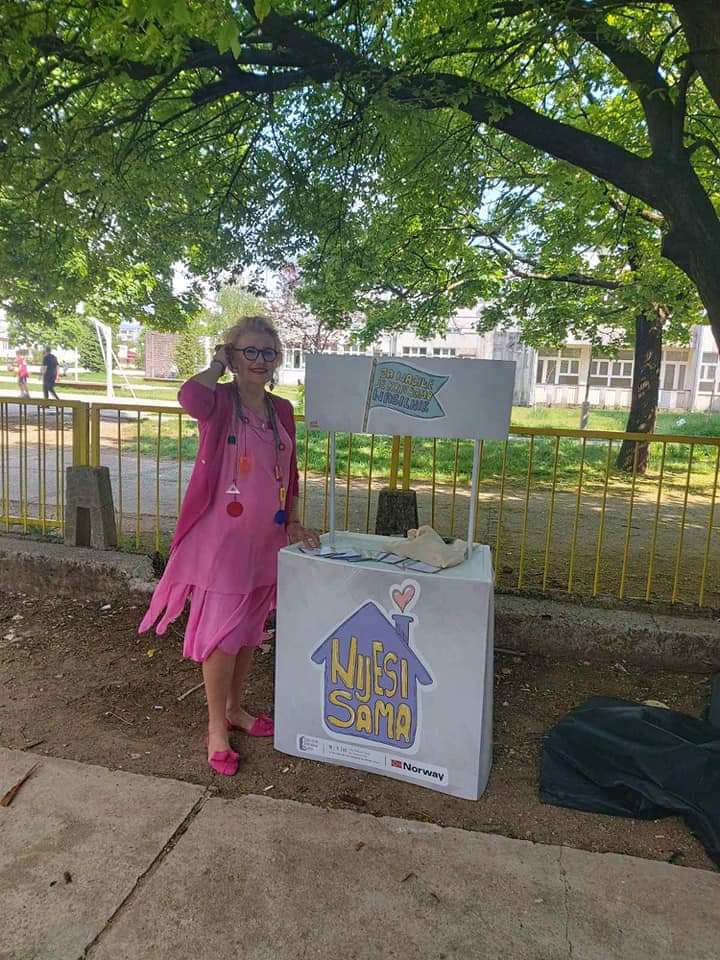 The campaign has had a considerable impact on the general public, as witnessed by the number of followers on social media, who actively took part in the campaign by writing supportive comments. There were as much as 213.000 comments, which is a number equal to one third of the overall population in Montenegro.
WSH believes that its campaign will contribute to improving the position of women in Montenegrin society and is enthusiastic about its results, adding that, during the project, services and support have been provided for almost 50 women and girls who have been victims of sexual violence.
In addition to the campaign, WSH realized a number of other activities towards combating sexual violence in Montenegro, such as trainings for professionals who work directly with victims of sexual violence, representatives of centers for social work and inspectors for homicide and sexual offenses, as well as 15 psychologists and psychotherapists from various institutions and NGOs, who were trained by psychologists from the Incest Trauma Center from Belgrade and the Women's Room from Zagreb, to work on overcoming the trauma of sexual violence. A training program developed by WSH for social workers to work with women who experienced sexual violence is especially important, as it has been submitted for accreditation to the Institute for Social and Child Protection, thus ensuring its sustainability. Also, an initiative for adoption of the Protocol on the Conduct of Institutions in Cases of Sexual Violence was submitted to the Ministry of Justice, followed by meetings with representatives of various institutions with the goal of lobbying for the adoption of the Protocol.
With their campaign and the series of activities they realized, WSH has, without a doubt, made an important step forward in the fight against sexual violence in Montenegro.