Lund was appointed military commander of the UN peace keeping force in Cyprus (UNFICYP) in May 2013. She was the first female force commander in a UN peacekeeping operation. The initial duration of her posting was one year, but she was granted an extension until 2016.
Read more: First Female Commander of a UN Peacekeeping Force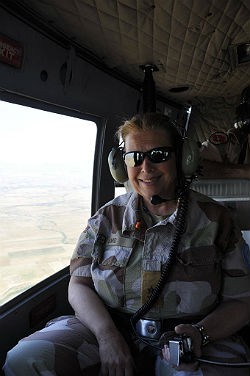 "As I leave the island today, I can say that I am proud to have made my own small contribution, not only to the cause of peace in Cyprus and to the UN's mandate on this beautiful island, but also to changing perceptions about the role women can play in global peace and security", says Major General Kristin Lund.
Read more: Lund's farewell statement.
In Cyprus, the UN operation has been the first in the world to have a dual female leadership. Norway's Espen Barth Eide is the UN Secretary-General's Special Adviser on Cyprus.
"It's been a true honor to work with Major General Kristin Lund for the last two years. I wish her all the best in her new assignments", says Eide.
Long military career
The Norwegian Major General has had a distinguished military career with over 34 years of military command and staff experience at national and international levels. Major General Lund has served in Lebanon, the first Gulf war, Bosnia and Afghanistan.
She is also the first woman in International Hall of Fame at U.S. Army War College.
Read more:
New leadership
The UN Secretary-General has announced Major General Mohammad Humayun Kabir of Bangladesh as the next Force Commander of the United Nations Peacekeeping Force in Cyprus (UNFICYP).
The new Special Representative of the UN Secretary-General (SRSG) and Head of the United Nations Peacekeeping Force in Cyprus (UNFICYP) is Elizabeth Spehar from Canada. Ms. Spehar will also act as the Deputy to the Secretary-General's Special Adviser (DSASG) on Cyprus.
United Nations Peacekeeping Force in Cyprus (UNFICYP)
The Security Council established the UN Peacekeeping Force in Cyprus (UNFICYP) in 1964.
The aim is to contribute to a return to normal conditions between the Greek Cypriot and Turkish Cypriot communities.
UN troops supervise the cease fire lines established in 1974, and maintain control over the buffer zone dividing the island.
UNFICYP is one of the longest-running UN Peacekeeping missions.
There are around 1000 uniformed UN peacekeepers in Cyprus, including 68 police.
The Peacekeeping Force is headed by a UN Special Representative (SRSG) and a Force Commander.
Currently 21 countries contribute troops and police to the mission, with United Kingdom, Argentina, Slovakia, Hungary and Serbia as the five largest contributors.
Source: https://unficyp.unmissions.org/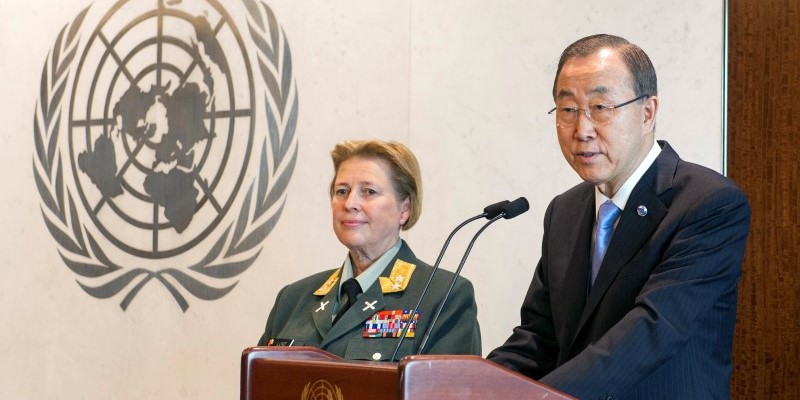 Secretary-General Ban Ki-moon (right) with Major General Kristin Lund of Norway. (Photo: UN Photo/Mark Garten)