Read more: UN's first female force commander ends her tour of duty
Monday August 11th Major General Kristin Lund replaced Major General Chao Liu as commander of about 1,000 peacekeepers in Cyprus. Lund was appointed military commander of the UN peace keeping force in Cyprus (UNFICYP) by Secretary General Ban Ki-moon, 12 May 2014.
Distinguished military career
The Security Council established the UN Peacekeeping Force in Cyprus (UNFICYP) in 1964 to contribute to a return to normal conditions following violence and bloodshed between the Greek Cypriot and Turkish Cypriot communities. UN troops supervise the cease fire lines established in 1974, and maintain control over the buffer zone dividing the island.
The Norwegian Major General has had a distinguished military career with over 34 years of military command and staff experience at national and international levels. Major General Lund has served in Lebanon, the first Gulf war, Bosnia and Afghanistan.
Read more: First UN female force commander takes reins in Cyprus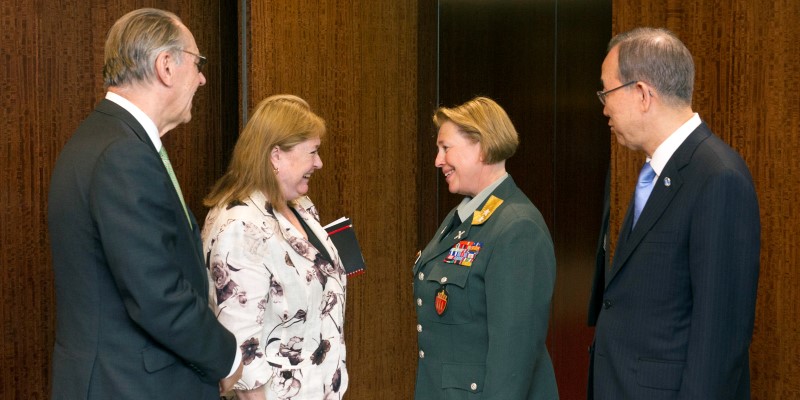 Secretary-General Ban Ki-moon (right) met with Major General Kristin Lund (centre right) of Norway, whom he has appointed as Force Commander of the UN Peacekeeping Force in Cyprus (UNFICYP). Susana Malcorra (centre left), Chef de Cabinet to the Secretary-General; and Deputy-Secretary-General Jan Eliasson. Photo: UN Photo/Mark Garten
Important signal and a milestone
'The Norwegian Government wants to contribute to UN peacekeeping operations, and I am proud of the fact that a Norwegian officer has been asked to lead the UN operation in Cyprus', said Norwegian Minister of Defence Ine Eriksen Søreide.
No previous UN operation has had a female force commander. UN Security Council Resolution 1325 on Women, Peace and Security emphasizes the need for increased female participation in international operations.
'Major General Lund is first and foremost an able and experienced officer. However, we also see that the number of women in UN peace operations remains low. That Major General Lund will be a force commander is therefore an important signal and a milestone for UN peacekeeping operations', said Norway's Minister of Defence.
Contributing to the United Nations
Norway aims to provide military personnel to key positions within United Nations operations. Examples of such positions include Norway's chief of staff positions with the United Nations Mission in South Sudan (UNMISS) (in rotation with the United Kingdom) and the UN Observer Mission in the Middle East (UNTSO). In addition Major General Robert Mood served as head of the UN Mission in Syria (UNSMIS) in 2012.
Norway currently also contributes a military vessel to the UN/OPCW-operation to extract chemical weapons from Syria. In addition, Norway provides staff officers, liaison officers and observers to UN operations in South Sudan (UNMISS), Mali (MINUSMA), Middle East (UNTSO), Afghanistan (UNAMA) and Kosovo (UNMIK).
Background on UNFICYP
The UN peacekeeping operation in Cyprus was established in 1964 to prevent further conflict between Greek Cypriots and Turkish Cypriots.
The mandate of the mission was later expanded to include monitoring of the 1974 ceasefire, and to form a buffer zone between the two warring parties. The mandate of UNFICYP has been regularly renewed in the absence of a political solution to the conflict.
UNFYCIP currently consists of about 900 uniformed personnel and is headed by a Special Representative (SRSG) and a Force commander.
Currently 13 countries contribute military personnel to the mission, with Argentina, Britain, Slovakia, Hungary and Serbia as the largest contributors.