'The world is facing a number of challenges that are too great and complex for any one country to tackle alone, and must therefore be addressed through joint efforts. Effective international cooperation is needed to address challenges such as climate change, marine litter and new security threats,' said Minister of Foreign Affairs Ine Eriksen Søreide.
Today, Ms Eriksen Søreide is presenting the white paper on Norway's role and interests in multilateral cooperation. It analyses the challenges we are facing and describes the steps Norway should take to meet them.
The white paper takes a practical and realistic approach, and looks at the world as it is, rather than how we would like it to be. The conditions for international cooperation are changing due to a decline in US and European power and the shift of the economic centre of gravity to the East. In addition, more countries are choosing bilateral instead of multilateral solutions. The strategic rivalry between the US and China could be protracted and could have serious consequences for the multilateral system. The world has become less predictable, and there is a need to work in a slightly different way in order to safeguard Norwegian and global interests.
'In the coming years, we must give priority to maintaining our room for manoeuvre and promoting reforms that will make the multilateral institutions more effective and representative. We must seek even closer cooperation with like-minded countries in Europe, and cooperate more with countries that are different from us on matters of common interest,' said Ms Eriksen Søreide.
The German Federal Minister for Foreign Affairs, Heiko Maas, will be at the presentation to share his views on the importance of multilateral cooperation.
'The EU and other like-minded countries in Europe are currently the strongest defenders of liberal values and multilateral cooperation. We should therefore strengthen our cooperation with these countries and with the EU. The fact that Germany's Foreign Minister is coming to Norway on this occasion illustrates that this is precisely what we are doing,' Ms Eriksen Søreide said.
The white paper was approved by the King in Council today (14 July), and is available at government.no.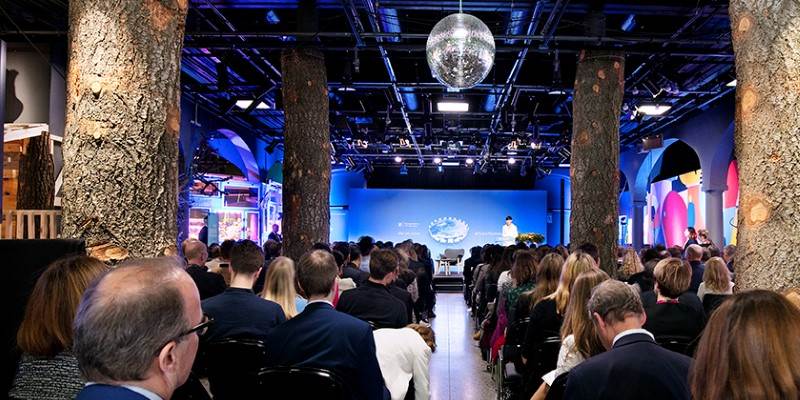 Foreign Minister Ine Eriksen Søreide launching the new White Paper in INternational Cooperation. Photo: Medvind.