The 73rd session of the UN General Assembly will be formally opened on 18 September 2018 by the General Assembly's newly elected President, Ecuadorean Foreign Minister María Fernanda Espinosa Garcés.
Norway's priorities for the upcoming session: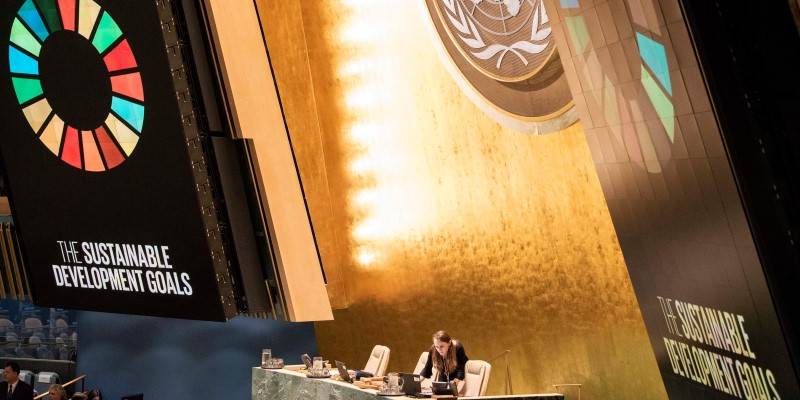 The UN General Assembly is the world's largest international meeting place, and a unique arena for promoting Norwegian interests, international cooperation and Norwegian positions on issues of key importance to Norway.
The 73rd session of the UN General Assembly will be formally opened on 18 September 2018 by the General Assembly's newly elected President, Ecuadorean Foreign Minister María Fernanda Espinosa Garcés.
During the general debate, which will begin on 25 September, leaders from all the world's countries will gather at the UN Headquarters in New York. This year the high-level week will begin with the Nelson Mandela Peace Summit, which has been convened by the President of the General Assembly in honour of the centenary of the birth of Nelson Mandela. At the Summit, world leaders will adopt a political declaration, in the spirit of Mandela's legacy, in which they commit to work to promote a peaceful, fair and just world.
Norway's delegation during the high-level week will be led by Prime Minister Erna Solberg, whereas in the negotiations in the General Assembly's six committees, Norway will be represented by the Norwegian Permanent Mission to the UN in New York and the relevant ministries in Oslo.
At this year's session of the General Assembly, Norway will work to strengthen the UN's effectiveness and legitimacy by supporting the reforms initiated by UN Secretary-General António Guterres. In this way, we will help to strengthen multilateral cooperation and the international legal order. At the same time, we will ensure that Norwegian interests, democratic values and universal rights are safeguarded.
These instructions for Norway's delegation to the 73rd session of the UN General Assembly reflect four overarching priorities of Norway's UN policy:
to strengthen multilateral cooperation and the international legal order,
to contribute to the implementation of the 2030 Agenda and the Sustainable Development Goals,
to foster peace and reconciliation in situations of crisis and conflict, and
to promote Norway's candidature for a seat on the UN Security Council in 2021-2022.
Norway will be a staunch supporter of international law and the law of the sea, of human rights, gender equality and women's rights and of humanitarian principles, efforts to prevent conflict and UN reform.
We will also be an active and reliable partner in the fight against terrorism and violent extremism. Nuclear disarmament and non-proliferation is another of Norway's priorities. The UN is an important arena in this context too.
In addition to these instructions, a separate document is being drawn up that will set out detailed priorities and goals for the negotiations in the General Assembly's committees throughout this year's General Assembly session. This will contain information about Norway's negotiating positions and will therefore be exempt from public disclosure.
Safeguard and strengthen multilateral cooperation, the international legal order, human rights and gender equality
The UN is a cornerstone of Norwegian foreign policy. Through the UN, we safeguard and promote our interests and values, our security and our welfare.
2018 marks the 70th anniversary of the Universal Declaration of Human Rights and the 20th anniversary of the UN Declaration on Human Rights Defenders.
Respect for human rights and fundamental democratic principles defines who we are and what we stand for in the world. Norway will therefore continue to play a key role in UN efforts to further develop the normative framework for the protection and promotion of human rights.
The multilateral system is under pressure, and we must do what we can to safeguard it. The international community must come together to defend the values on which our security, safety and prosperity are based – from democracy and human rights, to trade and economic development, to respect for international norms and rules.
The international legal order provides a clear and predictable framework for the use of force, and for ensuring compliance with human rights obligations and international legal standards, and for the sustainable use of resources.
Norway will continue its efforts to ensure respect for international law and promote the international legal order. Norway will support efforts to promote a world order based on the principles set out in the UN Charter and international law.
Combating impunity and strengthening international criminal law are among our key aims. Our efforts in this area will include working to secure universal support for the International Criminal Court.
As a result of international cooperation, we have gained a global climate agreement and the 2030 Agenda with its 17 Sustainable Development Goals (SDGs). The latter provides us with a framework for global efforts to fight poverty and to build a better world for us all. We must make full use of this framework. The UN Secretary-General has appointed the Norwegian Prime Minister co-chair of the SDG Advocates, thus giving her a leading role in the efforts to follow-up the 2030 Agenda.
The UN's mandate and unique position in the world mean that it has a special responsibility to work to ensure that several decades of progress in the areas of democracy, human rights, development and international cooperation are not reversed. International cooperation and compliance with international law are vital for achieving results and safeguarding countries' common interests.
The path towards a world without poverty is not without challenges. The world is facing many protracted and serious humanitarian crises. More than 65 million people are either internally displaced or have fled to other countries.
Climate change is destroying livelihoods and driving people from their homes. The impacts of climate change and environmental problems are among the greatest threats to sustainable development, peace and security.
There is growing pressure on freedom of expression and freedom of the press. In a number of countries the situation for civil society actors and human rights defenders is becoming increasingly difficult. Women's sexual and reproductive health and rights are being threatened by forces seeking to reverse the progress made in this field in recent years.
Shifts in the global economic balance of power are creating new challenges and greater uncertainty. We are seeing a tendency towards protectionism, nationalism and isolationism, which could threaten economic development, security and stability.
The UN needs to be able to adapt, both as an intergovernmental arena and as an actor on the world stage, to a world that is facing new challenges and new geopolitical power constellations. Norway will therefore support the implementation of the measures adopted to reform UN management, the UN peace and security architecture and the UN development system. We will work to ensure that the UN works effectively across its three pillars: peace and security, human rights, and development.
Norway will also be at the forefront of efforts to ensure that civil society actors are able to participate meaningfully in UN efforts and processes, without risk of reprisal.
We will continue to play a leading role in UN efforts to protect and promote human rights defenders, and will give priority to efforts to support freedom of expression and freedom of religion or belief. We will be a strong champion of women's rights and will work to broaden international support for the abolition of the death penalty.
Contribute to the implementation of the 2030 Agenda for Sustainable Development, in particular the Sustainable Development Goals and targets on the oceans, education, health and domestic resource mobilisation.
Systematic and rights-based implementation of the 2030 Agenda is essential. Norway will take part in various processes in the UN and in the governing bodies of individual UN agencies in order to ensure this. Norway will work actively to ensure that the potential benefits of digitisation in development efforts are fully realised.
The 2030 Agenda, adopted in 2015, is a global roadmap for sustainable development designed to benefit all people. It is underpinned by international human rights law and is to be implemented in line with states' international obligations. If we are to fulfil the commitment to leave no one behind, the inclusion of vulnerable and marginalised people must be a key priority.
The 17 SDGs are each important in their own right, but it is by working to achieve the combined set of goals that we can really make a difference. If we are to succeed in achieving all 17 SDGs, we must further develop global partnerships and strengthen cooperation with the private sector and civil society.
Clean and healthy oceans are vital to our future
Norway is a maritime nation. We have important national interests relating to the seas and oceans. We know what the seas and oceans mean for jobs, food, energy, minerals and transport, and for settlement patterns, culture and identity.
Issues relating to the law of the sea and fisheries are therefore very important for Norway. Currently, the most important discussion in the UN relating to these issues concerns the development of a new agreement under the UN Convention on the Law of the Sea on the conservation and sustainable use of marine biological diversity in areas beyond national jurisdiction. This work is being given high priority by Norway.
There is growing pressure on the marine environment and marine resources in several parts of the world. Illegal, unreported and unregulated fishing (IUU fishing) and fisheries subsidies are resulting in overfishing. Norway will seek to increase international recognition of the economic importance of the oceans, and of the need to promote sustainable use of marine resources and clean and healthy oceans as a source of value creation.
Against this backdrop, Prime Minister Erna Solberg has taken the initiative to establish the international High-level Panel on Building a Sustainable Ocean Economy. The High-level Panel consists of heads of government from various coastal states around the world, including a number of developing countries. It will meet for the first time during the opening of this year's General Assembly, and the meeting will be chaired by the Prime Minister. The High-level Panel will cooperate closely with the UN and with other international ocean initiatives.
Marine litter, including plastics and microplastics, is threatening to destroy the enormous potential that lies in the oceans. Poor waste management is perhaps the single most important reason why our rivers and oceans are being filled with plastics and other waste. Effective waste management systems are therefore vital in the fight against marine litter. We must also reduce waste through awareness-raising and clean-up initiatives.
During the high-level week, Norway will launch a new fund, together with the World Bank and other potential donors, to support the development of sustainable waste management systems in developing countries.
Education is the foundation for all other development
Education is the key to finding employment and to being able to lead an independent life with different options and opportunities. If we fail to educate the workers the world will need in the future, it will be difficult to achieve global economic growth.
Norway will highlight the fundamental importance of high-quality, relevant education for social and economic development.
Education is a top priority in the Norwegian Government's development policy. Particular importance is attached to promoting high-quality education, girls' education, education in situations of crisis and conflict, vocational training and funding for education.
All children have the right to an education. Despite this, more than 260 million children worldwide are currently out of school. Many of them are girls. Many of them are living in extreme poverty. And many of them have had to flee from war and conflict.
Just giving children the opportunity to go to school is not enough. A robust school system, good teachers, relevant curriculums, modern teaching methods and the ability to identify and help those who are falling behind are all vital if pupils are to acquire the knowledge and skills they need.
Norway will work to increase funding for education in situations of crisis and conflict, and will continue to support the Education Cannot Wait fund, which has been established to increase financing and ensure better coordination of efforts in this area.
Improving health is crucial for achieving the SDGs
Preventing health crises is an important priority for Norway. Norway's efforts in the area of global health focus on vaccine preparedness and improving women's, children's and young people's health, with an emphasis on improving the sexual and reproductive health of the most vulnerable people.
Efforts to promote sexual and reproductive health and rights help to reduce the number of women who die in connection with childbirth or unsafe abortions. However, many people still lack access to sexual and reproductive health services, particularly in areas affected by crisis and conflict. Norway will therefore support efforts to improve access to health services and equipment for women, children and young people and will work to combat sexual violence and harassment, particularly in humanitarian crises and conflict situations.
Norway will work systematically, and in alliances with other countries, to safeguard and promote the agreed international commitments on women's rights set out in the Cairo Programme of Action and the Beijing Platform for Action. Norway will also counter any attempts to weaken commitments and obligations, particularly those relating to sexual and reproductive health, reproductive rights, inheritance and property rights, and women's rights in marriage and family life.
The health sector cannot be viewed in isolation from other sectors. For this reason, Norway is drawing up an action plan to promote sustainable food systems, which takes an integrated approach to food safety, agriculture, fisheries, health and nutrition. The Foreign Policy and Global Health Initiative will present a resolution on nutrition during the 73rd session of the UN General Assembly. As a member of the initiative's core group of seven countries, Norway will follow up this resolution. Norway will also participate in dialogues on food production and food supply, with a view to highlighting the links between our foreign policy priorities and the issue of nutrition.
Domestic resource mobilisation is the key to financing the SDGs
Norway will be a prominent voice in calls for countries to mobilise their own resources to support their own development.
It is estimated that 90 % of the resources needed to reach several of the key SDGs will have to come from domestic sources. If used wisely to promote domestic resource mobilisation, aid can dramatically increase domestic revenues, promote a greater sense of ownership at the national level and lead to more sustainable public financing.
The fight against corruption and illicit financial flows requires a coordinated global effort to improve tax systems, measures to combat money laundering, and efforts to ensure that corruption cases are properly investigated and prosecuted. Norway will play an active role in efforts to promote reform of public financial management systems, to end impunity for corruption offences and to close loopholes in the international financial system.
Norway will help to raise awareness of the importance of effective tax administration and tax policy in all countries. In sub-Saharan Africa, even at today's low level of tax collection, tax revenues are four times higher than the combined amount of aid, remittances and investments in the region. Even a moderate improvement in tax collection could generate substantial resources.
Unpredictable tax revenues, a lack of transparency, and the transfer of profits to other countries make business development difficult in some countries. Norway will emphasise the positive effect that technical cooperation on taxation can have on domestic revenues.
Similar problems affect efforts to promote peace and security. The ability of a state to fulfil core functions is undermined when its sources of income are unreliable. The failure of a state can create significant global challenges. Norway will promote dialogue with a view to finding effective ways of increasing domestic resource mobilisation in states affected by conflict and fragility.
Foster peace and security
Progress in our efforts to bring an end to war and conflict is essential if we are to achieve the SDGs. Our work to stabilise areas of conflict must also address the underlying causes of conflict. Peace and reconciliation efforts are an important part of Norwegian foreign policy.
Norway will seek to strengthen the UN's role in conflict prevention in countries and areas with high levels of fragility. If we are to be able to address global security challenges and at the same time promote sustainable development, it is crucial that the various UN instruments are seen in relation to one another and that an integrated and coordinated approach is taken.
One of Norway's priorities will be to work to increase the effectiveness of UN peace operations and to improve the coordination of peace operations at country level. The Secretary-General's new Action for Peacekeeping initiative is a natural follow-up to the measures already taken to reform UN management. It will also serve to renew efforts to implement the recommendations made by the High-level Independent Panel on Peace Operations in 2015. Norway is actively supporting the Action for Peacekeeping initiative, including through meetings of the Group of Friends of UN Peace Operations in New York, which Norway co-chairs with Ethiopia and South Korea.
In addition, Norway will participate actively in UN efforts to address global security challenges, such as terrorism, violent extremism, organised crime, piracy and cyber threats.
We will continue to play an active part in the work to strengthen the role of the UN in international efforts to combat terrorism and will work to improve coordination in this area within the UN system and between the UN and other actors. Norway will maintain a particular focus on further developing international cooperation on preventing violent extremism and on promoting the implementation of the UN Global Counter-Terrorism Strategy.
Organised crime poses a threat both to development and to security. The activities of criminal networks are often a driving force behind, and an important source of funding in, local and regional conflicts. Norway will promote the implementation of targeted measures to identify and combat these networks, in particular in cooperation with INTERPOL and the United Nations Office on Drugs and Crime (UNODC).
The UN General Assembly has agreed by consensus that international law also applies in cyberspace. Norway will seek to maintain the international agreement reached on this issue and to enable the UN to continue its work to promote greater understanding of the application of international law in cyberspace. Developments in this area must be based on consensus and on the previously adopted recommendations of the UN Group of Governmental Experts for this field.
Norway will continue its long-term efforts to promote the implementation of Security Council resolution 1325 on women, peace and security. We will work to promote women's participation in mediation, peace processes and peace operations and to ensure that a gender perspective is streamlined in all peace and security efforts.
We will also focus on increasing the recruitment of women to leadership positions in the UN system and will contribute to efforts to ensure that gender equality is promoted throughout the organisation.
Norway will help to ensure that the UN development system steps up its efforts in countries affected by conflict and fragility. Norway has identified six partner countries where cooperation will focus on stabilisation and conflict prevention: Afghanistan, Mali, Niger, Palestine, Somalia and South Sudan. The UN is an important actor in all these countries.
Regional organisations have an important role to play in the work to maintain international peace and security, as the UN Charter makes clear. The partnership between the UN and the African Union (AU) is particularly important, and Norway will continue to work actively to strengthen this partnership. This includes facilitating institutional cooperation between the UN and the AU and strengthening dialogue on the partnership between AU and UN member states.
Norway will work, in particular in cooperation with island states, to raise awareness of the significance of issues relating to the oceans and climate change for international peace and security.
The UN is a key arena for disarmament efforts. In May this year, the UN Secretary-General presented his new disarmament agenda. The new agenda focuses on three priorities: weapons of mass destruction, conventional weapons, and new battlefield technologies.
The goal of a world without nuclear weapons is being challenged by the Democratic People's Republic of Korea's weapons programme, uncertainty surrounding the nuclear agreement with Iran and increasing pressure on key disarmament and non-proliferation agreements. Norway will seek to safeguard the Non-Proliferation Treaty (NPT) and will work systematically to secure further cuts in nuclear arsenals. Norway also chairs the UN Group of Governmental Experts on Nuclear Disarmament Verification.
The world is facing many protracted and serious humanitarian crises
Norway will promote compliance with international humanitarian law and the humanitarian principles in efforts to assist and protect the increasing number of people in need of humanitarian aid.
In the light of the huge scale of humanitarian needs, Norway will give priority to efforts to reform the UN humanitarian system to make it more effective, ensure that it receives more funding, and make it better able to deal with the challenges we are facing.
Through Norway's extensive, long-term support to the UN Central Emergency Response Fund (CERF), we are helping to ensure rapid, effective and coordinated humanitarian response. Norway will continue its engagement in CERF as chair of the Advisory Group.
Norway will also play a part in strengthening local and national response capacity in humanitarian crises, for example through the UN country-based pooled funds. We will also work to ensure that the UN humanitarian system gains a wider range of partners.
During the course of 2018, the UN General Assembly will adopt a global compact on refugees. Norway will work to achieve a more effective and better coordinated refugee response, in line with the Refugee Convention and the New York Declaration for Refugees and Migrants of 2016.
Norway will be a strong advocate in the UN of the need to improve protection for internally displaced people, and we will help find durable solutions in this area.
Promote Norway's candidature for a seat on the UN Security Council
The UN Security Council is the world's primary body for promoting international peace and security. In June this year, Norway launched its candidature for a seat on the Security Council for the period 2021-2022. The election will take place in June 2020.
We are seeking a seat on the Security Council to safeguard our national and global interests, to contribute to peace and conflict resolution and to support the rule-based world order that has served Norway so well for over 70 years.
Norway has gained a reputation as a patient and impartial facilitator, and is often asked to participate in efforts to address conflict situations. Our focus in these situations is on facilitating dialogue between the parties to a conflict, with the aim of finding lasting political solutions.
Together with the UN and other partners, we are, for example, assisting the parties to the conflicts in Afghanistan and South Sudan and to the conflict between Israel and Palestine. We are maintaining our strong engagement in promoting the successful implementation of the peace agreement in Colombia, and in efforts to pave the way for peace negotiations in the Philippines.
During the 73rd session of the General Assembly, Norway will continue its efforts to reform the way the Security Council works, for example by participating in the Accountability, Coherence and Transparency Group (ACT), a group of countries that aims to improve the Council's working methods. Norway will contribute to efforts to make the Council more effective, transparent and inclusive, and will continue to develop proposals that can enhance its legitimacy.
The promotion of human rights and democratic institutions and rules is especially important at a time when fundamental freedoms and human rights are under threat. Ensuring respect for human rights and democratic rules is essential in order to find lasting and sustainable solutions to crises and challenges relating to security and development.
Global public goods and challenges do not stop at national borders, and the UN is a unique arena for establishing binding international norms and rules. At the UN, all member states have a voice and a vote, and by working together, we have succeeded in finding solutions to some of the greatest challenges the world has faced. We will continue to do so in the future.