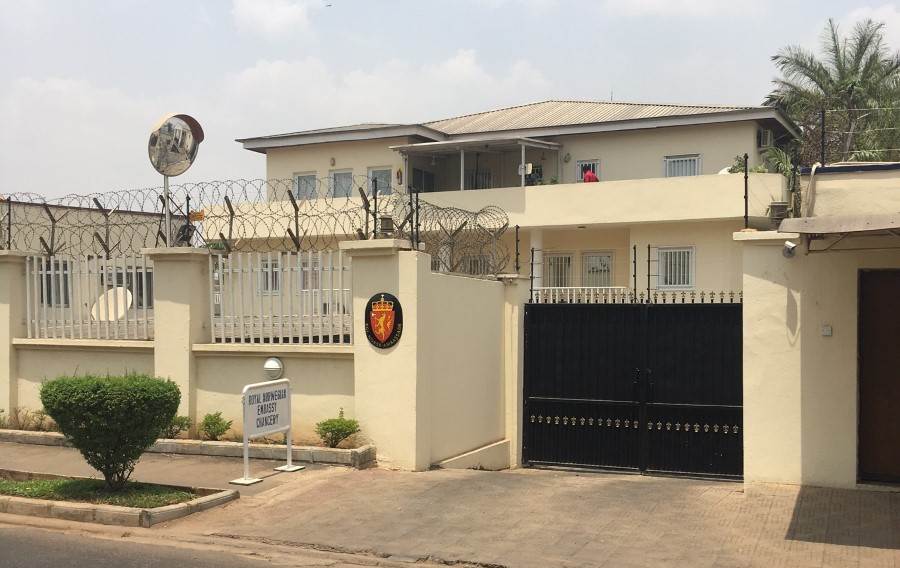 Den norske ambassaden i Abuja dekker Nigeria, Kamerun, Benin, og Togo.
Address:
54 T.Y. Danjuma Street, Asokoro, Abuja, Nigeria
Postal address: PMB 5136, Wuse, Abuja, Nigeria
Opening hours - Monday-Thursday 8 am.-16 pm. Friday 8 am.-13.30 pm.
Telephone: 0813 989 0050 (from abroad: +234 813 989 0050) / +47 239 59 602.
The Embassy reception phone is available during working hours: 8 am. to 4 pm. (until 1.30 pm. on Fridays).
E-mail enquiries (except visa): emb.abuja@mfa.no
Visa information:
The Norwegian Embassy in Accra, Ghana handles all visa applications. However, visa and immigration related questions should always be addressed to VFS Global via email or telephone.
VFS Helpline: +234 (0)815 018 8800, info.nrng@vfshelpline.com
In your request, please mention your full name, date of birth and passport number. If you have already applied, please also submit your reference number.
VFS opening hours: 8am - 3pm Monday to Friday
Click here to visit VFSGlobal.com.