United Nations Department of Peacekeeping Operation (DPKO) has appointed a seven-member core team that will conduct the external review of the Police Division. The aim for the panel is to see how to utilize police contributions to the UN even better.
The team consist of:
Ms. Hilde Frafjord Johnson, Norway (co-chair)
Ambassador Abdallah Wafy, Niger (co-chair)
Lt. Col. Ahmad Alsayaydeh, Jordan
Add. Inspector General Benazir Ahmed, Bangladesh
Ms. Janine Rauch, South Africa
Dr. Serge Rumin, France
Mr. Mark Kroeker, Unted States
Hilde Frafjord Johnson has previously been Special Representative of the Secretary-General and Head of the United Nations Mission in the Republic of South Sudan, Deputy Executive Director of the United Nations Children's Fund (UNICEF) and Minister of International Development in Norway.
"A functioning police is one of the first and most basic means to stabilize a country. It gives citizens a sense of justice and rule of law. And a functioning police is also the main test of when UN's Peace Operations can leave a country", says Johnson.
The police review team had their first workweek in New York in January. They met with several parts of the UN Secretariat and Member States.
"This is a unique opportunity for the UN to reform the way the Police Division and its components work. It is important for our panel to look at what the needs in the field are, what that tells us about the Police Division and how we best can support those needs - both for host nations and field personnel. We will deliver our report by the end of May. It is a short time frame, but we do hope that the report will be tangible and important for the UN", says Johnson.
This review is one of the tangible follow-ups to the High-level Independent Panel on Peace Operations (HIPPO). Johnson sat in the panel, which gave recommendations to reform UN peace operations. The police review's deadline is 31 May 2016.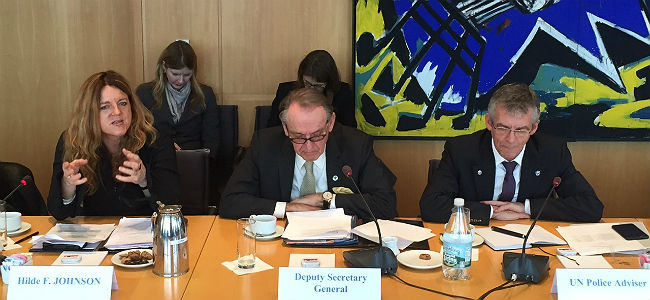 The new review team of UN's Police Division met Member States and UN Deputy Secretary-General Jan Eliasson. (Photo: NorwayUN/Silje Eggestad)