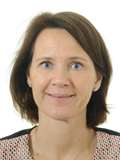 Trine Heimerback took up her post as Ambassador and Deputy Permanent Representative to the United Nations on 28 September 2020. Her previous position was Minister and Deputy Permanent Representative of Norway to the United Nations and other International Organizations in Geneva 2017-2020.
Ambassador Heimerback has served in the Norwegian Ministry of Foreign Affairs since 2004 and has served as Policy Director at the Prime Minister's Office in Oslo, Assistant Director General in the Department for Security Policy in the Norwegian Ministry of Foreign Affairs and Senior Adviser at the Secretariat of the Norwegian Foreign Minister. Heimerback was posted to the Norwegian Mission to the UN in New York 2006-2010.
Trine holds an M.A. in Political Sceince from from Uppsala University, Sweden and an LLM from the University of Warwick, UK. She is married and has two children.