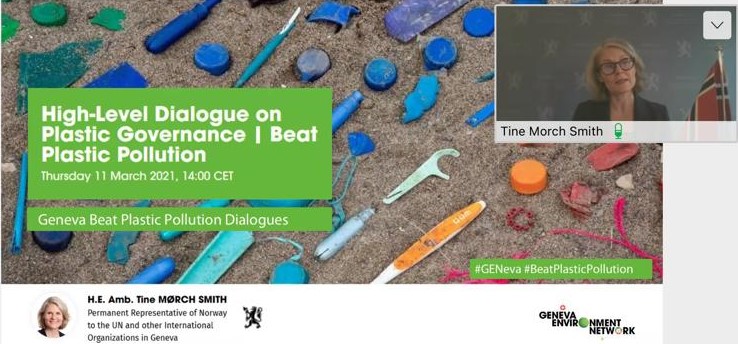 The series of expert level meetings on plastic pollution that has taken place since November 2020 was concluded with a high-level session 11 March. The series has been organised by Geneva Environment Network together with the Basel, Rotterdam and Stockholm Conventions Secretariat, the Center for International Environmental Law (CIEL), the Global Governance Centre at the Graduate Institute, Switzerland and Norway. Seven sessions have taken place, focusing on different aspects of the current plastic crisis. More than 500 participants from all regions attended the virtual meetings, which aimed to build momentum towards the UN Environment Assembly.
"The Geneva Beat Plastic Pollution Dialogues clearly show the global attention and willingness to address the issue of plastic pollution and its intersection with relevant actors and UN agencies here in Geneva – ranging from health and human rights to standards and trade," said Ambassador Mørch Smith at the high-level session. "As the way we do business has been drastically changed due to the on-going COVID-19 pandemic, this series has brought us further in our discussions to find solutions to one of the fastest growing environmental crises of our time."
Ambassador Mørch Smith highlighted that strengthening the global response to plastic pollution is a key priority for Norway. The ambition is to start negotiations of a global agreement to prevent plastic pollution at the UN Environment Assembly in 2022, by establishing an intergovernmental negotiation committee.
The high-level session included speakers from various states and organisations involved in the issue.
"There is no room for complacency. The situation is urgent," said Marco Lambertini, Director General of WWF International. He pointed out that we have seen an 80% decline in fish stocks and 100% increase in ocean plastics. "The ocean crisis is no longer only an ecological issue, but economical and humanitarian too."
Peru's Ambassador Silvia Alfaro emphasized that local and national action needs to be complemented on global levels.
"The journey that we have taken over the last 15-20 years is incredible. To think that a global agreement is feasible, is due to civil society and others who have made noise and acted, said Bruno Pozzi, UNEP's Europe Director, concluding: "Now we have the science, let's not waste time, but take action!"