The SDG 4 – "ensuring that all girls and boys complete free, equitable and quality primary and secondary education" - is a great enabler and a key driver for achieving the other SDGs. Through the adoption of this resolution, the international community shows its commitment to making education a priority.
For Norway, education continues to be of top priority. We believe that education is vital to ensure long-lasting peace, resilience and sustainable socioeconomic and human development. Norway will remain committed to ensure quality education for all by 2030.
In Geneva, the Permanent Mission of Norway marked this day, together with UNESCO and others, through a discussion titled "Education for Peace and Development". Ambassador Brattskar addressed the importance of providing better educational opportunities for children with disabilities in his statement. He also stressed the necessity of protecting educational institutions in crisis and providing education in emergencies.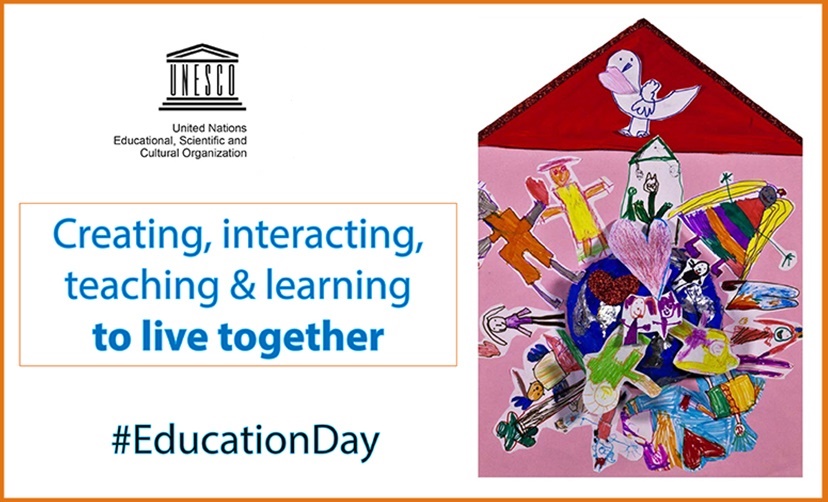 You can read the full statement of Ambassador Brattskar below:
Check against delivery

Excellences, Colleagues,
Education is the great enabler. Education plays a key role in human, social, and economic development. Education can be transformative, changing lives and societies.
This is the promise of education that we celebrate on this first International Day of Education.
This is also why education is a top priority in Norwegian development and humanitarian policy.
We commend Nigeria and other champions for spearheading the establishment of a universal and united day for education.
We also thank UNESCO and the co-organizers of this event for gathering us here today to raise this agenda and discuss the way forward.
Much remains to be done. Some 750 million adults are still illiterate, 262 million children are out of school, and nearly 60% of children and adolescents cannot read nor master basic numeracy.
Are we to reach SDG4 by 2030, continued and renewed investment in education is needed.
Since 2013, Norway has more than doubled its humanitarian and development budget for education. From 2018 to 2019 we will increase our support further.
We are thankful to our partners, such as UNICEF, UNESCO, Save the Children and the Global Partnership for Education, for working tirelessly together with us to achieve the common goal of quality education for all.
Reaching the Sustainable Development Goal on education requires not only increased efforts, but more targeted action to include the marginalized and improve the quality of education.
To break the barriers to girls' education, we need to provide a safe learning environment and ensure that girls, as well as boys, are well nourished and healthy and thereby able to learn.
Strengthening inclusion of vulnerable groups, including persons with disabilities, is a key element in the Norwegian Government's efforts to promote human rights.
An estimated 65 million children of school age in developing countries have disabilities, and at least half of these are out of school.
As one tool in this effort, Norway has entered into a partnership with the UK and the World Bank to promote inclusive education and give children and young people with disabilities better educational opportunities. The initiative will seek to ensure that curriculums take the needs of children with disabilities into account, and enhance research in this field.
To reach SDG4 we also need to find smarter and more cost efficient ways of working. Digital tools and solutions have a great potential.
Norway supports and facilitates collaboration between civil society organizations, research institutions, and private sector actors to drive innovation in technology and digitalization.
One example is the smartphone application called 'EduApp4Syria' - an effective literacy learning game that has been created through private sector competition. It is free to use, adapt and distribute.
Another example is a Norwegian funded project in Malawi. In a context where there are 80-100 students per teacher, the project has given the children access to tablets for learning purposes for between 30 minutes to an hour a week. The results have been significant. The students involved have improved their reading skills by 100 per cent and their mathematics skills by 65 per cent, and the gap in learning outcomes between girls and boys has narrowed.
We are also scaling up our efforts to support Technical and Vocational Education and Training in developing countries, engaging in partnerships with private sector actors as well as governments, civil society organizations and other donors.
One example of this is the programme for Employment and Skills for Eastern Africa, which supports skills and enterprise development in Kenya, Mozambique, Tanzania and Uganda.
The programme has entered numerous agreements with private sector actors, ranging from small local companies to the large international oil companies.
Beneficiaries are young people who receive relevant training and job opportunities, and local companies that can qualify for international bids and contracts. Through this and other partnerships, we promote training and skills acquisition that is relevant for the local context and the labour market.
To reach SDG4, we also need to provide access to education to children and youth who find themselves in situations of crisis and conflict.
Half of the children who do not attend school today live in areas affected by crisis and conflict. Education provides life-saving protection and hope for the future; whilst lost education can have devastating consequences, for the children concerned, and for the societies in which they live.
Yet education in emergencies remains underfunded. Norway was one of the co-founders of the Education Cannot Wait fund. Recognizing the importance of bridging humanitarian and long term assistance, our support to this fund comes from both our humanitarian and development funding streams.
Education is also protection. Schools and universities should be safe havens. Yet, too often we see that they become target of attacks. Norway and Argentina led the consultations that resulted in the Safe Schools Declaration, which was launched in 2015.
The Safe Schools Declaration has established a strong norm against attacks on and the military use of schools and universities. Today 83 countries have endorsed the declaration. We welcome others.
We have made important progress over the past years to provide children and youth with quality education, but it is clear that we still have a lot of work to do. We welcome the continued interest and dedication to achieving the SDG4: Quality Education for All. Ensuring that no one is left behind and that everyone, everywhere, can benefit from quality education requires broad partnerships and concerted effort.
Thank you and happy first International Day of Education.