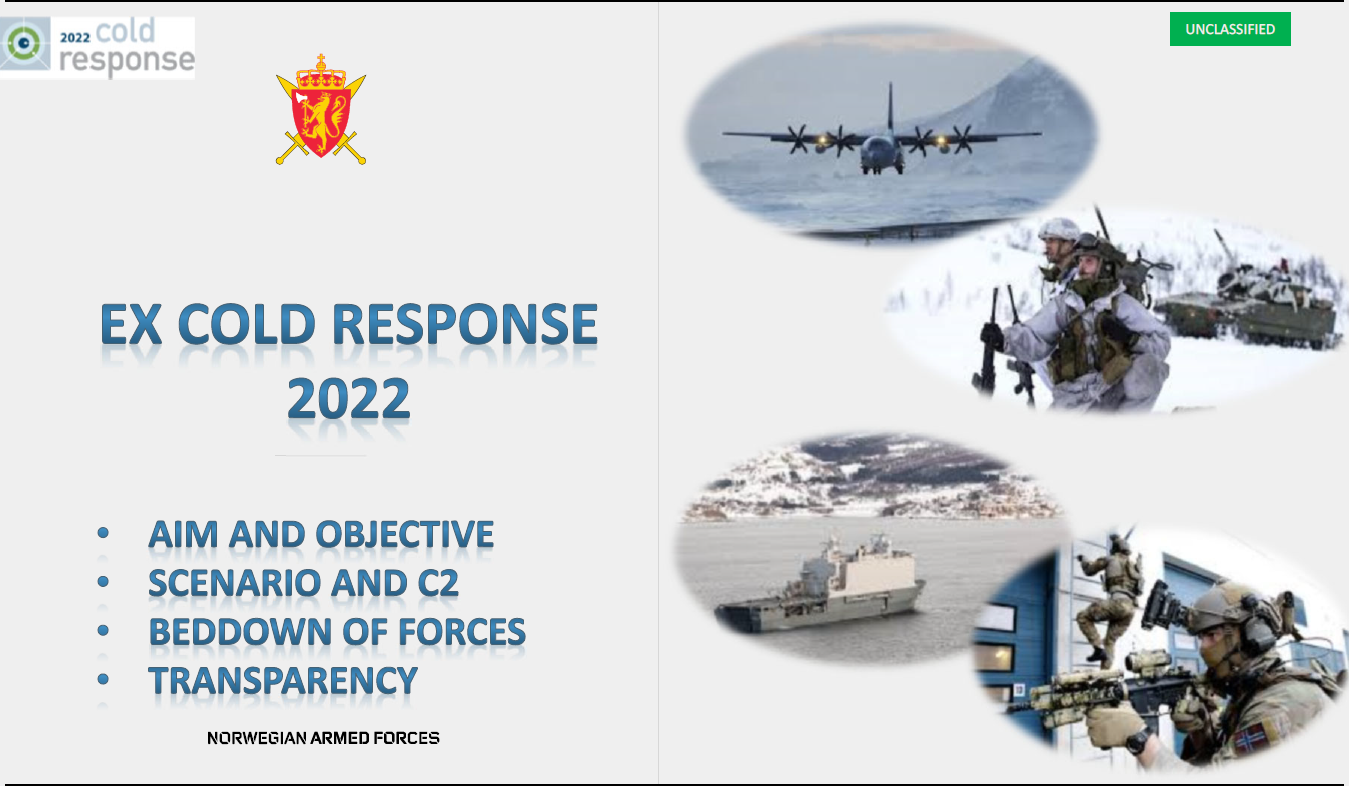 Intro: Exercise Cold Response 2022 (CR22) is a national Norwegian exercise. The Cold Response exercise series are held every other year, with invited international participants. The exercise was notified according to the Vienna Document 2011 § 61 on the 12th of November 2021, as well as in November 2020 – as the exercise could be over 40 000 personnel.
Cold Response 22 is the largest planned exercise conducted within NATO in 2022.
A significant part of exercise Cold Response 22 will take place in international waters adjacent to Norwegian territory with a large maritime and air presence. The Field Training Exercise will take place between 23 March‐ 30 March. A total force of 35 000 personnel from 25 nations are taking part in the exercise. Due to the pandemic, there are ongoing changes, so this number might change until the start of the exercise.
The Officer in charge of the Exercise is the Chief of the Norwegian Joint HQ in Bodø.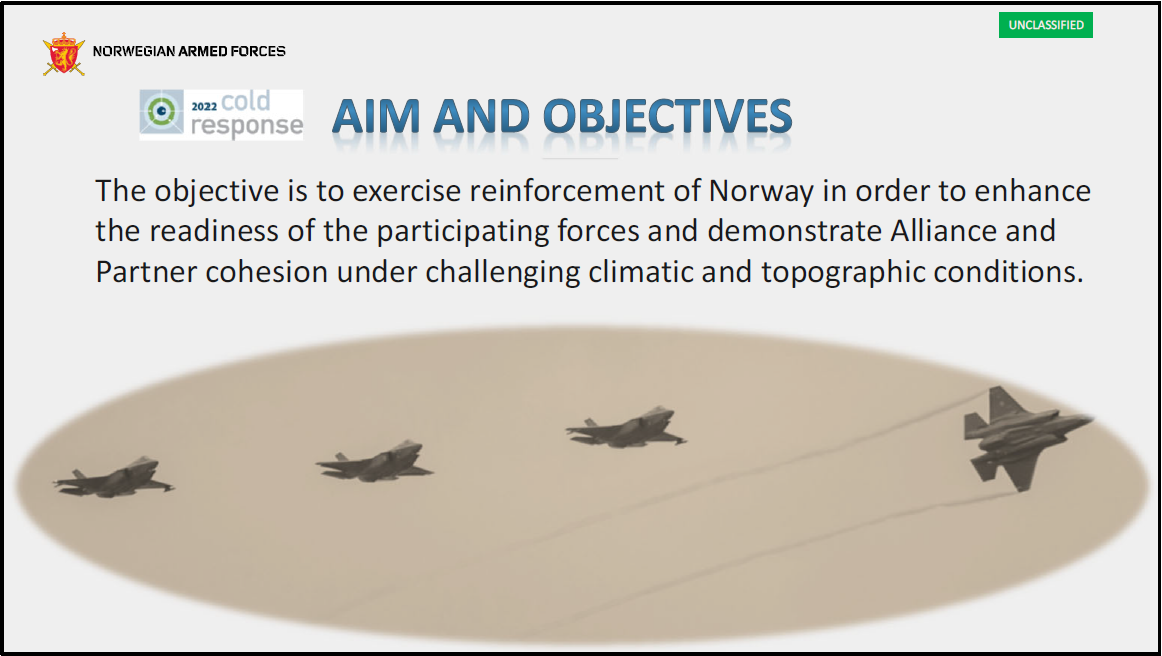 The objective of CR 22 is to exercise reinforcement of Norway in order to enhance the readiness of the participating forces and demonstrate Alliance and Partner cohesion under challenging climatic and topographic conditions.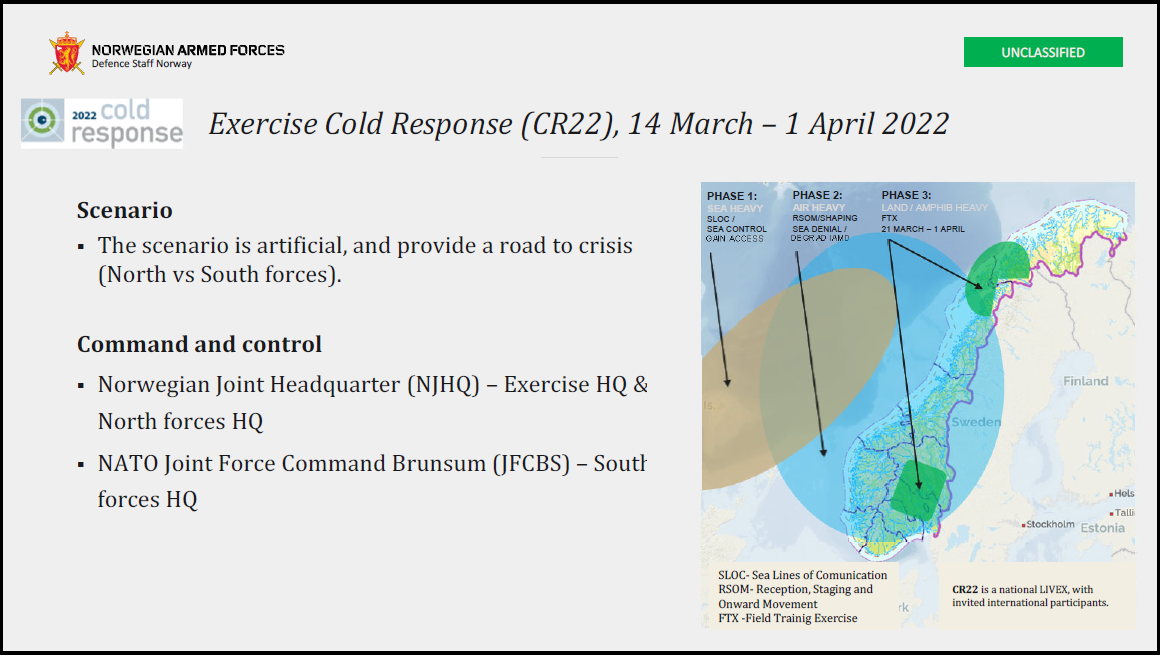 Scenario
The scenario of the exercise is artificial and will mainly provide a framework to portray the road to crisis with peer adversary in all domains (North vs South forces).
Depicted on this map, you can see the planned phases for the exercise. Phase1 – is starting with naval operations in the Atlantic in order to gain access,
Phase 2 – constitutes of Air heavy operations in order to enable landing.
Phase 3 – Is the amphibious landing and land battle in order to restore national integrity.
There will be two exercise areas, one in the north and one in the south, marked in green.
Important to notice is that a significant part of exercise Cold
Response 22 will take place in international waters with large
maritime and air presence, and not on land.
At the moment it is foreseen a participation of approximately 16000 forces on land, these numbers might change before the start of the exercise due to the pandemic and necessary precautions in this regard.
Command and control.
There are two operational commands in the exercise.
Norwegian Joint Headquarter (NJHQ) – is the Exercise HQ and
will command the North forces.
NATO Joint Force Command Brunsum (JFCBS) will lead the
South forces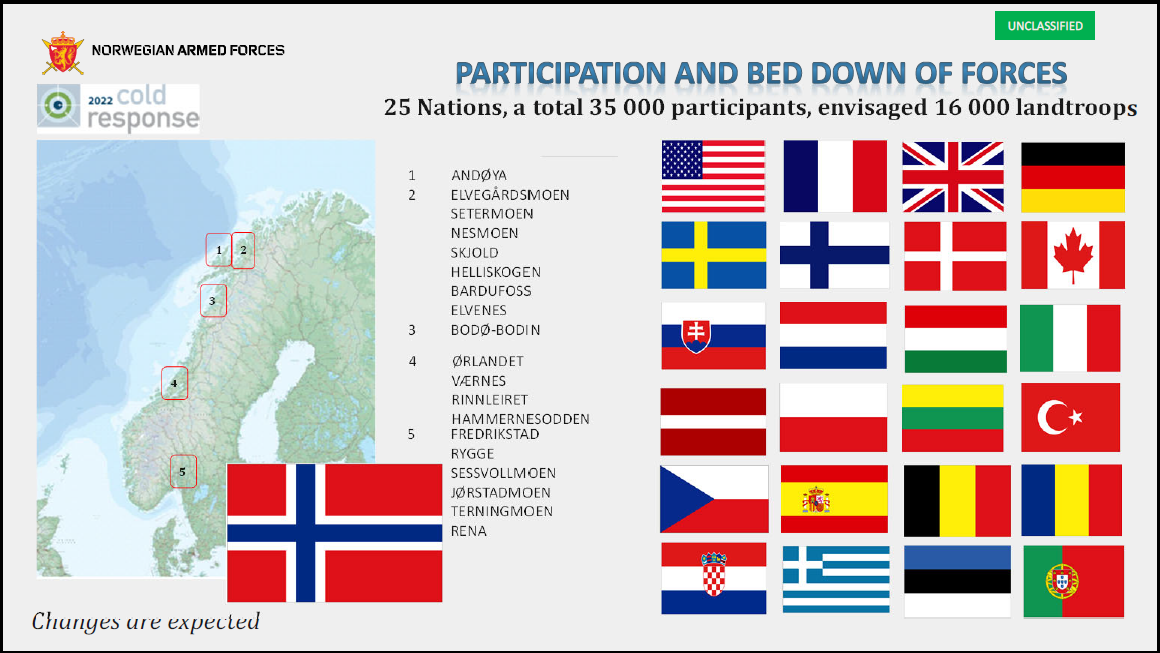 During the exercise, the participating forces will be deployed to different locations as depicted on the map. The largest participating states in the exercise are Norway, the USA, France, and the United Kingdom.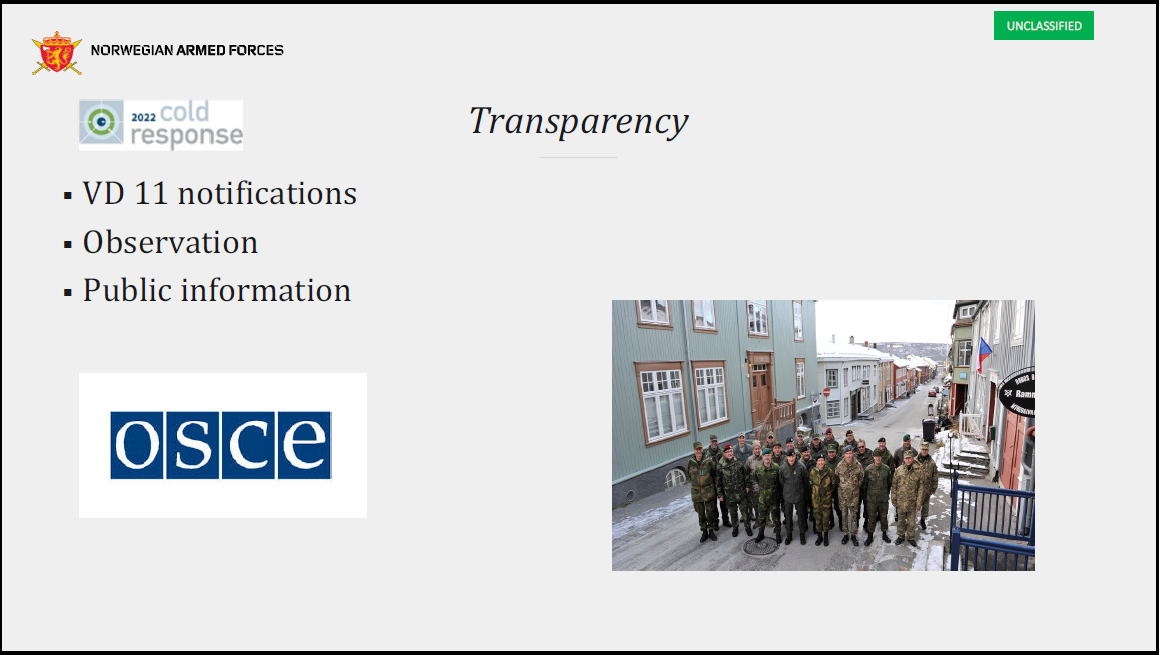 Norway is committed to the Vienna Document obligations. We are strong supporters of confidence and security building measures. With reference to Chapter V (§47) of the Vienna Document 2011 we will invite all OSCE participating states to an observation of the exercise. The observation will take place from 23. till 30 March 2022. Should the number of forces drop below observation threshold, Norway will conduct the observation on a voluntary basis.
The observation will cover both the northern and southern exercise area, all brigades and most of their subunits will be visited. Invitation will be sent out in early February.
It is important for Norway to inform early and comprehensively about large military exercises to avoid potential for military tensions and misperceptions. Larger changes to this exercise will be notified accordingly the coming weeks. This to keep participating states who would like to plan a Vienna Document inspection and/or participate in the observation of CR 22, up to date on the developments in the planning.
(In November this year (2022) we will notify the next Cold Response exercise, which will be conducted in 2024.)
(We appreciate the Vienna Documents provisions regarding early notifications and observations as one of the Vienna Documents many measures to foster transparency, trust, and confidence.)
(Press and public will also receive information on the exercise. This will be done through the local authorities on site, but also through official webpages, press releases and other media outreaches.)