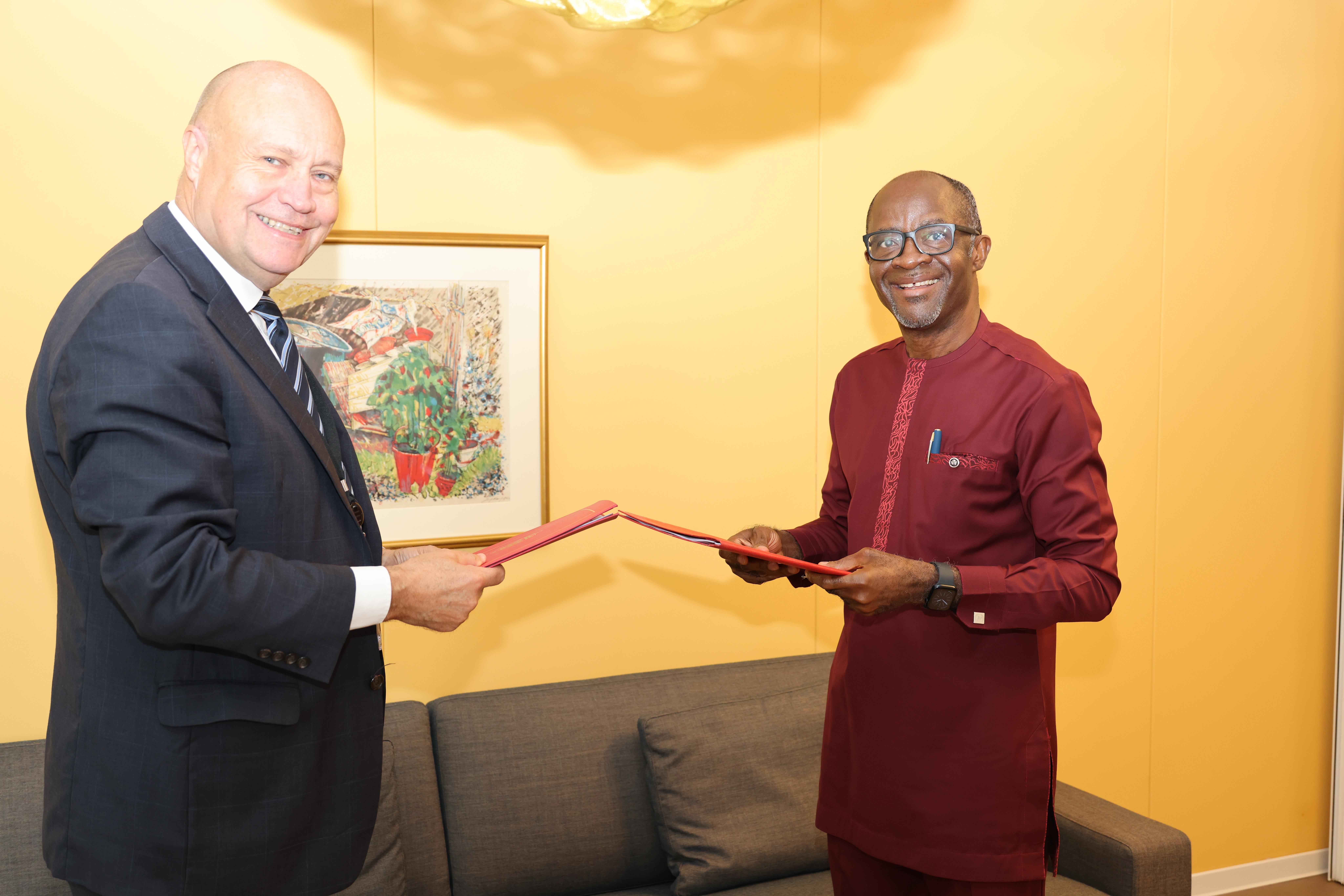 Lars Petter Henie—Charge de Affairs and Dr. Samuel Doe, UNDP Resident Representative in South Sudan.
The Norwegian Embassy in South Sudan and the United Nations Development Programme (UNDP) have signed an additional grant agreement for strengthening public administration and implementation of public financial management (PFM) reforms.
The contribution will enable the continuation of capacity-building initiatives and policy support that contributes to the implementation of Chapter IV of the Revitalized Agreement on the Resolution of the Conflict in the Republic of South Sudan (R-ARCSS).
Speaking during the signing ceremony on 17 November 2023, Lars Petter Henie—Charge de Affairs, expressed enthusiasm about the extension and reaffirmed Norway's commitment and support to the implementation of R-ARCSS to restore stability and peace in the country.
"Effective governance and robust economic management are crucial for development and economic growth in the country", said Lars.
On his part, Dr. Samuel Doe, UNDP Resident Representative in South Sudan, highlighted the significance of the extended partnership, noting that it will play a key role in strengthening public administration and economic governance institutions, ultimately promoting good governance and sustainable peace and development.
With the added financial support of NOK 17.4 million, Norway's contributions totals NOK 104.2 million (over USD 10 million) since 2019.
The major emphasis for the support has been on strengthening good governance of the economy and public sector reforms. Chapter IV of R-ARCSS emphasizes the need for better resources, economic and fiscal management to restore peace and stability in South Sudan.
Norway has been a longtime partner to various peace agreements in South Sudan, and support to this project has been instrumental in fostering governance structures and bolstering economic management systems in the country.
For media inquiries, please contact: Jale Richard at: jale.richard.wilson.santos@mfa.no +211920900540
Amos Agiro at: amos.agiro@undp.org +211928747291