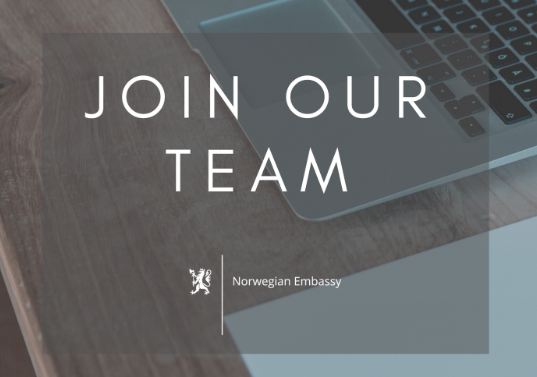 Communications officer – temporary appointment
Norway is a long-standing ally and partner of the United States. A founding member of NATO, one of the world's most successful economies with a population regularly surveyed to be the "happiest people in the world", the Scandinavian country is a leader in areas as diverse as international peace and reconciliation, shipping, gender equality, oil and gas production, fisheries and fish farming, and climate technology.
Norway's partnerships with the U.S. spans a large number of cooperation areas, and its Embassy in Washington, D.C. is the country's largest bilateral mission with a staff of more than 50, including approximately 30 diplomats and 20 local staff. The diplomats include Foreign Service personnel as well as envoys from a number of specialized Norwegian government agencies, including 4 military officers working in the office of the Defense Attaché.
The mission of the embassy is to further develop relations with all parts of the U.S. government, including the Administration, the U.S. Congress, and individual states, across all areas of cooperation.
The listed position will be a member of the embassy's communications and cultural affairs team.
Position summary
The position is responsible for implementing the Embassy's social media strategy, by generating and publishing content across our social media platforms, as well as other tasks related to communications and press work. The work is conducted in close cooperation with Embassy leadership and staff.
Main duties:
Manage Embassy social media adhering to the Embassy communications strategy. Create and manage content for embassy platforms and website.
Coordinate marketing and communications for webinars, lectures, and other external events.
Design graphics for marketing materials and social media
Education/experience
College degree or equivalent experience or formal training
Digital communications experience is required
Knowledge of Norwegian foreign policy positions and priorities is desirable
Personal skills
Excellent cooperation skills
Ability to take initiative
Being service-minded and flexible with an eye for detail
Ability to work efficiently both independently and as a team player
Having solid communication and interpersonal skills
Ability to demonstrate cultural awareness and sensitivity, integrity and a professional approach to work
Conditions of Employment:
The appointment is for twelve months. Local conditions will apply for the position and the contract will be regulated by U.S. law. We offer a competitive salary, health insurance and 25 days annual holiday and excellent working environment with interesting and varied tasks.
The applicant must be a US citizen, or a holder of a residence permit and work permit in the United States.
Application:
Applications should include cover letter, resume, and references, and must be sent to applications.emb.washington@mfa.no. Mark the application "Communications Officer application - your name".
For further information, please contact Susanne Juell Gudbrandsen (susanne.juell.gudbrandsen@mfa.no or Heidi Aakre (heidi.aakre@mfa.no).
Deadline: 26 March 2021