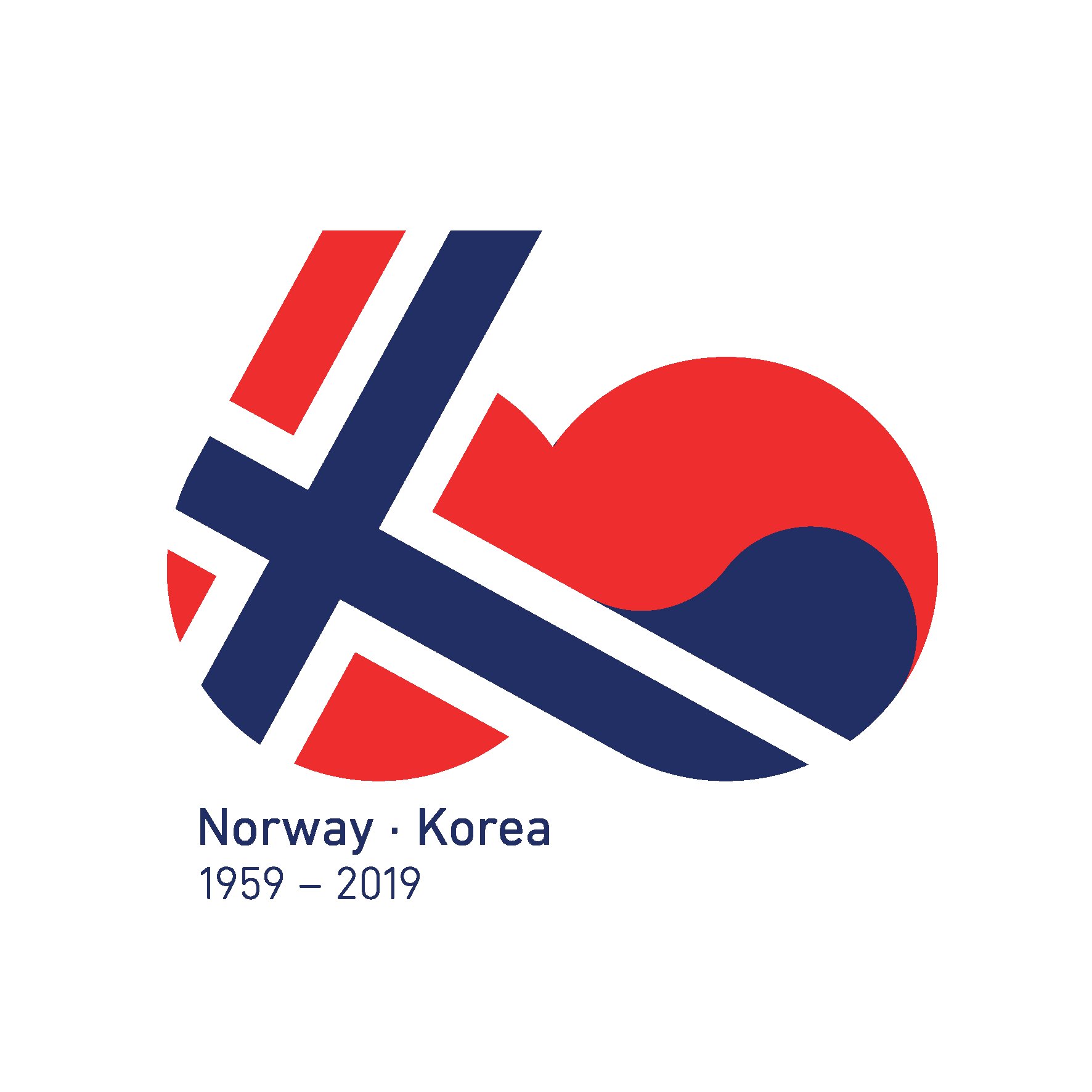 The logo, which is made public in Korea today, is made by the young Korean designer J1 Song.
- The logo is inspired by our two flags, which shares the same colors. The logo also tells a story of two nations who have developed in close relation to the blue ocean. We simply loved it at first sight, says Ambassador Solberg.
The series of culture events kicks off in March, with the visit of Norwegian students of K-pop to Korea. Their love for Korean music and dance is proof of a strong interest for Korean culture in Norway. In May we celebrate our national day, with a focus on clean oceans and green energy. In June Norwegian writers will participate at the Seoul International Book Fair, and in October a Norwegian Dance Company is selected to perform during the prestigious Seoul International Dance Festival. Also in October we celebrate our maritime ties, with several events in Busan, including a seminar on green ships. The year ends on a high, with the visit of Trondheim Symphony Orchestra and their Korean-American Chief Conductor Han-Na Chang. In addition, with time to be decided, we are planning an exhibition in collaboration with the War Memorial of Korea, with previously unreleased photos from the Norwegian field hospital.
Norwegian Foreign Minister Ine Eriksen Søreide underlines the importance of our partnership.
- The roots of the friendship between our two peoples goes back to the field hospital that Norway sent in 1951 to assist the UN forces in Korea, she says. – The Norwegian presence during this hard time created strong bonds. Today South Korea is among our most important trade partners. Together our maritime industries have developed world leading know-how on ship design and production.
Foreign Minister Kang Kyung-wha highlights our shared values and interests.
- Norway and the Republic of Korea enjoy close ties, based on common values and shared interests. We are actively cooperating for peace, human rights and international development. Our trade links have been strong in maritime, ship-building and sea food, and we are now expanding into environmental issues, green growth and Arctic affairs, she says.
Follow the #KoreaNorway60 celebration on Instagram (@norwayinkorea), Facebook (@koreanembassyinnorway), or Norwegian Ambassador's twitter: @NorAmbSeoul.