The 26th OSCE Ministerial Council took place in Bratislava, Slovakia, from 5 to 6 December. Delegations from all participating States had long been preparing for the organisation's annual ministerial-level meeting. Ministers and representatives from the 57 participating States met to discuss the security situation in the OSCE area and the organisation's activities.
The Norwegian Minister of Foreign Affairs, Ine Eriksen Søreide, called for renewed commitment to the OSCE, and to allow the organisation to use its full potential to help mitigate unresolved conflicts in the region. In her statement, Foreign Minister Eriksen Søreide stressed that the OSCE toolbox for conflict prevention and mediation is extensive. However, she added, the proper functioning of the OSCE is dependent on adequate resources, and she urged the participating states to get out of the current budgetary deadlock.
The conflict in and around Ukraine was addressed by several participating states in their opening statements. There were also side events discussing aspects of the conflicts in the margins of the conference, one of which was attended by Foreign Minister Eriksen Søreide.
The Ministerial Council is a meeting place for bilateral discussion. It serves as one of the few fora where states meet on an equal footing to discuss security matters of regional and global importance.
Foreign Minister Eriksen Søreide also participated as a panellist in a side event to present the recent OSCE publication "Inclusion of Women and Effective Peace Processes". She underlined that experience is that women's meaningful participation in all stages of peace processes are crucial to lasting and sustainable peace.
An important issue at the ministerial meeting was the situation in Georgia. Ms Eriksen Søreide encouraged the participating states to allow the OSCE to increase its presence and she attended a gathering of the Group of Friends of Georgia. The Permanent Representative of Norway to the OSCE, Ambassador Steffen Kongstad, later delivered a joint statement of the Group of Friends of Georgia supporting the territorial integrity of Georgia and on the ongoing Russia-Georgia Conflict.
Both statements can be found here: Joint Statement of the Group of Friends of Georgia on the Russia-Georgia Conflict.pdf and Statement to the Ministerial Council of the OSCE.pdf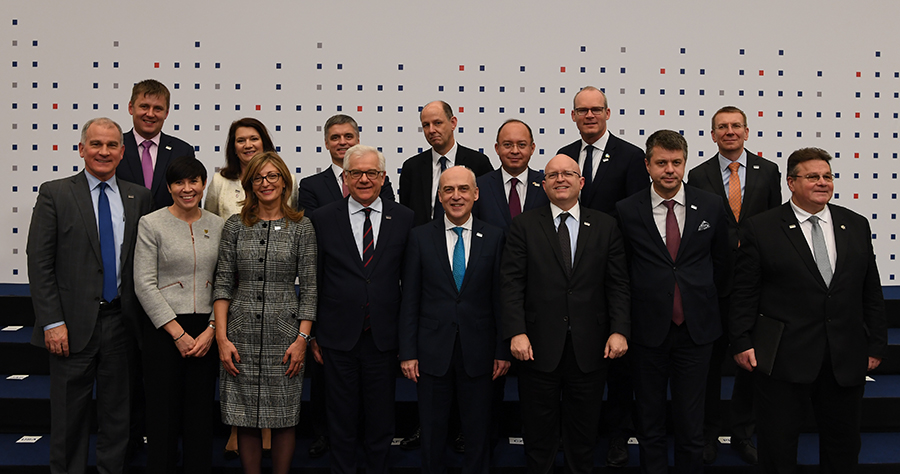 The Group of Friends of Georgia pictured at the OSCE Ministerial Council.