Visitor's visa and residence permit
A visitor's visa allows you to stay in Norway or other Schengen countries for up to 90 days over a period of 180 days. A residence permit gives you the opportunity to work in Norway and to stay for more than 90 days.
Information to applicants residing in Kosovo:
Requirement to give biometrics when applying for a residence permit in Norway
Starting on March 18th 2021 persons applying for a residence permit in Norway will be requested to submit biometrics in the form of a live photograph.
As of 16th of April a requirement to also give fingerprints when applying for a residence permit will be added.
The fingerprint requirement applies to persons above the age of 6.
Persons over the age of 10 have to provide their signature.
The matrix below gives a full overview of the biometric requirements for the different groups of applicants: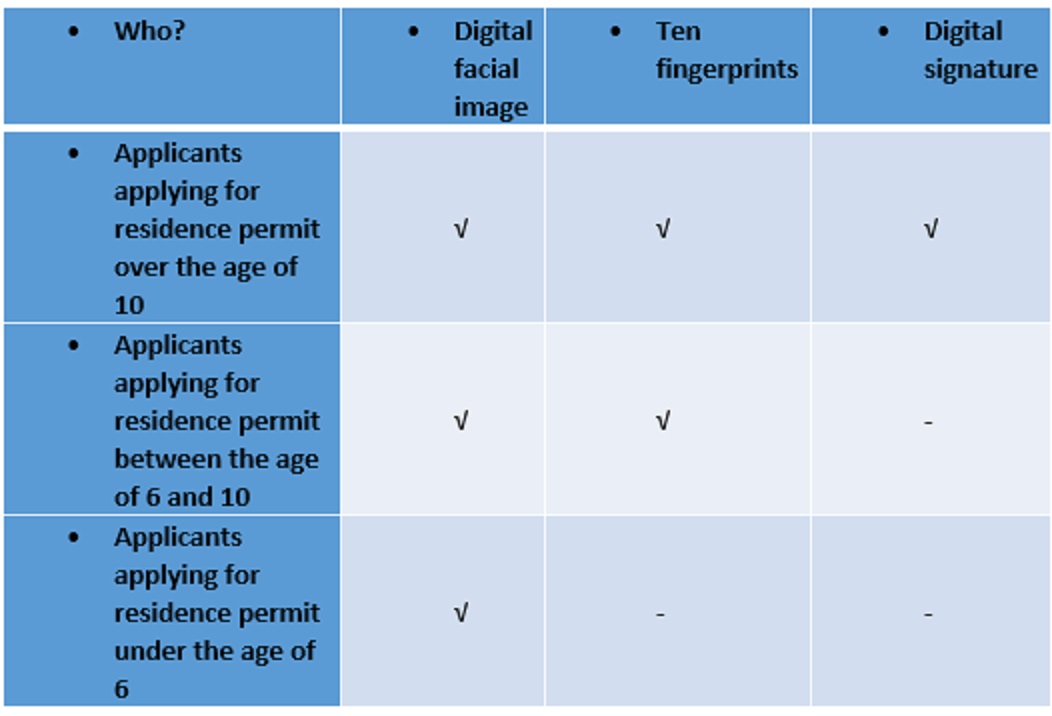 Norway introduces its strictest entry rules since March 2020
From midnight on Friday 29 January, stringent rules apply for entry into Norway for citizens from all countries.
Most people cannot travel to Norway now without belonging to one of the exceptions.
This applies to citizens of all countries, including citizens from the EU/EEA and Nordic citizens.
These categories cannot travel to Norway now:
Tourists
family members not listed under the Exceptions: close family members section
boyfriend/girlfriend or fiancé
EU/EEA citizens (including Nordic citizens) who are going to work or study in Norway, and who do not belong to any of the exceptions listed below
business travelers
foreigners who have been granted a Schengen visa, but who do not belong to any of the exceptions below
persons who have leisure property in Norway, but are not resident here
For list of persons who can travel to Norway now and further information, please refer to the UDI webpages:
https://www.udi.no/en/about-the-corona-situation/entry-to-norway-for-all-citizens/#link-19307
New entry-requirements before and upon arrival in Norway
Please note that there are very strict entry requirements to Norway now due to the pandemic. Here are the main requirements before, upon and after arrival:
Registration requirement for all people entering Norway
All people entering Norway must register themselves as part of infection control. The amendment enters into force Monday 21 December 2020. Please read more about this, and how to register here.
Negative Covid-test taken maximum 24 hours before travelling to Norway
Mandatory Covid-19-testing for travellers to Norway upon arrival
This new requirement of testing after arrival in Norway comes in addition to the requirement to have a negative Covid-19-pcr-test before travelling to Norway.
10-days quarantine-requirement (for several categories of travellers the quarantine will be in a hotel)
The rules and regulations are currently changing quite often, you must therefore make sure to update yourself on the latest regulation at HelseNorge
Who can travel to Norway on a visa now?
It is now possible to visit ONLY the following family members in Norway:
spouse or registered partner
cohabitant with joint children, or cohabitants without children who have lived together for more than two years
children or stepchildren (under 18)
parents or stepparents (to children under 18)
The usual requirements for visa and entry will apply.
Where and how to apply
For the categories of applicants mentioned above, it is possible to apply for a visa at VFS Global Prishtina. Please note that the visa application must be handed in at one of our VFS Global application centers. It is obligatory to book appointment. Please find link to all VFS applications centers at our webpage: https://www.norway.no/en/turkey/services-info/visitors-visa-res-permit/
Importance of documentation:
Please note that all normal application requirements for visa are valid. The lists of documentation requirements are available on VFS' webpages. In addition, when handing in your application at VFS, you must prove that you are in one of the categories mentioned above. If not, VFS are instructed to refuse to receive your application.
Opening for applications for residence permits to Norway
It is possible to apply for residence permit to Norway.
All applications for residence permits must be handed in at one of the VFS applications centers. Please note that it is mandatory to book appointment.
Temporary suspension of visa representation agreements
In order to minimize the spread of the Covid-19 virus, the Norwegian government has decided to suspend all agreements of representation. The Norwegian Embassy in Ankara will therefore not issue Schengen visas to Denmark, Finland or Iceland. Persons that already has been issued a Schengen visa by our Embassy to go to these countries, must contact Danish, Finnish and Icelandic authorities to know if travel is possible.
----------------------------
Applications for visitor's visa and residence permit for Norway are handled by the Norwegian Embassy in Ankara, Turkey. All applications are to be submitted through VFS Global in Pristina.
If you have any questions, please contact our external service provider VFS's Helpline or the Norwegian Embassy in Ankara.
Visa appliction Centre (VFS):
Telephone: 0900 11122 or +383 38 606 604 (international)
E-mail: info.kosovonor@vfshelpline.com
Webpage: www.vfsglobal.com/Norway/Kosovo/
Address: Str. Rustem Statovci, No. 36, 10000, Prishtina
Opening hours: Monday to Friday between 09:00-16.00
The Norwegian Embassy, Ankara:
In order to contact the Visa Section at the Embassy in Ankara you must write an email to emb.ankara.immigration@mfa.no
Webpage: https://www.norway.no/en/turkey/