On Friday 27 November, the Norwegian Embassy in Nairobi was proud to co-host this year's edition of the Human Rights Defenders Awards together with the National Coalition of Human Rights Defenders – Kenya (Defenders Coalition). This was the fifth time the HRD Awards were organised. The objective of the Awards is to recognize, honour and appreciate the extraordinary work of human rights defenders in the protection of human rights.
The protection of human rights defenders is a key priority in Norwegian foreign policy. Therefore, the Norwegian Embassy was particularly honoured to support the organisation of the 2020 Human Rights Defenders Awards. The COVID-19 pandemic made it particularly important to take a moment to celebrate and recognise the work by human rights defenders in a particularly challenging year.
The Awards were given out in three categories: 1) the Upcoming Human Rights Defender of the Year Award, 2) the Human Rights Defender of the Year Award and 3) the Munir Mazrui Lifetime Achievement Award.
The winners in each of the three categories were chosen by an independent Judging Panel, chaired by Rachael Mwikali, Co-Founder and convener of the Coalition for Grassroots Human Rights Defenders Kenya. Some of the selection criteria included civil courage, leadership, innovation, demonstrable impact of the Human Rights Defender's work on the community, and creativity.
Below you can read more about the inspiring and courageous winners in each category:
Upcoming Human Rights Defenders of the Year:
Naila Abdallah, Mombasa County: Naila founded Sisters for Justice (S4J) in 2017. She has been working to empower in particular young Muslim women in her community whose rights have been violated, and following up on cases of gender-based violence, extra-judicial killings, forced disappearances and violent extremism.
Mathare Roots Initiative, Nairobi County: a community-based organisation located in the informal settlements of Mathare, formed in 2006 by a group of young community members. Mathare Roots Initiative is creating awareness around different human rights issues and violations through Artivism – graffiti murals. The issues they tackle include police brutality, extra-judicial killings and violence against children and women.
Human Rights Defender of the Year:
Jerotich Seii, Nairobi County: Jerotich is an independent consultant and a women human rights defender who is vocal in particular on issues of energy justice. She began the #SwitchOffKPLC campaign in 2018 in order to challenge injustices faced by electricity consumers. In the context of the COVID-19 pandemic, she established #HumanityKE and raised funds for cash transfer assistance to vulnerable families.
Joseph Egalan and Turkana Red Vest Movement, Turkana County: a coalition of human rights defenders working to end corruption and misappropriation of funds. Egalan, who started his human rights work in 2013, has been working to fight corruption in the county through information sharing. He has also been at the forefront in advancing right to water, access to education and adequate roads. The Turkana Red Vest Movement has been working to ensure community participation in infrastructure development.
Feminists for Peace Rights and Justice Centre, Nairobi County: has been working in their community since 2016, when a group of young women came together to work to end all forms of violence, abuse and oppression against women, children and sexual minorities. They have been a community-based organisation since 2018, championing women's empowerment in the community through feminist principles. During the COVID-19 pandemic, they have continued supporting vulnerable families in Kibera, and provided shelter and safe spaces for survivors of gender-based violence.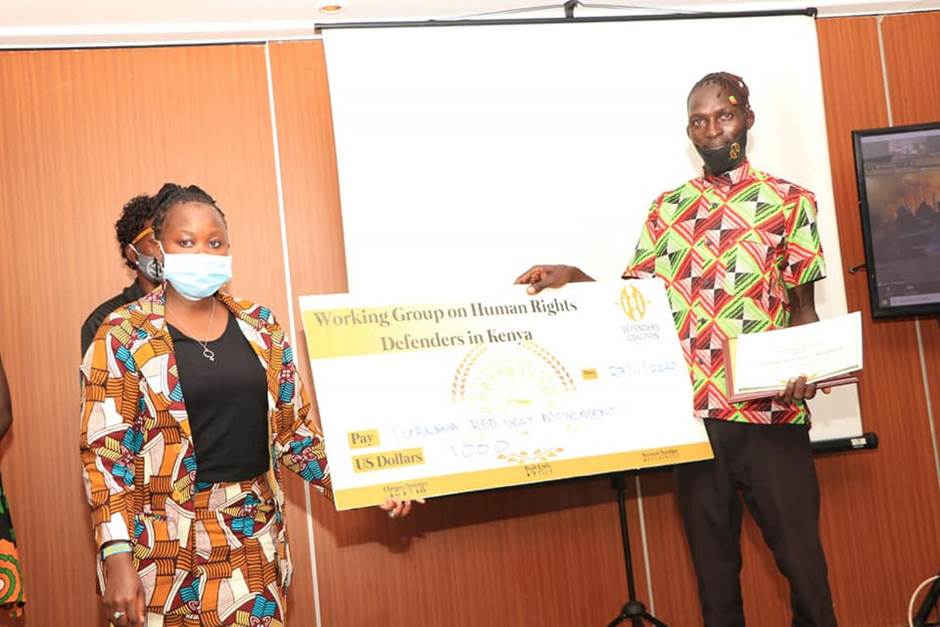 Munir Mazrui Lifetime Achievement Award:
Abubakar Al-Amudy, Lamu County: The late Abubakar Al-Amudy was an environmental human rights defender who fought for the rights of the communities of Lamu. He was championing sustainable development and environmental protection. A co-founder of Save Lamu (2011), he spent decades advocating for environmental justice, including the struggle for natural and land resource rights in Lamu. The late Abubakar Al-Amudy died on 21 June this year. His daughter, Tauhida Abubakar Mohamed, received the Award on his behalf.
We thank the winners for all their hard work, the Judging Panel, the planning committee organising this year's Awards, and our partner Defenders Coalition for all their efforts, and look forward to next year's Awards!