The Ambassador also underscored the importance of the message of the book reaching the smallholder farmers and rural communities of Ethiopia. Read the full speech below.
Read morea bout the book and author Getachew Diriba: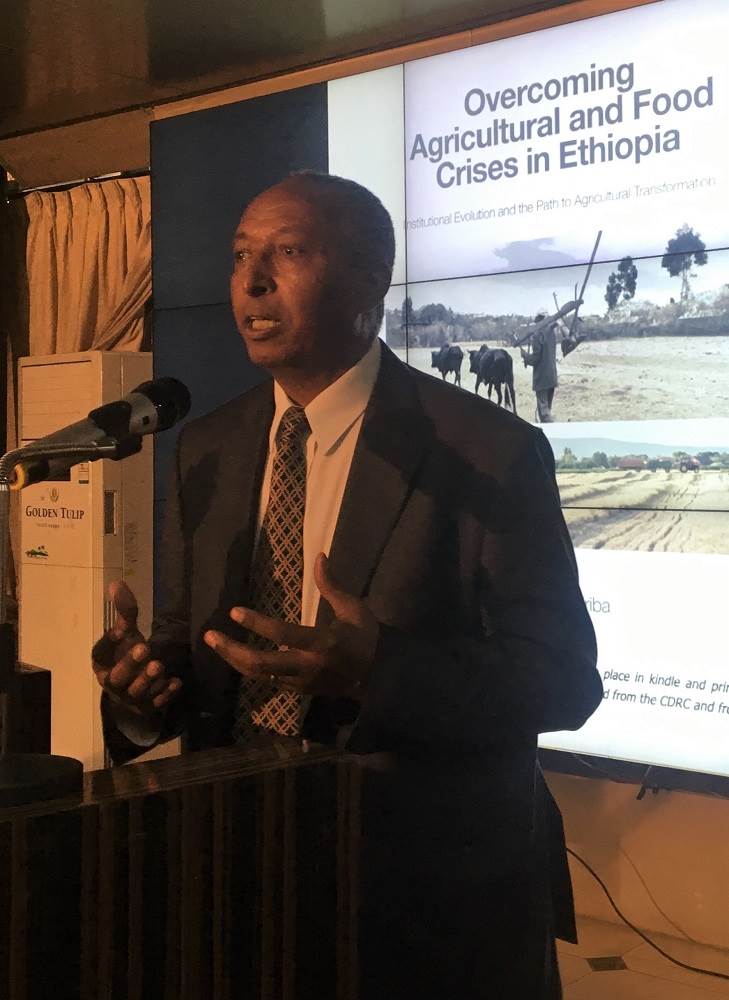 Synopsis of the book and author's biography.pdf
Dr. Getachew Diriba together with the Minister of Agriculture Shiferaw Shigute and Ambassador Seyoum Mesfin: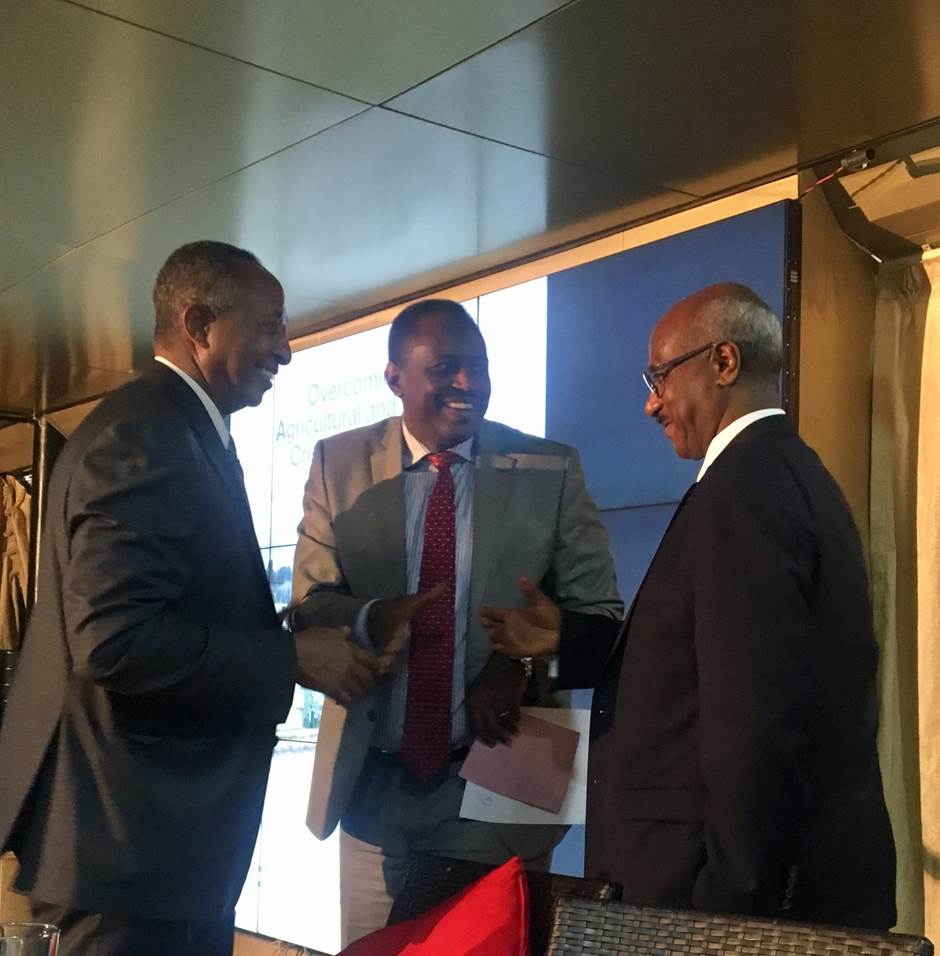 Ambassador Gaarder's full speech:
Your Excellencies, ladies and gentlemen,
I am honoured to be invited here to the Golden Tulip Hotel on the occasion of this book launch under the auspices of the CDRC.
As we all are gearing up to end poverty and hunger by 2030 – how can we translate the Sustainable Development Goals into concrete action? This is in reality what Dr Getachew's new book is addressing – how do you transform the agricultural sector in Ethiopia to meet this challenge?
Food production is extremely important. Clearly, we all depend on food to survive, but food production also touches issues like national independence and security.
In Ethiopia agriculture is the single most important sector, both when it comes to peoples' livelihoods, the national economy and export earnings. Around 90% of the country's export earnings come from this sector and it employs more than 80% of the population.
No doubt, the agricultural sector is in need of development. The overall productivity is low and the dependence on recurrent rains and traditional farming techniques is too high. The agricultural sector is therefore very vulnerable to climatic changes and is also - in its traditional form - contributing to continued soil erosion and land degradation.
This poses a serious challenge.
Without change, Ethiopia risks that traditional agricultural practices undermine the fundaments of its own existence as this kind of agriculture leads to continued and massive soil erosion. There is also a risk that Ethiopia misses the opportunity to boost agricultural export and strengthen its food security. In light of the recent droughts and humanitarian crisis, this remains a concern.
The seriousness of the situation and the importance of developing the agricultural sector is clearly reflected in national plans and strategies. Modernization, productivity increase and the negative spiral of land degradation is recognized. Ethiopia has a strong and experienced Ministry of Agriculture and has established the Agricultural Transformation Agency, specifically tasked to boost agricultural development.
Norway made a commitment to support the Climate Resilient Green Economy strategy already at its launch in 2011. Since then this support has focused primarily on agriculture, forests and energy, three sectors that mutually influence each other and are crucial for the country's development and resilience.
In agriculture, Norway's main support goes to the Sustainable Land Management Programme. This program rehabilitates the watersheds, seek to reduce erosion and introduce climate smart agricultural techniques, aimed at improving productivity. However, in my opinion the most important thing this program does is to assist farmers in getting user rights and land certificates. I would not underestimate what this means for the individual farmer's interest for develop and invest in their land. I welcome continued and accelerated effort in this area.
Center for Dialogue, Research and Cooperation (CDRC) is an important partner for the Embassy. Your work on raising the issues on the situation on the Horn of Africa, including institution building, democratic governance and the rule of law, as well as opportunities for peace, security, cooperation and integration are very much aligned with Norwegian priorities. In the spirit of our longstanding engagement on climate and agriculture in Ethiopia, I am pleased to support the publication and launch of the book 'Overcoming Agricultural and Food Crises in Ethiopia: Institutional Evolution and the path to Agricultural Transformation. I think we all agree that challenges are more easily overcome by strong and relevant institutions. This is certainly the case in the complex and important agricultural sector.
I hope this book will give important advice and be useful to government policy and that its messages also will reach the small-holder farming communities.
After all, it is when facts and knowledge guide our decision we have the greatest chances to succeed.
Thank you!