Warm greetings to all Norwegians in Eastern China. As we welcome the arrival of spring, we would like to take this opportunity to share some updates.
The past few months since China reopened its borders and lifted the covid-19 restrictions have been eventful. It gives us great pleasure to see that travel between Norway and China is easier, and that there is a growing number of international flights. Note that updated information about travel requirements for China can be found at the Chinese embassy webpages either in Oslo or in your departing country.
We are also pleased to inform that the number of Chinese applying to travel to Norway is steadily growing. CG Shanghai provides visas from VFS-centers in three cities in Eastern China, Shanghai, Hangzhou, and Nanjing, in addition, our Embassy in Beijing and Consulate General in Guangzhou also provides visas from several VFS centers across China. You will find more information here.
Have you checked your passport lately? Maybe it is up for renewal? More information on how to apply can be found here.
Throughout the winter months, the Consulate General has hosted and participated in several events, of which some you can read about below. We have a busy event calendar ahead of us – in particular for the business community, but there will also be events of interest to the Norwegian colony. Maybe this is the time to visit Jingdezhen in Jiangxi province where Norway´s most renown ceramist, Torbjørn Kvasbø, will be opening his solo exhibition on Sunday 23rd of April. Jingdezhen is known as the Porcelain capital of China. We will be there for the opening ceremony.
The highlight of the spring will be the celebration of our National Day which this year will take place on Saturday May 14, organized by Klubb Norge. See below for further information.
Warm regards,
Consulate General in Shanghai
Upcoming Events:
Klubb Norge Activities
Klubb Norge har flere aktiviteter denne våren og vi håper på god deltakelse fra den norske kolonien.
Fredag 7. april: Fredagspils på Abbey Road kl 18.00. Adresse: 3 Taojiang Road (Changshu Road Subway Station Entrance & Exit 7), Xuhui
Søndag 9. april: Sjømannsprest Håvard Osland fra Sydney og Klubb Norge inviterer til kombinert påske- og konfirmasjonsgudstjeneste på Emerald kl 11.00 med påfølgende grilling og konfirmasjonsfeiring (åpent for alle). Mer informasjon kommer og arrangementet vil avhenge av at sjømannspresten får visum.
Vi planlegger årsmøte for Klubb Norge i løpet av april. Følg med for flere detaljer senere.
Tradisjonen tro feirer vi 17. mai for den norske kolonien i Shanghai. Feiring blir på Emerald, søndag 14. mai fra klokken 11.00. Hold av dato! Mer informasjon kommer senere.
Bergen Assembly 2022 in Shanghai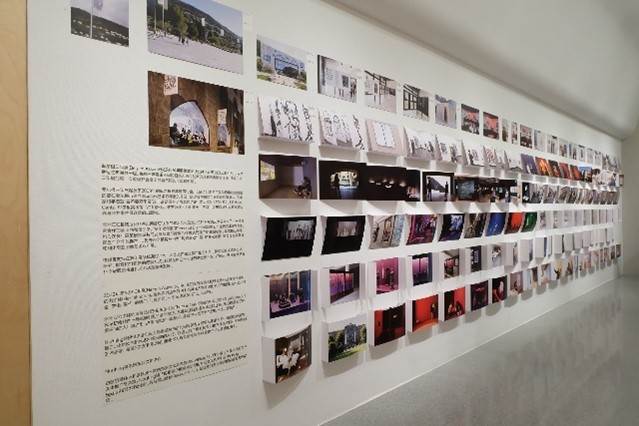 A retrospective exhibition about Bergen Assembly 2022 is going on in Shanghai during 23 March – 9 April at Banana Fish Bookstore (Address: no.7 Hongbaoshi Road, Changning District, Shanghai). Curated by the Norwegian art studio Northing, the exhibition presents an exploration trip invited by Yasmine, a fictional character, to explore seven characters who are the names of the seven exhibitions spread across different locations in the city of Bergen in 2022. Do not miss it if you are here in Shanghai!
Norwegian Rain Will Land in Shanghai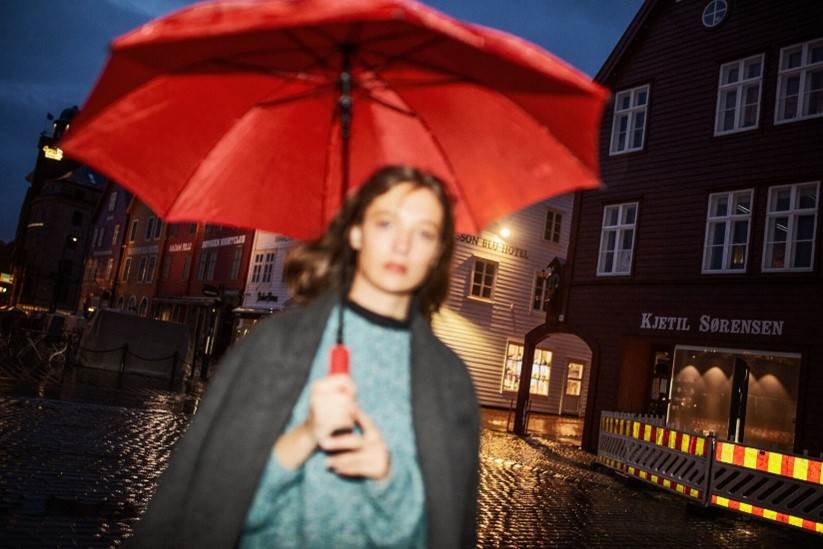 The famous Norwegian raincoat brand Norwegian Rain is coming to Shanghai! The stylish brand founders Alexander Helle & T-Michael will fly to Shanghai to attend the opening ceremony of its mini exhibition at the new store Dododo Book @Power Station of Arts on Friday 31 March. Drop by and take a look at the classy raincoats which originate from the rainiest city in Europe – Bergen.
Photo: Magnus Fruset/Visit Norway
Arktic Legend in Shanghai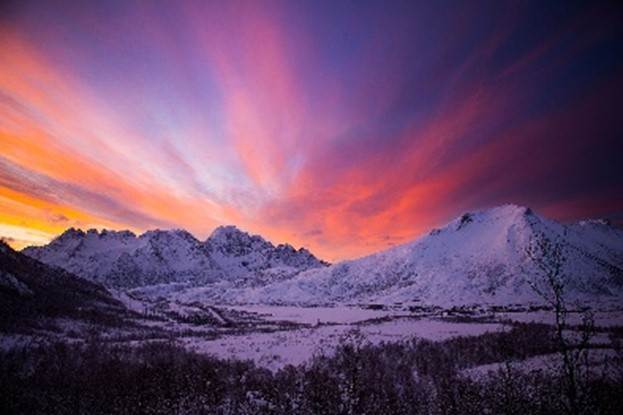 On 22 April, on the UN World Mother Earth Day, "Audible Ocean and Visual Wave: Sound Ritual Documenta", scripted by Oriental Danalogy Institute, will be launched in Shanghai. Inspired by Ibsen's A Doll's House, the documenta will use music, art installations, creative posters, and dramatic reading to convey the unique position of Norway in advancing the cause of women's independence and female professionalism, especially in ocean science, future technology, ocean engineering and math. The event will also unveil a public space for ocean literature learning and ocean sciences in Jing'an Children's Library. The project is supported by the Norwegian Consulate General in Shanghai. For more information, please follow the Consulate's Weibo account (挪威驻上海总领事馆).
Photo: - Seil Norge
Torbjørn Kvasbø solo exhibition in Jingdezhen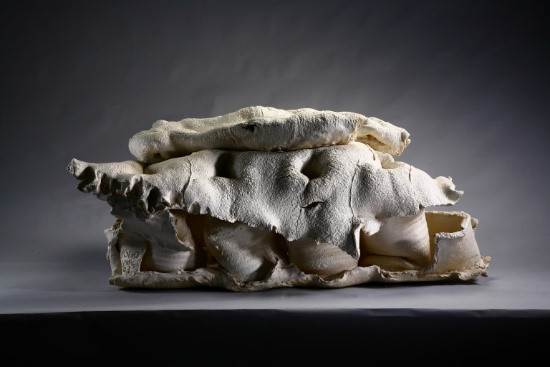 Invited by the international ceramic studio in Jingdezhen, the well-known ceramic artist Torbjørn Kvasbø is currently in the middle of his residency in the Jiangxi province. As an outcome of the residency, his solo exhibition will be opened at Taoxichuan Art Museum on 23 April and will last until the summer. Please follow the Consulate Weibo account for detailed information about the exhibition. More information about the artist can be found here: Torbjørn Kvasbø (kvasbo.com)
Photo: IT Park Photographic Studio – Ming-chih HUNG
Winter Highlights:
International Women's Day Conference by HerValue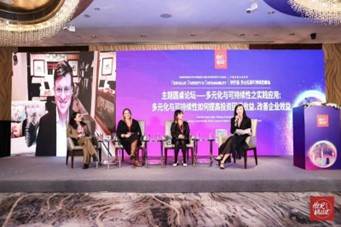 Consul General Lise Nordgaard took part in the inaugural diversity and sustainability conference for finance and investment in Shanghai, China, organized by HerValue, on International Women's Day. During the conference, she shared Norway's experience of being the first country to introduce a quota for women on boards, which mandates that certain companies have at least 40 percent women on their boards. The quota not only created the necessary pressure for fundamental change but also sparked a public debate on gender equality in society. The conference was attended by 100 invited guests from various Chinese companies and organizations.
Ambassador's meeting with Mayor of Shanghai
On February 9th, Ambassador Signe Brudeset and Consul General Lise Nordgaard had a meeting with the Mayor of Shanghai, Mr. Gong Zheng, where they discussed bilateral relations, business opportunities, and cooperation in the green transition. Shanghai and Norway have long-standing historical ties, particularly in the maritime sector, and Oslo and Shanghai are sister cities. The discussion highlighted the potential for strengthening connections further.
Consul General's Visit and Meeting with Mayor of Zhangjiagang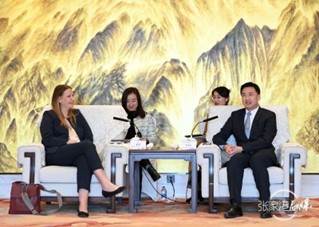 On February 7th, Consul General Lise Nordgaard paid a visit to Zhangjiagang in Zhenjiang province, one of the most economically prosperous county-level cities in China. During her visit, she was received by the Mayor of Zhangjiagang, Cai Jianfeng, and vice-Mayor Weng Yuren. In the meeting, we discussed how to further strengthen the presence of Norwegian companies in this region and how both companies and the local authorities can contribute to green growth. We also had the pleasure of visiting three companies, Jotun Coatings, Uniteam, and Passer-Lanyu.
Norwegian Frostventure at Disneyland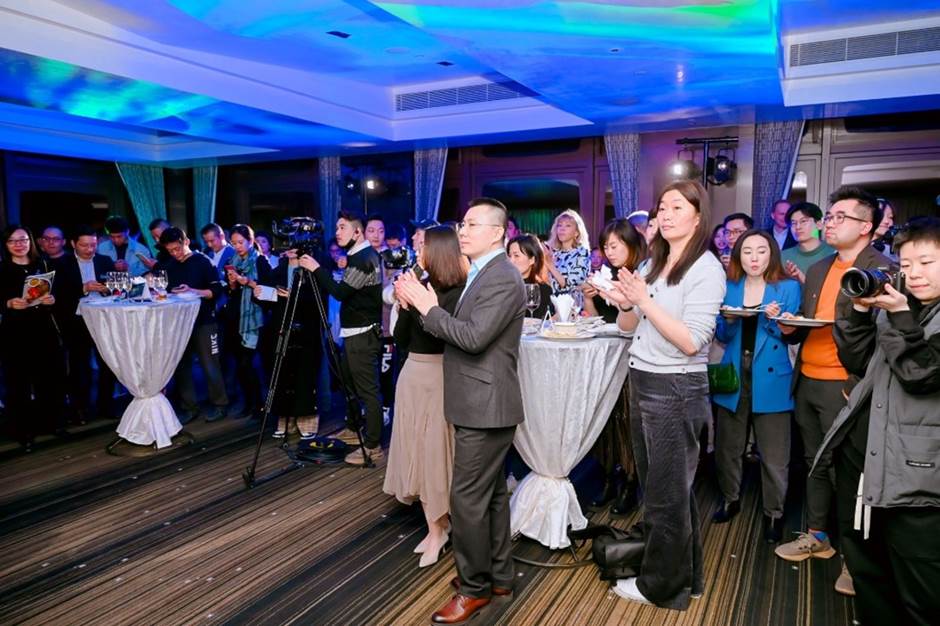 The Norwegian Froztventure event at Disneyland Shanghai on February 10th was a resounding success. The event was organized by the Consulate General and the Seafood Council and supported by Norwegian Business Association. Over 150 guests attended and almost 70,000 people watched the livestream on Sina Weibo. The event provided an excellent platform to showcase Norway, its tourist opportunities, cultural traditions, Sami culture, Norwegian seafood and other traditional Norwegian dishes, Norwegian businesses in China, and Norway-China relations.
We are grateful to the outstanding #TeamNorway members for their contributions and look forward to working together to create more magical and adventurous Norwegian experiences in China.
Shanghai Disneyland Resort Special Menu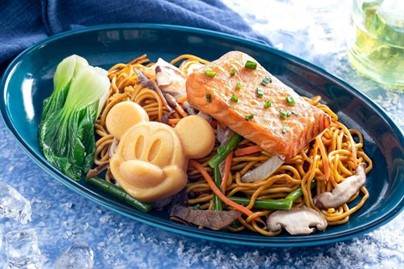 From January 18th to February 18th, four restaurants at the Shanghai Disney Resort featured a special menu that showcased seafood from Norway. Visitors to the resort had the opportunity to sample Norwegian salmon and mackerel during the Chinese New Year celebrations, and during this period 700 kg Norwegian salmon and 300 kg Norwegian mackerel was served to the Disneyland Shanghai guests. It was an excellent opportunity to introduce Norwegian cuisine to a broader audience and promote Norway's high-quality seafood to the Chinese market. We are proud of our #TeamNorway members for making this possible.
Women in Finance – Cross Border Dialogue.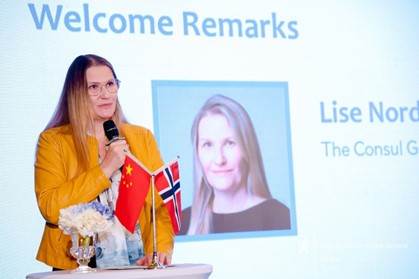 On January 12th, 2023, an inspiring dialogue was held in Shanghai with a lineup of competent and interesting speakers from Norway and China, joined by 130 invited guests in Shanghai and an online audience. The event featured comprehensive discussions and exchanges on how to achieve gender balance in the financial sector, a crucial topic that affects businesses and societies worldwide. It was an excellent opportunity for experts from Norway and China to share insights and learn from each other's experiences. We are proud to have contributed to this important conversation and will continue to support work towards achieving gender equality in the financial sector.
Stay updated on what we do at the Consulate General by following our social media accounts:
LinkedIn: Royal Norwegian Consulate General in Shanghai
Instagram: norwayinshanghai
Weibo: 挪威驻上海总领事馆