5th – 10th of November: China International Import Expo 2020 (CIIE)





Photo: https://www.ciie.org/zbh/en/
The third annual China International Import Expo will this year feature exhibits from more than 100 different countries. Norway will also take part, with several Norwegian companies attending. The Royal Norwegian Consulate General in Shanghai – on behalf of Team Norway in China – will host a reception for Norwegian companies and their local partners on the 5th of November.


31st of October - 11th of November: Norwegian Seafood Pavilion at Hema Fresh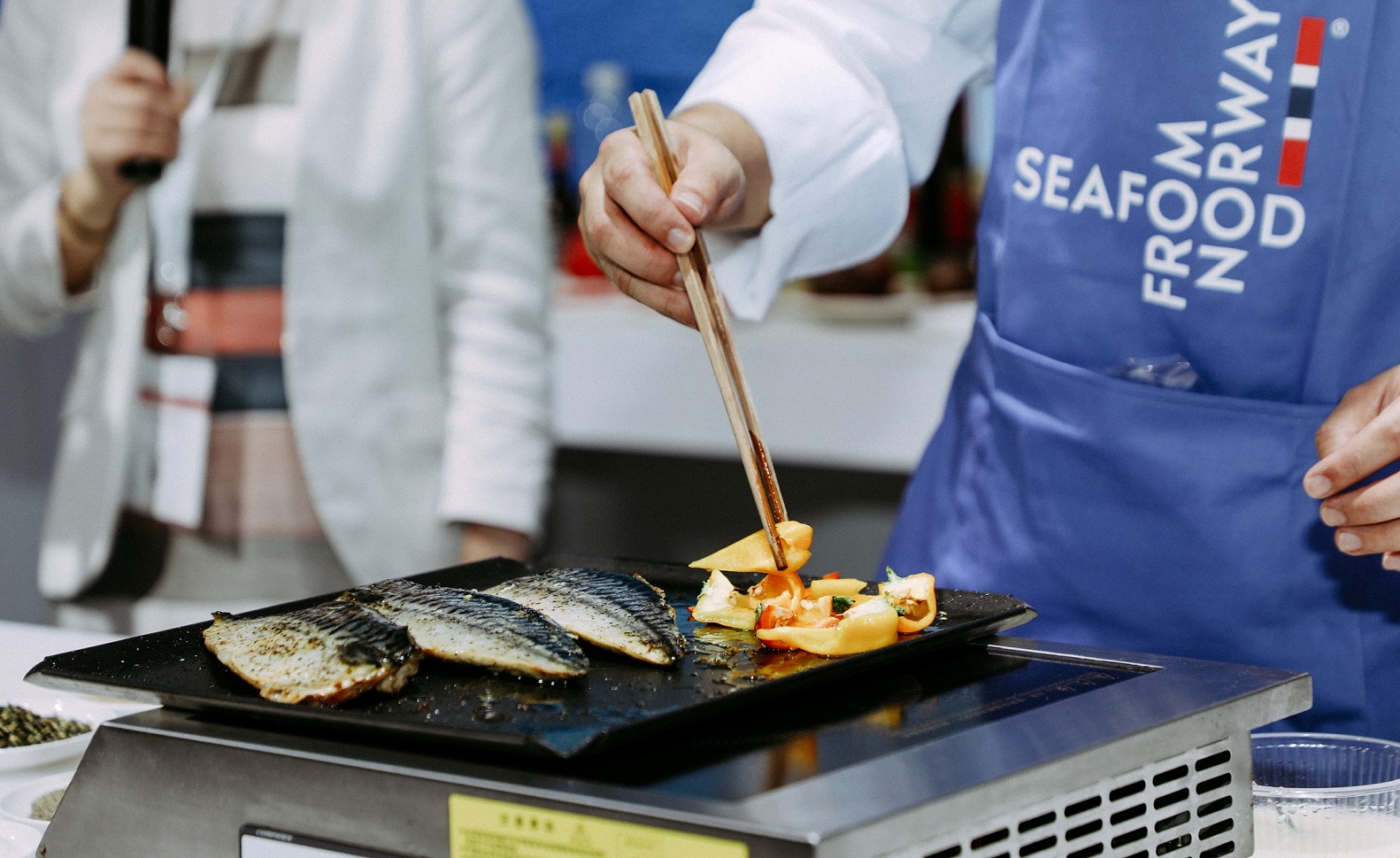 From 31st of October to 11th of November, on the occasion of CIIE and leading up to Double Eleven, NSC will have a pop-up Norwegian Seafood Pavilion in Danang Music Plaza Hema Fresh Store in Shanghai. The aim is to promote Norwegian Arctic cod, mackerel and salmon, and to convey to the Chinese consumers the qualities of seafood from Norway.


6th of November: Fredagspils
Klubb Norge's monthly "fredagspils" (Friday beer). Norwegians and other nationalities are welcome to attend this social evening together.
Time: From 19.00
Place: Cotton's, Xinhua Road 294.


11th of November: Lunch on Smaka Bakery & Bistro
Klubb Norge welcomes you to a social lunch get-togheter at Smaka Bakery & Bistro.
Time: From 12:30
Place: 388 Madang Road, Soho Mall, B102


18th of November: Coffee morning at Bettina's
Time: From 11.00. Sign up by contacting Klubb Norge.


28th of November: "Julebord"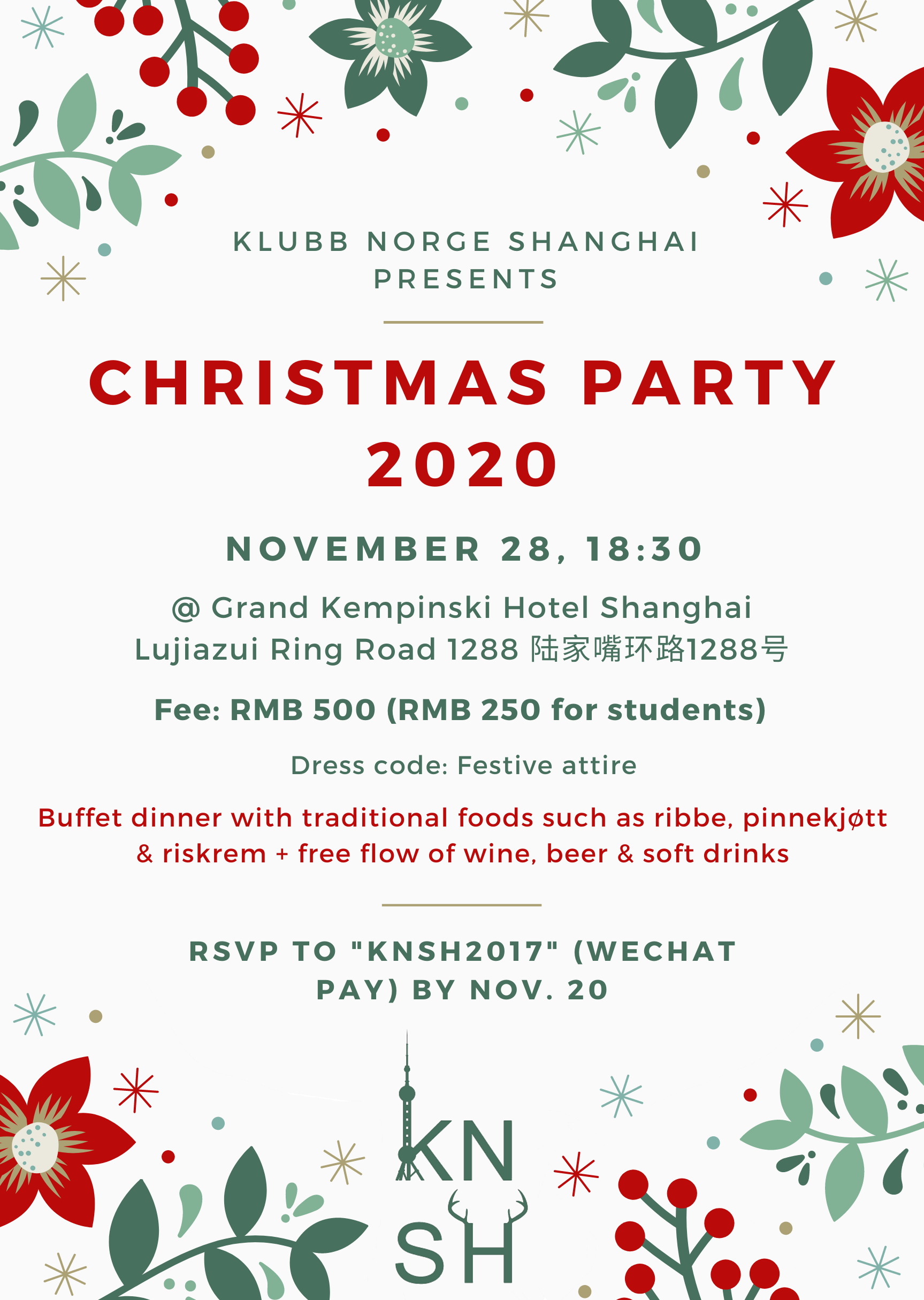 Klubb Norge's annual Christmas dinner will take place at the Grand Kempinski Hotel Shanghai. Klubb Norge welcomes everyone to an evening with Norwegian Christmas food, fun and entertainment.

For registration and payment, send the names of participants and whether you are a student to Klubb Norge's WeChat account «KNSH2017» by 20th of November. Registration is binding.

CNY 500 for adults
CNY 250 for students
Time: 18.30 till late
Place: Grand Kempinski Hotel Shanghai, Lujiazui Ring Road 1288.


Red Ribbon Gala 2020 for World AIDS Day
The Consulate General is supporting the Red Ribbon Gala fundraising dinner on the 5th of December. The proceeds from the event will go to Shanghai Qingai Health Center. The Consulate General will launch a social media campaign on the 25th of November on Weibo, to raise public awareness of World AIDS Day and acceptance of those affected by HIV or AIDS. A ticket to the gala dinner will be raffled off to a lucky follower of the campaign. Companies or individuals wanting to show their support for a good cause by donating raffle prizes for the gala dinner may contact: qevents@outlook.com


Information and previous events:

Ambassador visit to Jiangsu

Ambassador Signe Brudeset visited Jiangsu province mid-October. She joined the Jotun Coatings facility in Zhangjiagang, Suzhou on 12th of October to attend the factory's 15th anniversary. She also had a meeting with the Mayor of Suzhou Mr. Li Yaping, (pictured) where she expressed her appreciation to the Suzhou government for their support to Norwegian companies. She also visited Glamox and Hydro in Suzhou Industrial Park to learn more about the business community in Suzhou. The 13th she hosted a reception in Suzhou for the Norwegian companies in Jiangsu province. The Ambassador further travelled to New Yangzijiang Shipyard in Jingjiang, to be the Godmother of a new ship for Klaveness. On 15th of October, the Ambassador had a meeting with Vice-governor of Jiangsu Province, Mr. Hui Jianlin.


NBA China's new Board Member in South China

Followed by close competition between three outstanding candidates, Bing Zhao was elected by NBA members to be the new board member representing South China.

Bing Zhao is Head of Asia for TOMRA in the Collection Solutions business area, a world-leading provider of technology-led solutions for the circular economy. Bing is based in Xiamen, where TOMRA's main office in China is located. She brings a diverse set of experiences to the board, both from finance and the environmental sector, working for large Norwegian companies such as TOMRA and DNB. Bing has lived and worked in China for extended periods, and holds a Master's degree in Industrial Economics from Norwegian University of Science and Technology (NTNU). She was a founding board member of NTNU's alumni network in China.
We congratulate Bing Zhao with her election.


Norwegian children's performances at NOW Festival

Despite of the global pandemic, the Norwegian performing arts industry wished to impress Chinese audiences with the latest and most creative performances for children this autumn. On the evening of Saturday 31st of October, Norwegian Performing Arts Hub (PAHN), presented 16 Norwegian children's productions at the NOW Festival, held at 1862 Arts Center Shanghai, the first international arts festival for young audiences in China. Chinese performers and artists, and the general public enjoyed a glimpse of the Norwegian and Chinese live co-production "Children of Ginko", a story based on the Global Seed Vault and importance of the environment.


The Norwegian International Library of Fashion Research launched online


The Norwegian International Library of Fashion Research was launched online on 15th of October. The library will become the world's most comprehensive repository of specialized fashion research and contemporary fashion publications. It will fill a gap in the preservation of fashion in print, and build a free, globally accessible resource for fashion researchers and industry professionals, as well as the avid enthusiast The library has just launched the Publisher's Talk series, which includes an interview with Chinese publisher Karchun Leung, who was the Editor-in-Chief of Numero China. The interview was filmed at the Consul General's residence in Shanghai. The interview can be seen here: www.fashionresearchlibrary.com


Pamflett at UNFOLD Shanghai 2020

The Bergen arts book fair Pamflett joined the UNFOLD Shanghai 16th to 18th of October at M50 Shanghai. Together with the Norwegian art studio Northing, a series of illustrations and art books from Bergen were exhibited. For more information, please see: https://pamflett.no


Nordic Edge Green Smart City Forum held in Shanghai


On the 24th of September, the Norwegian Consulate General in Shanghai together with Innovation Norway organized the Nordic Edge Green Smart City Forum in China, after H.R.H. Crown Prince Haakon opened this year's digital Nordic Edge from the main stage in Stavanger on the 23rd. By bringing together the best thinkers and the best doers[KTS1] from both public and private sectors, the forum was an arena for inspiration, insights and exchange of ideas, and revolved around the theme of how to build smart and sustainable cities. With 60 guests attending, acting Consul General, Hedda Himle Skandsen, opened the offline segment with a speech, and was followed by speakers from Shanghai Smart City Research Institute and China Green Technology Bank.


Nordic sustainable food workshop

On the 26th of September, the four Nordic Consulates General in Shanghai together with Chinese partner Business Ecology, organized a Nordic sustainable food workshop with 150 Nordic and Chinese guests in attendance. The topic of the day was food traceability..
Norwegian Seafood Council and the Norwegian catering company Norway in a Box joined the panel discussion and shared their insights on food traceability from both a tech and marketing perspective. NSC also took the opportunity to introduce Norwegian Arctic Cod. The project will continue in 2021, and more topics related to sustainable food systems will be explored.



Follow us on social media!

Keep updated on what we do at the Consulate General by following our social media accounts:
Instagram: norwayinshanghai (English)
Weibo: 挪威驻上海总领事馆 (Chinese)