1st – 7th of October: Shanghai Coffee Festival
The Norwegian coffee roaster "Fuglen Coffee Roaster" will join the 1st Shanghai Coffee Festival during the Chinese National Holiday at the Crystal Plaza (no.308 Yaoti Road) from the 1st of October to the 7th of October. Opened in 1943, and now praised as "the world best coffee" and "must try before boarding flight" by New York Times, Fuglen has opened vintage designed stores in Oslo and Tokyo. https://www.fuglen.no/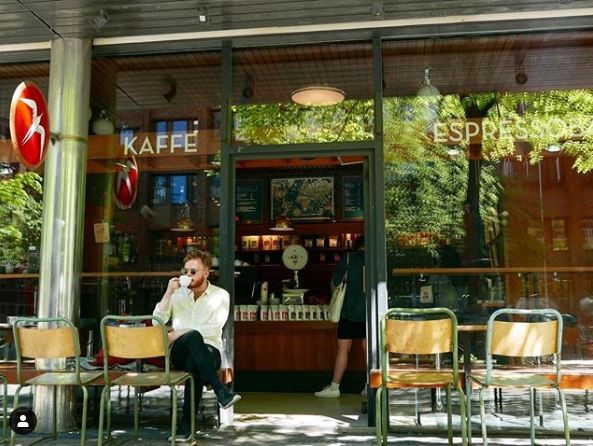 Photo from: Instagram/fuglenoslo
11th of October: Empowering Female Executives
The Norwegian Business Association (NBA) invites to a Nordic Joint Event, a breakfast forum focusing on women executives together with Countess Alexandra of Denmark and Dr. Claudia Suessmuth Dyckerhoff. Both Alexandra and Dyckerhoff have extensive experience working in leading roles for famous firms and organizations such as McKinsey & Company, UNICEF and Hoffmann-La Roche. Please register with administration@norbachina.com.
Date: Friday, 11th of October 2019, 09:00 – 11:00.

Location: Pudong Shangri-La, 33 Fu Cheng Road, Pudong, Shanghai
上海浦东香格里拉大酒店浦江楼2楼北京厅(地址:中国上海浦东富城路33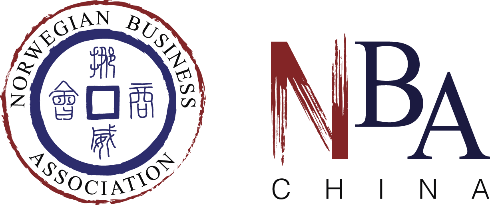 11th of October: Nordic Afterwork in Suzhou
NBA is delighted to invite its members and friends to the first Nordic Afterwork in Suzhou of the year. Meet old and new friends from the Norwegian-, Finnish-, Swedish- and Danish Chambers of Commerce and spend a relaxing evening together!
Date: Friday, October 11, 2019
Time: 18.00 – 21.00
Venue: The Camel Sports Bar, No.188 Xinghai Street, Suzhou Industrial Park, Suzhou 215021
Price: Free for NBA Members, CNY 300 for non-members. Food and drinks included
Registration: Administration@norbachina.com
13th – 21st of October: PAHN in Shanghai to participate at the Shanghai International Arts Fair.
The Norwegian Performing Arts Hub Norway (PAHN) is traveling to China this October 2019, and as part of their agenda they will join the Shanghai International Arts Fair. The Hub brings eight Norwegian dance and drama companies, some of which are visiting China for the first time. For interest, please contact Lingfei.ge@mfa.no
16th of October: Maritime Digitalization
NBA is inviting to a seminar on the future of digitalization in the maritime industry at Shanghai's largest beer shop – Beer Lady. See below for more information.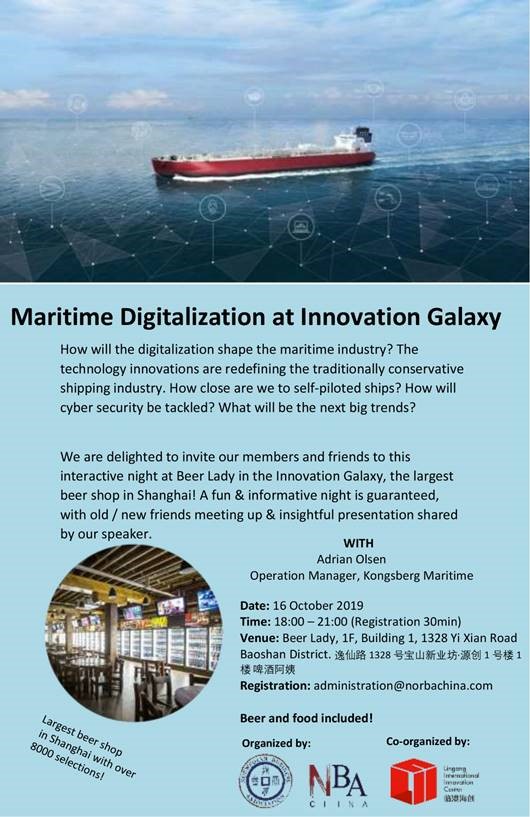 18th of October: Paint n'Sip with ANSA Shanghai
ANSA Shanghai invites all the Norwegian students in Shanghai to a fun and social evening on Friday 18th of October. In a rented premise downtown, we gather for some relaxed, unserious painting with the goal to have fun and meet new people. ANSA provides painting equipment, snacks, food and soft drinks. Sign up before 11th of October on: www.checkin.no/event/20800/ansa-paintn-sip
ANSA members: Free
Non-ANSA members: 50 yuan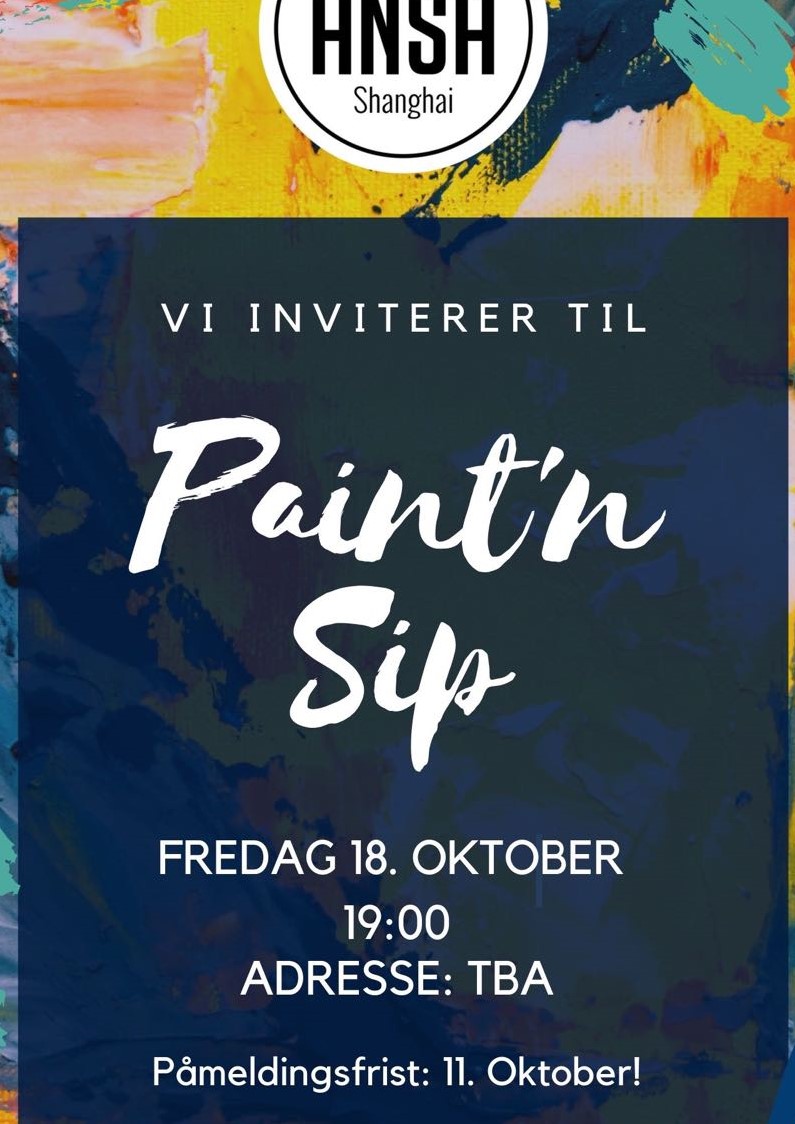 22nd of October: Book Launch: Musings on leadership
NBA has invited Tor Mesoy – the Director of Agnus Consulting and author of the "Musings on Leadership" – for a book launch here in Shanghai. See below for more information.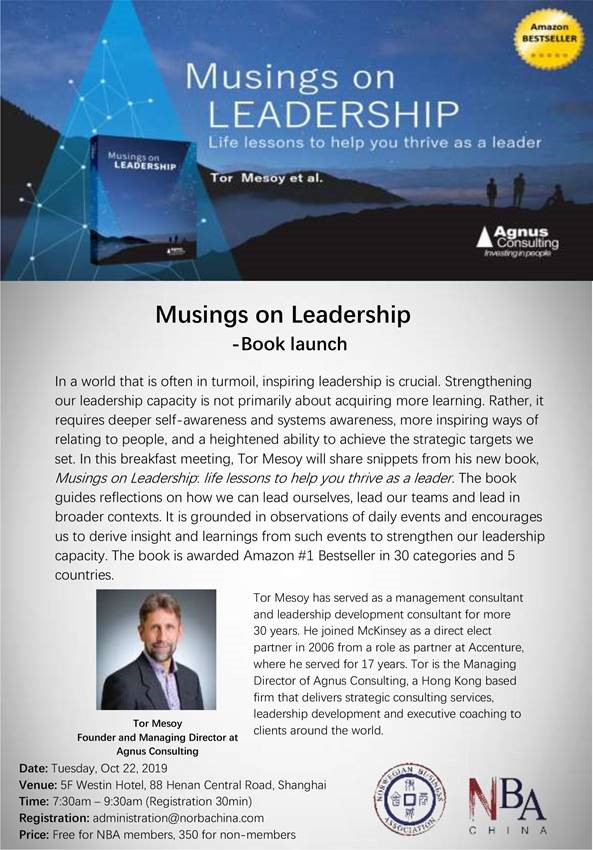 25th – 28th of October: Norwegian Film Week
The fifth edition of "Beyond Frozen Point Film Festival" in China kicks off on 25th October, in collaboration with the Norwegian Consulate General in Shanghai and local Chinese film and culture authorities. 8 films from modern Norway will be screened for the first time in Shanghai. More details and promotions to be revealed in early October.
More enquiry, contact lingfe.ge@mfa.no.

27th – 28th of October: Norwegian Ice Music tour at Shanghai International Arts Festival
Maybe the first and only ice musicians in the world originating from the Ice Music Festival in Norway, these musicians combine natural elements in music through the use of instruments made out of ice. On their first trip to China, they will join the Art Space program at the 21st Shanghai International Arts Festival on the 27th and 28th of October.
Information to be updated on http://www.artsbird.com/en/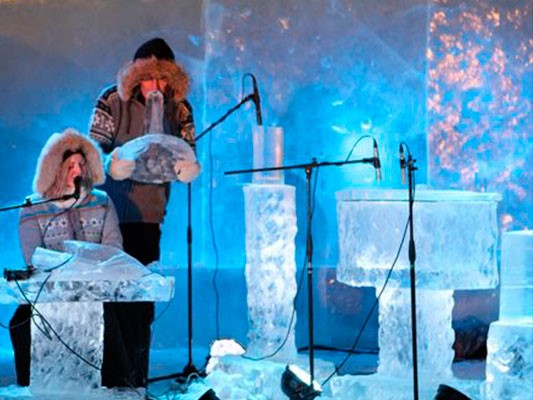 Photo from: icemusic.no
28th of October: Alan Walker Shanghai
The famous Norwegian DJ – Alan Walker – is on his "Aviation Tour" and will stop by Shanghai this late October. Alan Walker is best known for his 2015 single "Faded" which received certifications in Germany and Poland and multi-platinum certifications in over 10 countries including the US and the UK. Tickets are available from damai.cn.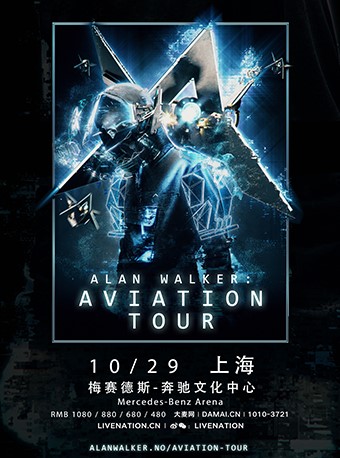 Photo from: https://en.damai.cn/event/tickets_176780
31st of October – 2nd of November: Norway-Asia Business Summit 2019

Photo from: NABS website
Norway Asia Business Summit is the most important meeting arena between Norwegian and Asian business leaders. The 2019 summit in Shanghai will bring together the frontier companies in both energy and ocean-based industries for a valuable encounter in one of the world's most vibrant cities.
The energy and ocean-based industries will be vital in meeting many of today's global challenges. By 2050, the world population is expected to surpass 9 billion. A rapidly growing population means increased demand for food, energy, transport, and minerals. At the same time, the oceans are already under significant pressure as a result of climate change, overfishing, and pollution. Driven by the need to prevent climate devastation, the global energy system is undergoing a rapid transition. The urgency for action is nowhere more apparent than in Asia, home to 60 percent of the world's population. Innovation and diffusion of new technologies are indispensable for sustainable economic growth. For more information and for signing up, please have a look on https://norway-asia.com/.
Follow us on social media!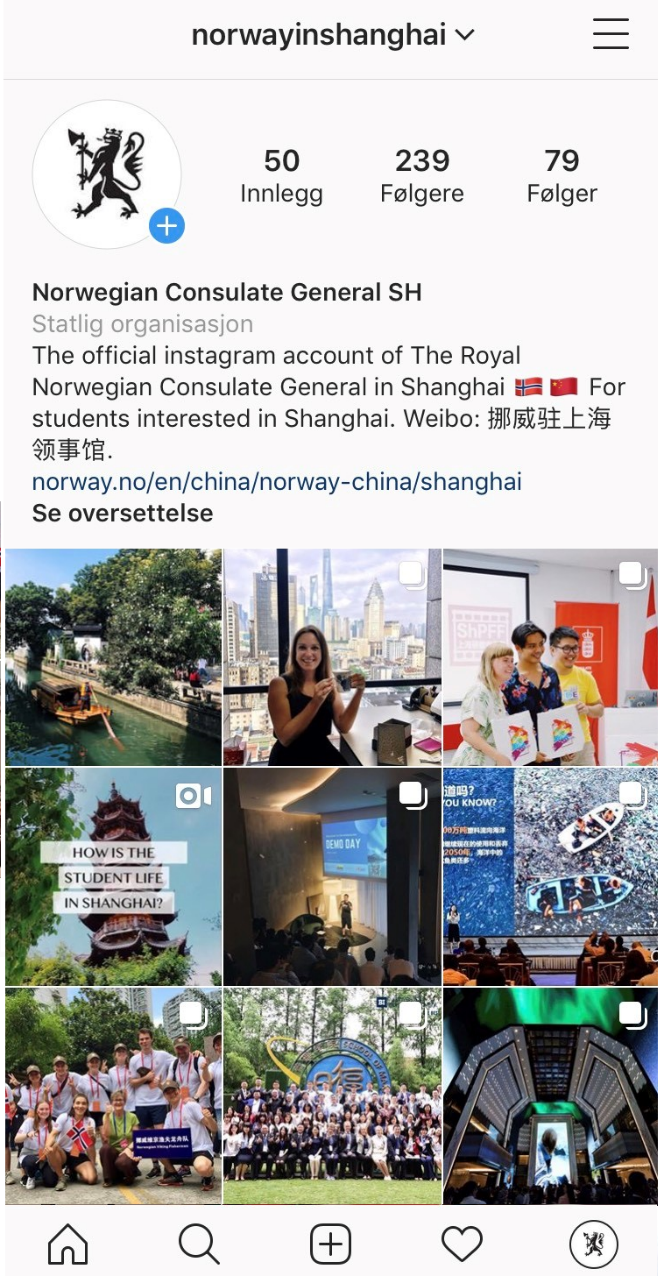 Weibo QR code: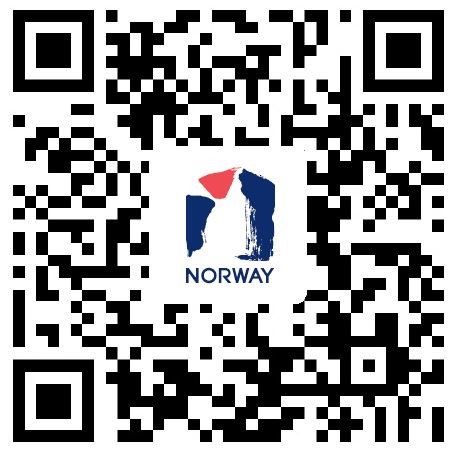 Keep updated with what we do at the Consulate General by following our social media accounts:
Instagram: norwayinshanghai (English)
Weibo: 挪威驻上海总领事馆 (Chinese)
LinkedIn: Kristin Iglum (Profile of the Norwegian Consul General in Shanghai)