8th of November: Fredagspils
Klubb Norge's monthly "fredagspils" is this month postponed one week due to NABS. Norwegians and other nationalities are welcome to attend a social evening!
Time: From 7pm
Venue: Cotton's. Xinhua Road 294
5th – 10th of November: China International Import Expo 2019 (CIIE)

Photo: https://www.ciie.org/zbh/en/
The second China International Import Expo will this year future exhibits from more than 100 different countries. Norway will also take part, and on this occasion the Norwegian Minister of Food and Agriculture, Olaug Bollestad, will visit Shanghai. The Consulate is looking forward to a packed week of activities.
11th – 12th of November: Conference and book launch of "Russia and the Arctic" by Prof. Geir Honneland
Polar Research Institute of Shanghai Ocean University is hosting an academic conference about the cooperation between Norway and China on the field of Arctic marine research. The conference will be followed by a book launch of Prof. Geir Honneland "Russia and the Arctic". His book has been translated into Chinese and was published this October.
11th – 20th of November: Leif Gabrielsen "Faces of China 1980 – East and West" photography exhibition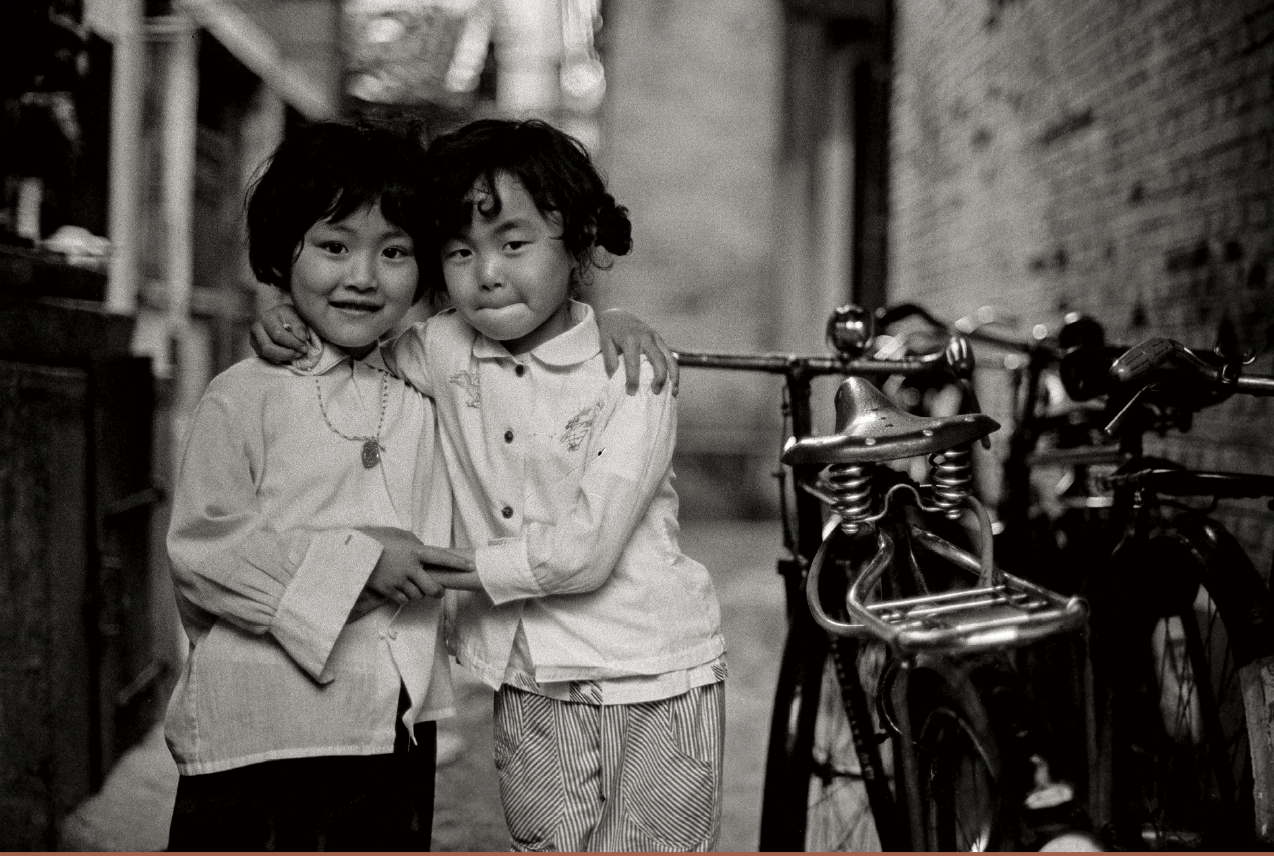 The Norwegian photographer Leif Gabrielsen visited China in 1980. He took hundreds of photos in different cities of China and recorded the Chinese society and Chinese people's lives. This time, over 70 photos are selected and displayed in Hangzhou.
Venue: The Art Museum of China Academy of Art, Floor 4, Exhibition hall 6, Hangzhou.
14th of November: Seminar "Norway and China: An ocean of digital opportunities"
Association of Norwegian Students Abroad (ANSA) Shanghai is collaborating with Nordic Centre at Fudan University. The topic of the seminar is Norwegian opportunities in the Chinese maritime sector. ANSA Shanghai and Nordic Centre invites both students and anyone else interested to join the event!
To sign up: https://www.checkin.no/event/21154/ansa-fagkveld
Time: 6pm – 9pm.
Venue: Nordic Centre Fudan University. 220 Handan Road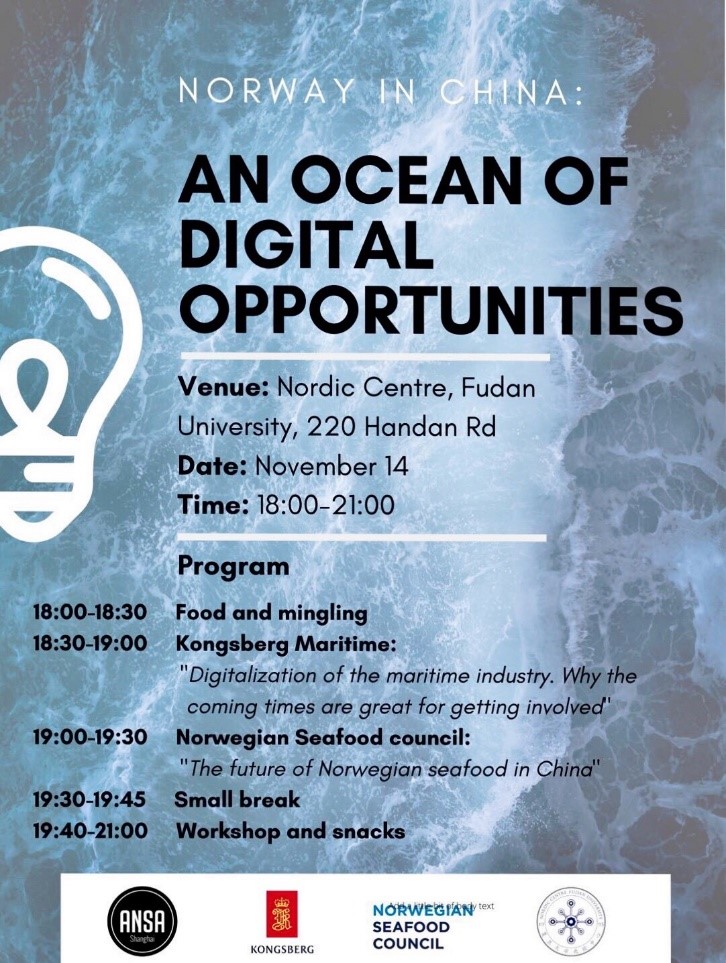 14th of November - 1st of December: Garage – Children's theater production from Norway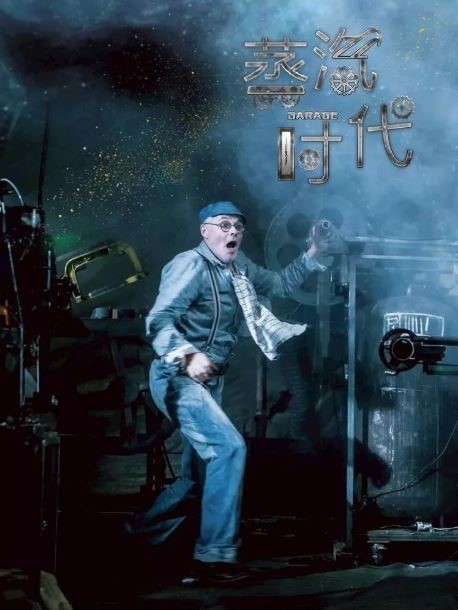 Garage is a story of two men, a hen and a lot of machines. Produced by Cirka Teater, with the founder Gilles Gerger in the leading role, Garage tells a story that inspires emotions and curiosity. The play is suitable for children over six and families. Please follow the ASK WeChat account (小不点 大视界) to buy tickets.
Date: 14 Nov – 1 December 2019, 19:30 every Thursday and Friday,
10:30/14:30/17:30 every Saturday and Sunday
Venue: A.S.K. (Floor 3, Block 5, Daning Commercial Plaza)
14th of November: China and US Trade War Update
NBA invites their members and friends to an evening session on the US – China Trade War and how it has affected Norwegian companies.
Agenda:
18:00 – 18:30 Registration
18:30 – 19:15 Presentation
19:15 – 19:40 Panel discussion
19:40 – Late Dinner

Registration: administration@norbachina.com
Price: Free for NBA members / RMB 800 for non-members incl. buffet dinner.
Time: 6pm – late
Venue: 5F Westin Hotel, 88 Henan Central Road, Shanghai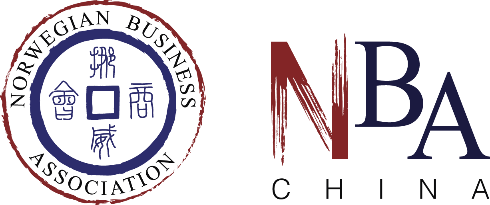 15th – 17th of November: China Shanghai International Children's Book Fair (CCBF 2019)
During its six years of development, CCBF has focused on the theme of "embracing the future." The fair is a leading copyright exchange hub for children's books. It plays an important role in promoting Chinese children's literature internationally and encourages reading culture among young children, especially in the Asia-Pacific. Norwegian illustrators Mari Kanstad Johnsen, Bjørn Rune Lie, and Kristin Roskifte are invited for a two week stay in Shanghai and then join the program during the fair.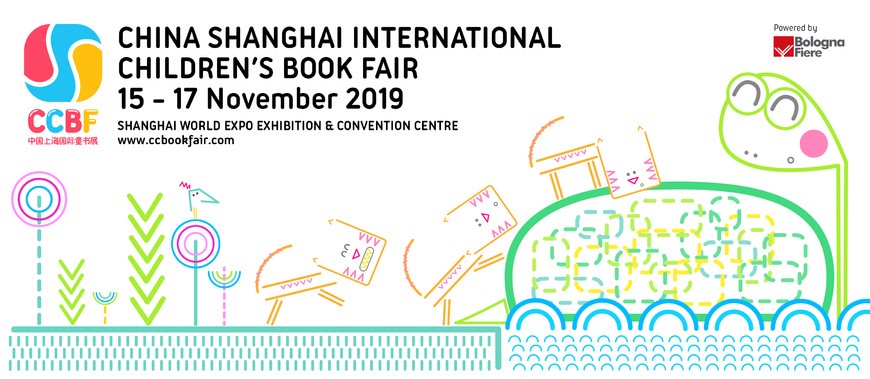 Photo: http://ccbookfair.com/en/index/ccbf/CCBF2019
21st of November – Nordic Food Policy Lab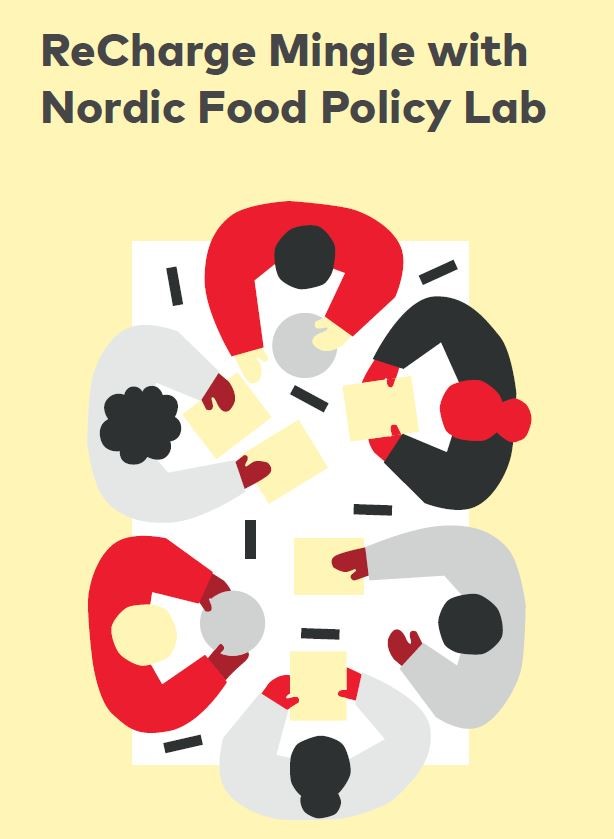 Initiated by the Nordic Council of Ministers, through global partnerships, Nordic Food Policy Lab curates and disseminates examples of sustainable food policy in action. The four Nordic Consulates General in Shanghai co-organizes this year's Nordic Food Policy Lab here in Shanghai. The Norwegian Consulate will organize a workshop moderated by the consultant Afton Halloran, to share experiences and intrigue discussions on the role of supermarkets, the food service industry and consumers on how to act on and reduce food waste. If you want to join, please register to Lingfei.ge@mfa.no
Date and time: 13:30 – 15:00
Venue: Education First / Hult Campus, 4/F Huaxin Haixin Building, 666 Fuzhou Road, Shanghai
22nd of November – Norwegian Seafood Dinner
The Royal Norwegian Consulate General in Shanghai and the Norwegian Business Association China cordially invite your company to the 11thd edition of Norwegian Seafood Dinner.
There are limited seats available, please register at your earliest convenience to administration@norba.com
Venue: Four Seasons Shanghai, No. 500 Weihai Road.
Time: 6pm – 10pm
Price: RMB 12 000 per table for 12 people. RMB 1.100 per person.
24th of November: Arctic Roundtable at continuous regeneration
The summer of 2019 is the hottest in the history. The melting of sea ice in the Arctic has accelerated, and the amount of ice lost from the Greenland ice sheet has set a historical record. Today, with the increasing impact of global climate change on the Arctic, how can we better understand the implications of those impacts, including the changes and challenges local communities are facing in terms of culture and economy? How can scientists, artists and youth collaborate for a better future for the Arctic?
Founded in 2018, the China Polar Protection Action Network is a network of cross-sector organizations that aims to build public awareness in China in order to protect the polar regions. With the support from the consulate, they plan to organize a special event tying science, art and public engagement together in Shanghai at the Continuous Regeneration Exhibition, in order to raise awareness of the Arctic and climate change among the public, especially young people, and strengthen a collaborative network of cross-sector stakeholders on Arctic conservation.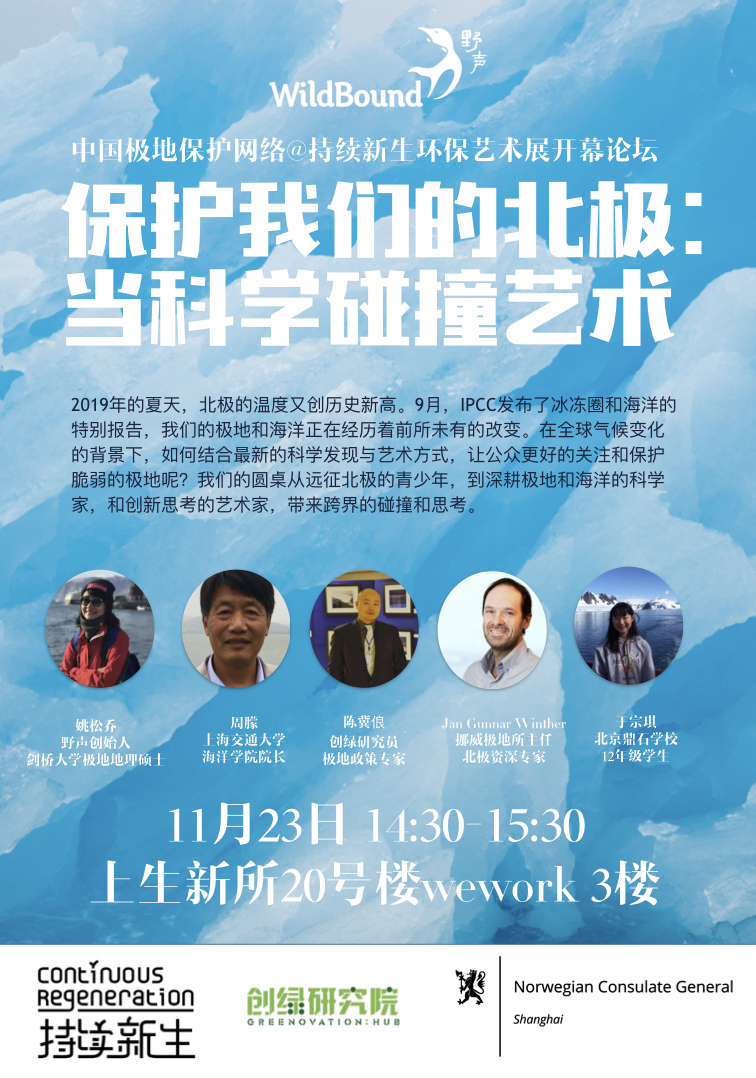 30th of November: Norwegian Christmas dinner "Julebord"
Klubb Norge welcomes everyone to this year's Christmas dinner at Four Seasons Hotel. Welcome to an evening with Norwegian Christmas food, drinks and light entertainment.
To sign up – add Klubb Norge's Wechat account "KNSH2017". Registration is binding.
Early Bird-tickets (before Nov. 8)
500 RMB for adults
250 RMB for students
Venue: Four Seasons Hotel, 500 Weihai Road
Time: From 7pm – late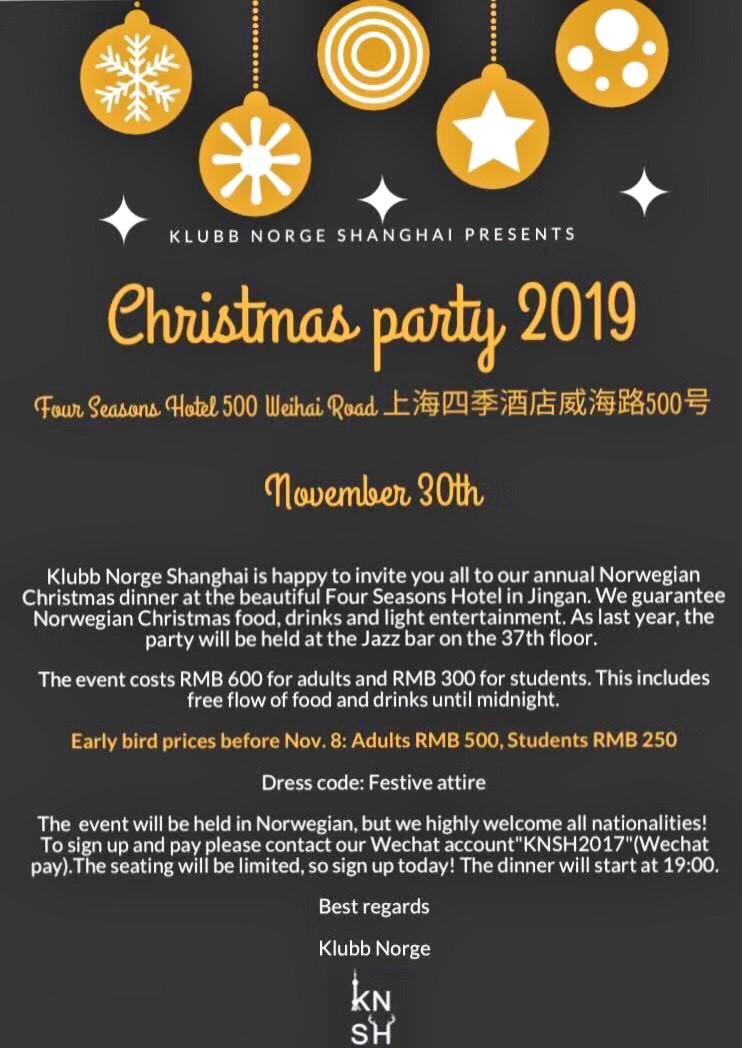 Follow us on social media!
Weibo QR code:
Keep updated on what we do at the Consulate General by following our social media accounts:
Instagram: norwayinshanghai (English)
Weibo: 挪威驻上海总领事馆 (Chinese)
LinkedIn: Kristin Iglum (Profile of the Norwegian Consul General in Shanghai)