I Hear Your Dreams: Contemporary Art from Norway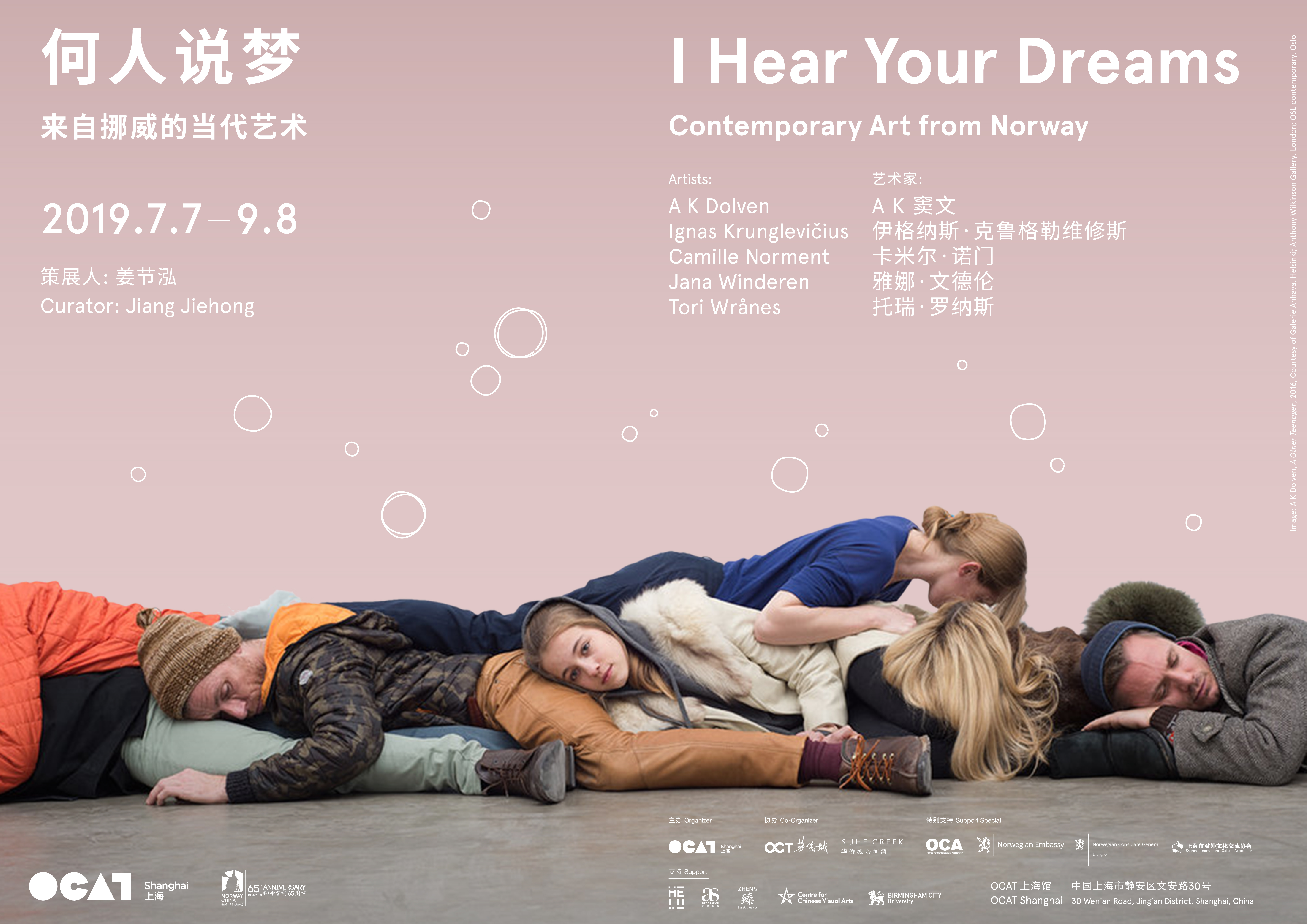 OCAT Shanghai is delighted to present "I Hear Your Dreams", a group exhibition of Norwegian contemporary art, which will be on display from July 7 to September 8.

The exhibition includes five leading Norwegian contemporary artists who are actively engaged on the international stage: Anne Katrine Dolven, Ignas Krunglevičius, Camille Norment, Jana Winderen and Tori Wrånes. The selected five leading artists from Norway all work with sound and time-based media, which helped shape a particular perspective for the project. The proposed exhibition title, I Hear Your Dreams, derives from curiosity. It explores, interprets and extends our imaginations and desires, and more significantly, the ways in which we make visual and/or audio narratives through our daily experiences.

This will be the first exclusive art exhibition showcasing Norwegian contemporary art in Eastern China, and takes part in the 65-year diplomatic anniversary of China and Norway in 2019.

About the Opening Ceremony:
Date: Sunday July 7, 2019
Place: OCAT Shanghai, No.30 Wen An Lu, Jing'an District, Shanghai
15:00-16:30 Opening forum
16:30-17:00 Press conference and opening ceremony
17:00-17:30 Curator & artists tour
If interested in attending, please contact the Consuate on lingfei.ge@mfa.no
Kristiansand Young Choristers coming to Shanghai


Photo: Ung Kirkesang

Invited by the Shanghai Poly Grand Theater, the Young Choristers (Ung Kirkesang) from Kristiansand will visit Shanghai this July. They will join the "Summer in Poly" Shanghai International Children's Chorus Festival on Wednesday July 10. The choir consists of 32 singers from 11 choirs, primarily from the southern and eastern part of Norway. They will also give a service at East Shanghai Church on July 14.

Date: July 10
Place: Poly Theatre, 157 Baiyin Road, Shanghai 上海保利大剧院, 白银路157号
Pre-departure event for students going to Norway
On July 13, the Norwegian Consulate in Shanghai, NTNU, BI, Nordic Center and NorAlumni are arranging a pre-departure event for Chinese students going to Norway to study. There will be interesting presentations about studying in Norway, networking and a standing buffet dinner.
Time: 14:30-20:00
Place: Fairmont Peace Hotel, No.20 East Nanjing Road, Shanghai
Please click here for more details about the event.
Kommunestyre- og fylkestingsvalget 2019 – Åpent for forhåndsstemming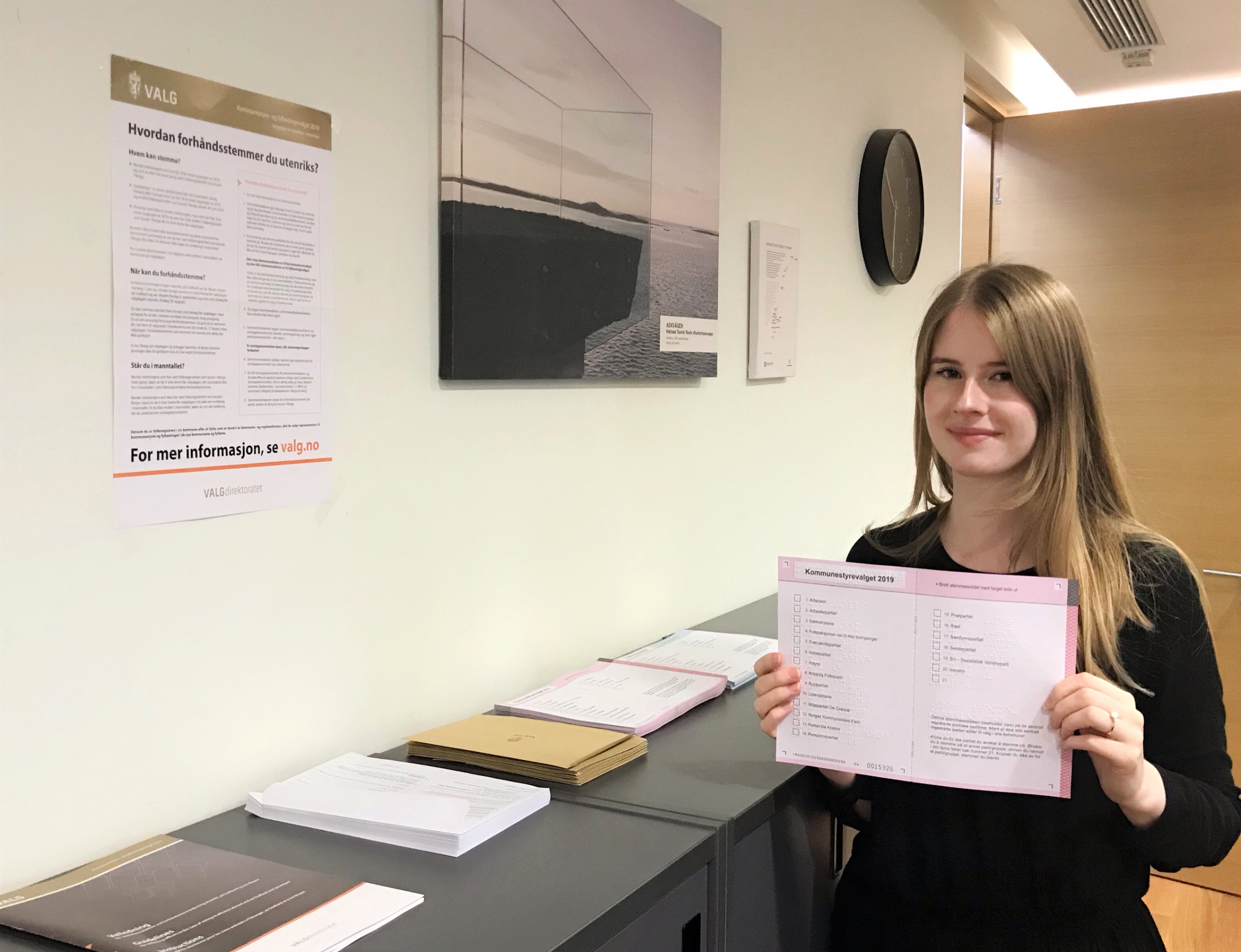 9. september 2019 er det kommunestyre- og fylkestingsvalg i Norge. Velgere som bor eller oppholder seg i Kina kan forhåndsstemme ved Ambassaden i Beijing og Generalkonsulatet i Shanghai i perioden 1. juli – 30. august eller ved Generalkonsulatet i Guangzhou i perioden 1. juli – 26. august. Det holdes åpent for forhåndsstemming mandag til fredag mellom kl. 10:00 – 12:00, og 13:30 – 16:00.

For mer informasjon, se her.
New Shanghai waste regulations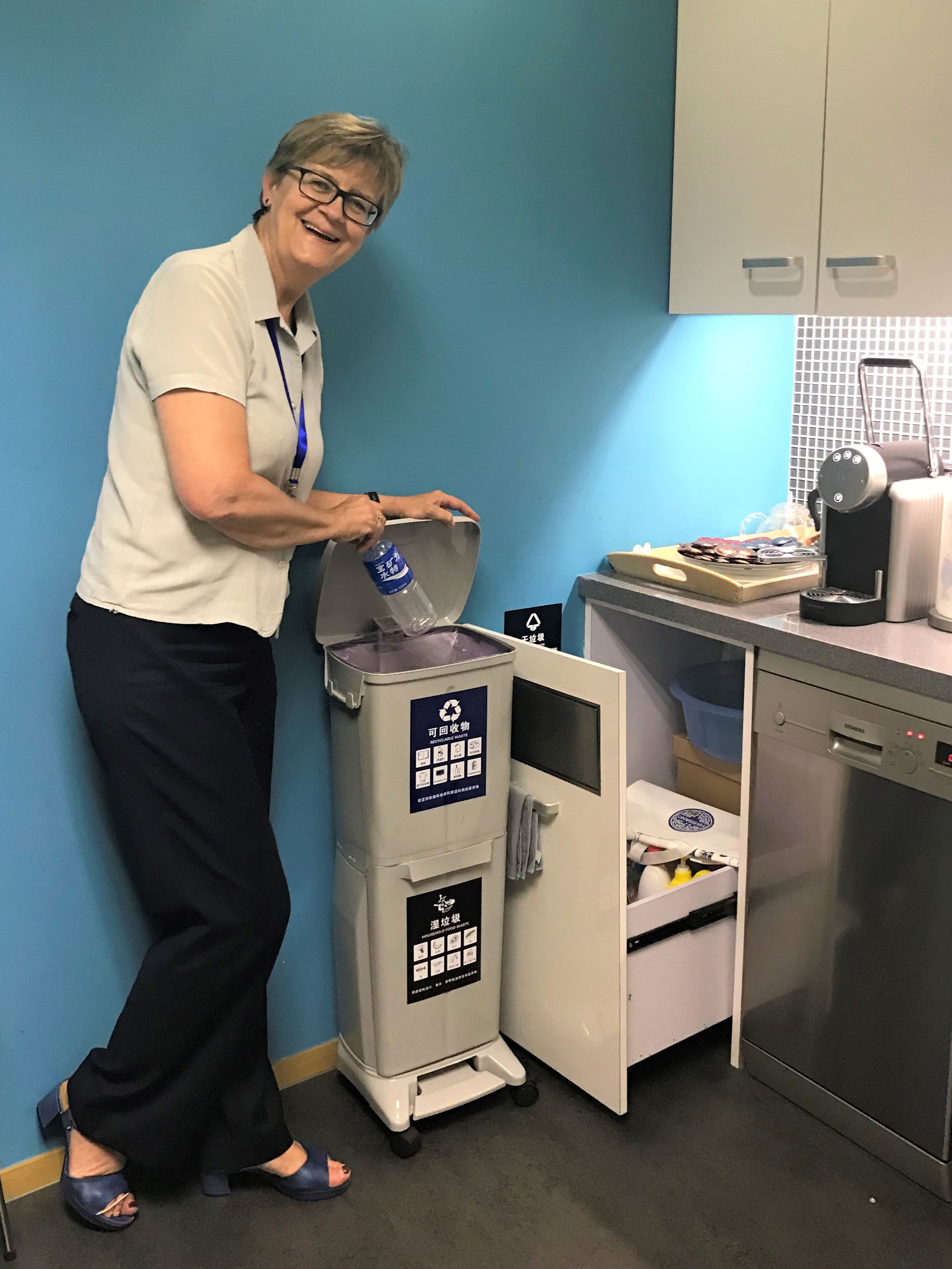 Shanghai's new waste sorting regulations will be implemented from July 1. The new regulations require all households and offices in Shanghai to sort their waste, with fines of up to 200 RMB for those who do not follow the regulations. We at the Consulate General have already set up the new system in our office!

For more information on how to sort the waste, click here.
Follow us on social media!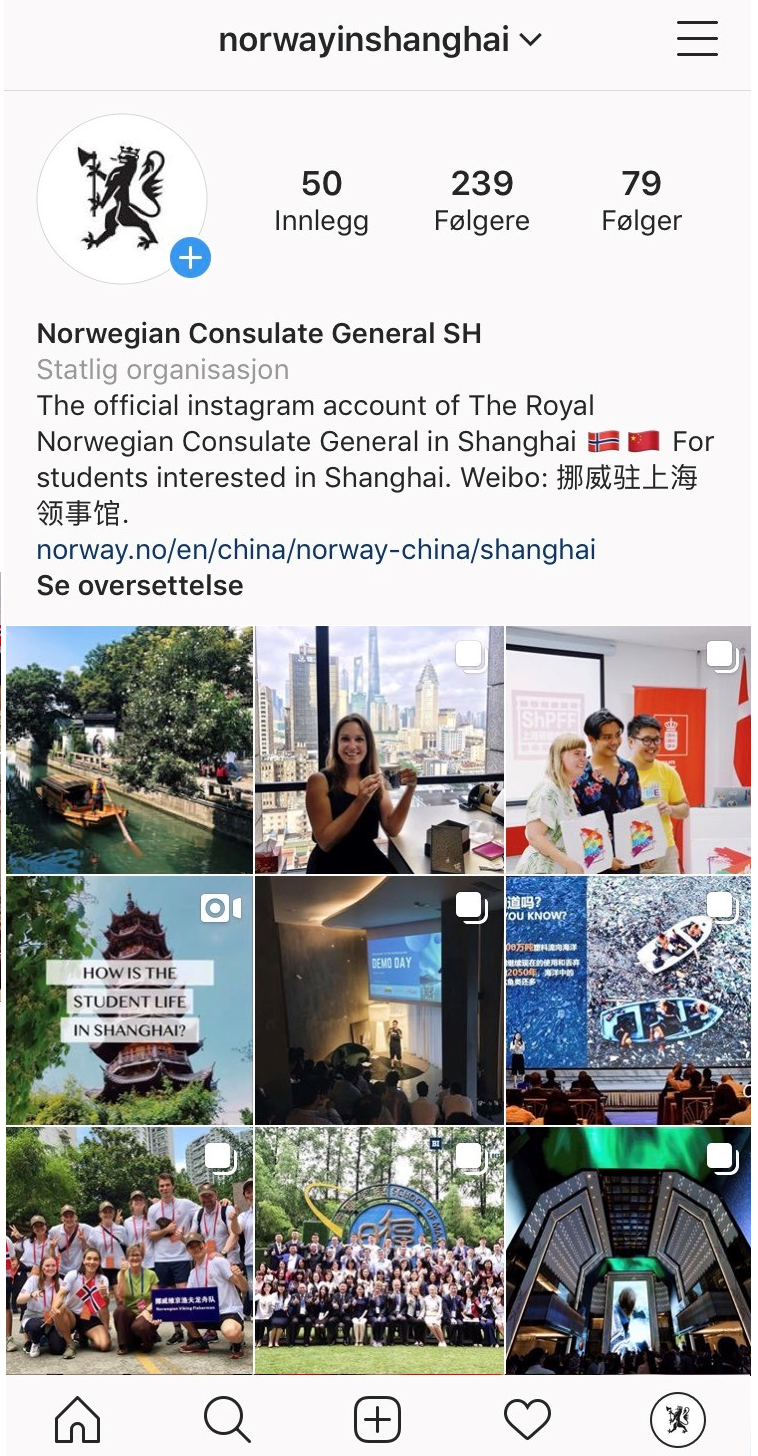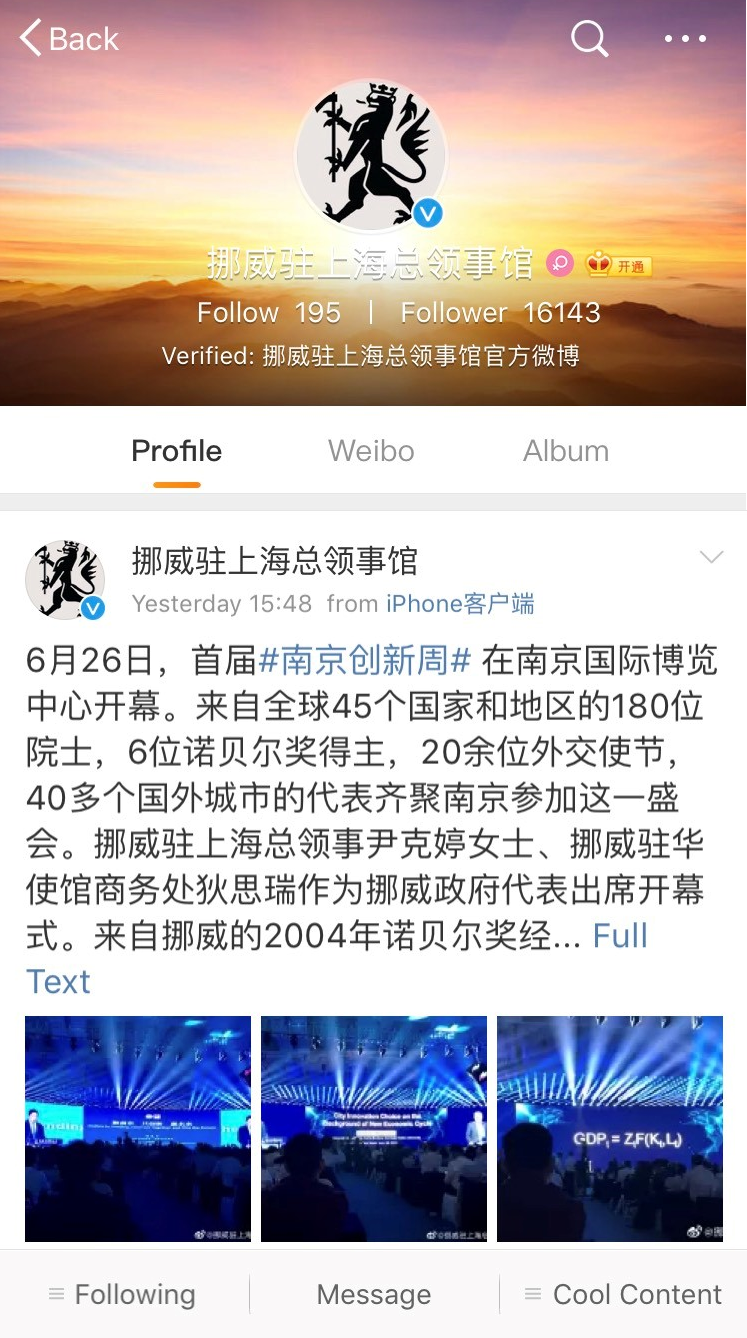 Keep updated with what we do at the Consulate General by following our social media accounts:

Instagram: norwayinshanghai (English)
Weibo: 挪威驻上海总领事馆 (Chinese)
LinkedIn: Kristin Iglum (Profile of the Norwegian Consul General in Shanghai)