Warm greetings to all Norwegians in Eastern China! As we welcome the arrival of summer, we would like to take this opportunity to share some updates from the Consulate General in Shanghai.
Of particular importance kindly be informed that due to the increased number of visa applications, the case processing time for visa applications has increased. Furthermore, from May 29th, all applicants are required to make prior appointment online before visiting the application centers. For more details see below.
For Norwegian citizens who are eligible to cast votes in the municipal and county council elections this autumn in Norway, you may cast your vote at all our Foreign Missions in China starting from 1 July. Godt valg!
Last, but not least, we are pleased to share with you our newly launched business report titled: "Norwegian Business in China — Norwegian companies' view on future potential". The report presents the latest perspectives of Norwegian companies currently present in China and how they see the future of their businesses. The complete report can be accessed here.
I wish you all a great summer!
Lise Nordgaard
Consul General
Visa
Kindly be informed that starting from May 29, all applicants submitting visa applications at our Shanghai, Nanjing, and Hangzhou visa centers (VFS) are required to schedule a prior appointment through the online appointment system and visit the application centers accordingly.
Please note that due to the increased volume of visa applications, the processing time for visa applications has been extended. However, all applications will be handled within 15 calendar days. The Consulate General would like to assure all business travelers that their visa applications will be given priority. Nevertheless, we strongly encourage all applicants to apply well in advance of their planned travel dates due to the current queues and limited availability at the VFS application centers. Visa applications can be submitted up to 6 months prior to the intended travel date.
Furthermore, note that Norway has outsourced customer support for visa and immigration matters to our visa application service provider, VFS Global. Therefore, any questions or inquiries regarding visas should be directed to them.
VFS Helpline provider via email or telephone:
+86 20 2910 6157
info.norwaycn@vfshelpline.com
Municipal and county council elections 2023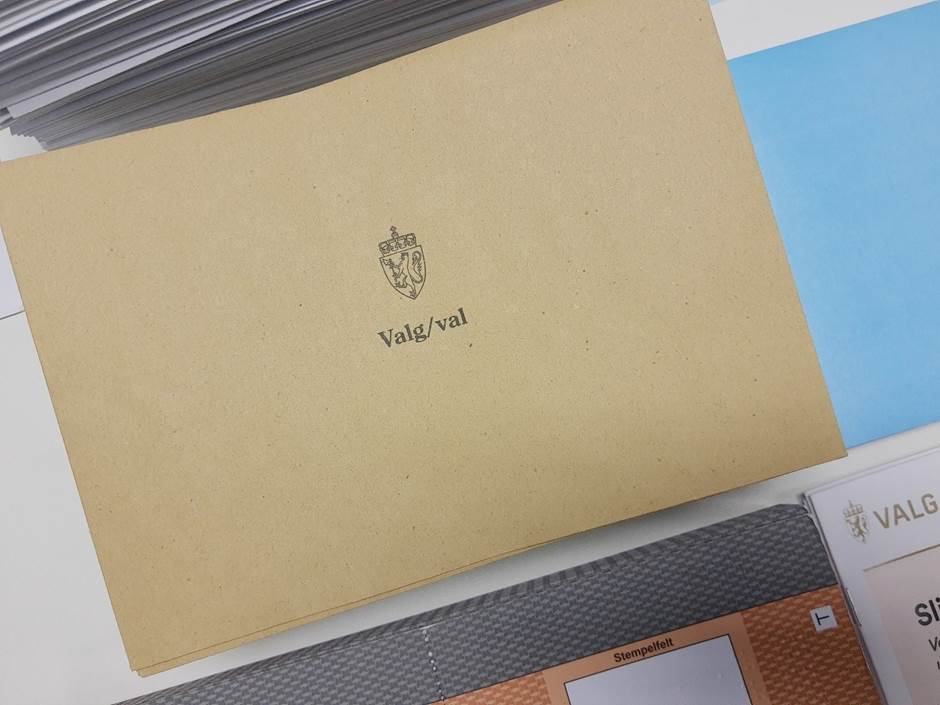 Information for voters in the municipal and county council elections 2023.
From 1 July, voters who live or are staying abroad can vote in advance at Norwegian embassies, Consulate Generals and other Norwegian foreign service missions.
Advance voting
Advance voting at the Consulate General in Shanghai starts on 1 July and ends on 1 September 2023. This is to ensure that the advance voting reaches the electoral board in the municipality in time.
You can vote at the Consulate General in Shanghai Monday - Friday between 09.00 and 16.00. If you live abroad, you do not receive a voter's card. Remember to bring your identification. We kindly advise you to make an appointment in advance by sending an e-mail to cg.shanghai@mfa.no or call (+86 21) 60397500.
Postal voting
If you wish to vote by post the vote must be sent before 1 September and arrive at the Electoral Committee in the municipality (Norway) before 17.00 the day after election day – i.e. Tuesday 12 September.
You can also vote at the Embassy in Beijing and at the Consulate General in Guangzhou.
For more information about the election: https://www.norway.no/en/china/news-and-events/shanghai-news-and-events/news/kommunestyre--og-fylkestingsvalget-2023/
Current and Future Events
The 13th International Exhibition of Traditional Fine Arts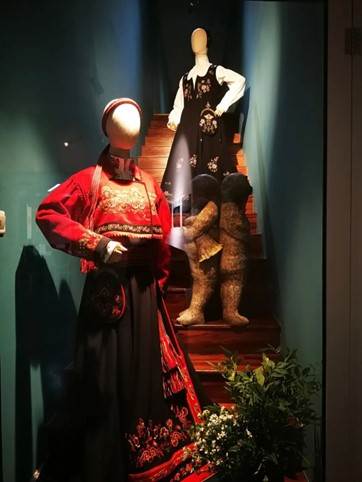 Norwegian bunads are being presented at the 13th Shanghai International Exhibition of Traditional Fine Arts, from June 9 to July 9. The exhibition is free to the public and held at the Shanghai Art Collection Museum, showcasing traditional fine arts and artworks from over 26 countries. The Consulate joined the opening ceremony.
See more photos from the exhibition here: https://www.instagram.com/p/CtQnH5lNQcA/
Torbjørn Kvasbø solo exhibition in Jingdezhen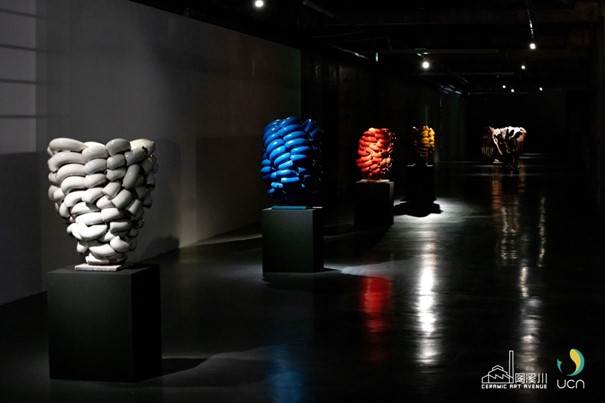 The exhibition "Incarnate: A solo exhibition of Torbjørn Kvasbø" was officially opened on Sunday 23 April at the Taoxichuan Ceramic Museum in the historical city of Jingdezhen, the world-known Capital of Ceramics in Jiangxi province. The exhibition is hosted by the Jingdezhen Municipal Government, Central Academy of Fine Arts, and supported by the three Norwegian foreign missions in Beijing, Shanghai, and Guangzhou. It will last until 23 September 2023. The exhibition is free of charge to the public. We highly recommend a visit to Jingdezhen – maybe a weekend trip out of Shanghai?
More pictures on the exhibition can be found here: https://www.instagram.com/p/CrZ_EyqtBEn/
Norwegian jazz musician Nils Petter Molvær is scheduled to perform at JZ Club Shanghai in August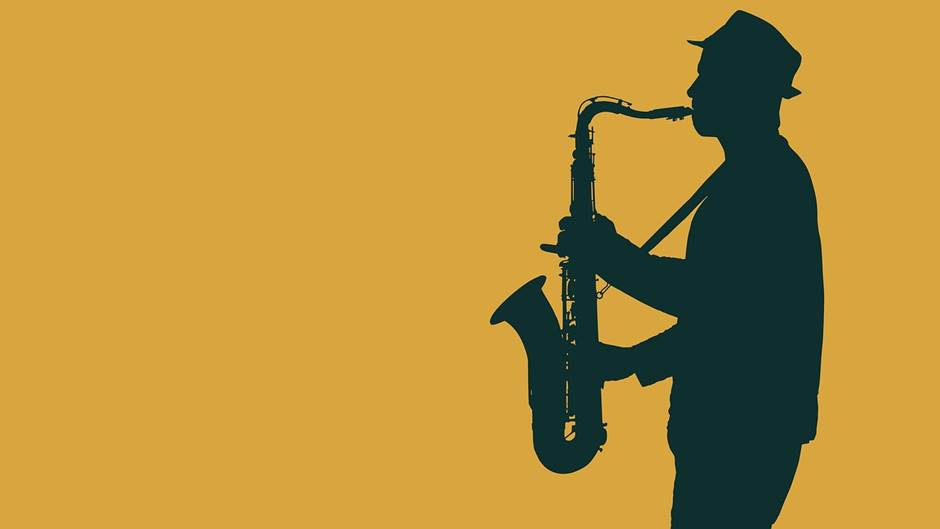 The Norwegian jazz soloist Nils Petter Molvær is planning to make a trip to several cities in China including Shanghai in August. During the pandemic, Nils Molvær kept close contact with China through his cooperation with a Chinese jazz musician to release the jazz album "Til Wuhan". The tentative date for his concert in Shanghai is 2 August.
Follow JZ Club Shanghai for more details about his show.
Norwegian illustrators join Shanghai International Illustration Exhibition 2023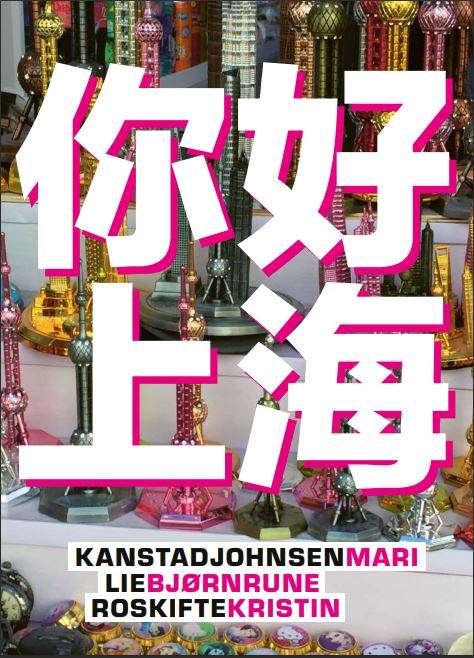 In 2019, three Norwegian illustrators – Mari Kanstad Johnsen, Bjørn Rune Lie and Kristin Roskifte – were invited by the China Children's Book Fair to participate in a 3-week residency project in Shanghai. During their stay, they explored and created numerous paintings depicting Shanghai, its people and their way of live. Unfortunately, their artworks were not exhibited due to the outbreak of pandemic in 2020. The delayed exhibition is finally making a comeback at the upcoming Shanghai International Illustration Exhibition in August. Come and experience the beauty of Shanghai as captured through the strokes of their brushes!
More details about the exhibition will be released on the Consulate's Instagram and Weibo accounts soon.
Norwegian Market in Shanghai this fall
The Norwegian Market will take place at BFC Shanghai on 23 - 24 September. The market will once again collate Norwegian brands and products to showcase the Norwegian lifestyle and culture. Do not miss it! More information will be posted through our social media platforms.
Address: No.600 Zhongshan Dong Er Lu, Huangpu District, Shanghai.
NBA is currently recruiting companies to join the market. You can find more information here: https://mp.weixin.qq.com/s/epgvGwm3CjkYDPf9Aj2ovQ
Spring Highlights
Official launch of the report "Norwegian Business in China"
On 16 June, the Consulate General launched a business report titled: "Norwegian Business in China - Norwegian companies' view on future potential". The report is developed by Deloitte Norway, in close cooperation with the Consulate General, Innovation Norway, Norwegian Seafood Council, Norwegian Business Association China, along with all Team Norway stakeholders in China.
You may download the report from the following site: https://www.norway.no/en/china/news-and-events/shanghai-news-and-events/news/norwegian-business-in-china/
May 17 Reception on the North Bund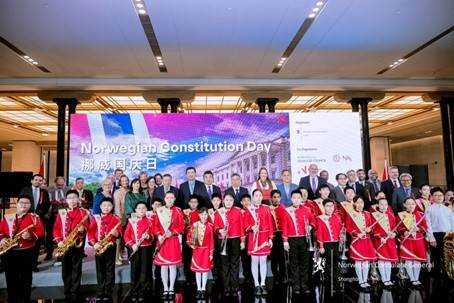 The Consulate General hosted a Norwegian Constitution Day reception, organized together with Team Norway. More than 350 invited guests joined us at the Grand Halls on the North Bund, with a spectacular view of the Shanghai skyline. From Shanghai Government, Vice Mayor Zhang Xiaohong, took part in addition to representatives from our neighboring provinces Jiangsu, Jiangxi, Zhejiang, and Anhui.
Embracing the spirit of our National Day, we added a special touch by inviting the talented children's band of Shanghai Yangpu Bilingual School to perform the national anthems of Norway and China. Two Norwegian children living in Shanghai, Birk and Embla, delivered "Barnas Tale".
You can find more pictures of the reception here: https://www.instagram.com/p/CsXounnIEiw/
Klubb Norge May 17 celebration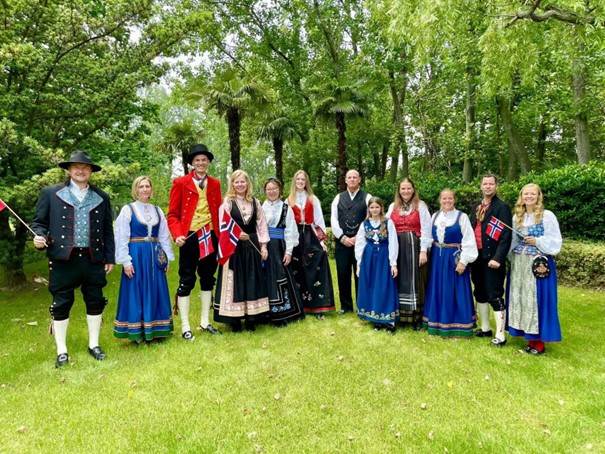 Klubb Norge organized a wonderful celebration of the Norwegian National Day at Emerald in Shanghai on May 14 for the Norwegian community. More than hundred guests took part. The children's parade and marching band, Norwegian flags, games, great food, and of course ice cream, all ensured great 17 May vibes.
More pictures are available on Instagram: https://www.instagram.com/p/CsQONwuNpND/
Norwegian Seafood Health Run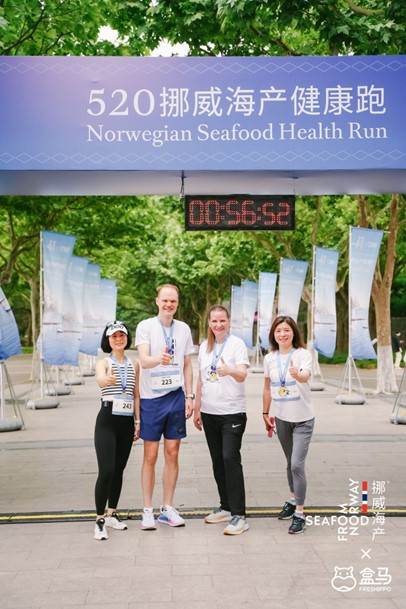 The first-ever Norwegian Seafood Health Run took place in the picturesque Century Park, Pudong Shanghai on May 20. More than 300 people, including Consul General Lise Nordgaard, enthusiastically participated in the 5-km early morning run, to promote Norway, a healthy lifestyle, and the consumption of nutritious Norwegian seafood. The event was hosted by the Norwegian Seafood Council and Alibaba's grocery retailer Hema (Fresh Hippo) and supported by the Norwegian Consulate General.
More pictures and a video from the event can be found in this article:
The NSC Successfully Hosts 520 Norwegian Seafood Run (qq.com)
Norwegian Architecture featured at Design Shanghai 2023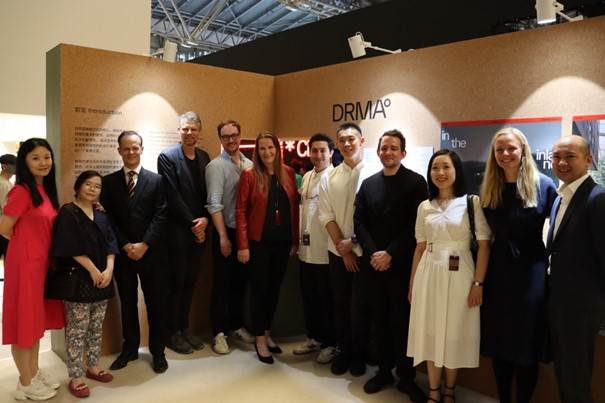 Norwegian architecture was highlighted at one of China's largest design fairs in China – Design Shanghai 2023. Curated by Oslo Architecture Triennale, the exhibition "Nature as Culture – Norwegian Architecture at the Frontiers" showcased four Norwegian companies Snøhetta, DRMA Arkitekter, Transborder studio, and Nordic Office of Architecture. Through their projects they presented sustainable Norwegian architectural practices and how nature and culture play an integral part of Norwegian contemporary architecture.
We are very pleased to witness an increasing number of Norwegian architecture companies venturing into China, and we look particularly forward to the opening of the Grand Opera in Shanghai in 2025, which has been designed by Snøhetta.
More photos can be found here:
https://www.instagram.com/p/CtaX_tdIZ72/
https://www.instagram.com/p/CsPq7R8oHMn/
World Oceans Day celebration in Zhoushan, Zhejiang province

Every year, we mark World Oceans Day. This year in the beautiful coastal city of Zhoushan. The Consulate, in collaboration with the Norwegian Seafood Council and Zhejiang Ocean University, organized a seminar centered around the theme of protecting marine biodiversity on June 8. Norwegian and Chinese scholars exchanged experiences and insights on sustainable practices and fishery management in both countries. In the evening, the Norwegian film Kon-Tiki was screened on campus.
You can find more pictures here: https://www.instagram.com/p/Ctc8KtJI56t/
Norwegian Literature Evening in Shanghai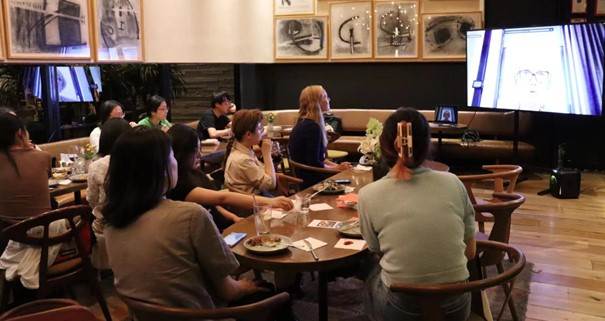 Together with the @Norwegian Embassy in Beijing and NORLA, the Consulate hosted a "Norwegian Literature Now" event for our contacts and friends in the literature field and the publication industry on June 28. Norwegian writers Maria Parr and Erika Fatland, and Chinese translators and publishers shared their experiences and thoughts on female literature in Norway. Shanghai Translation Publishing House talked about their experience of promoting Norwegian literature, among other resulting in close to 1,5 million copies of Tormod Haugen's book "Ikke som i fjor" being sold in China.
More photos from the event can be found here: https://www.instagram.com/p/CuERSP4A3Gd/
Farewell to our colleague Lucy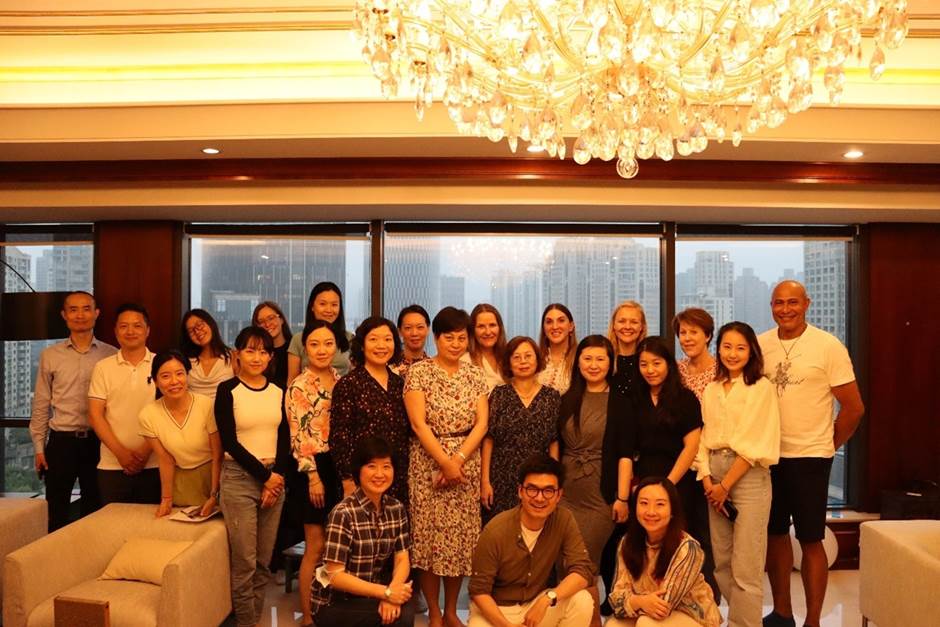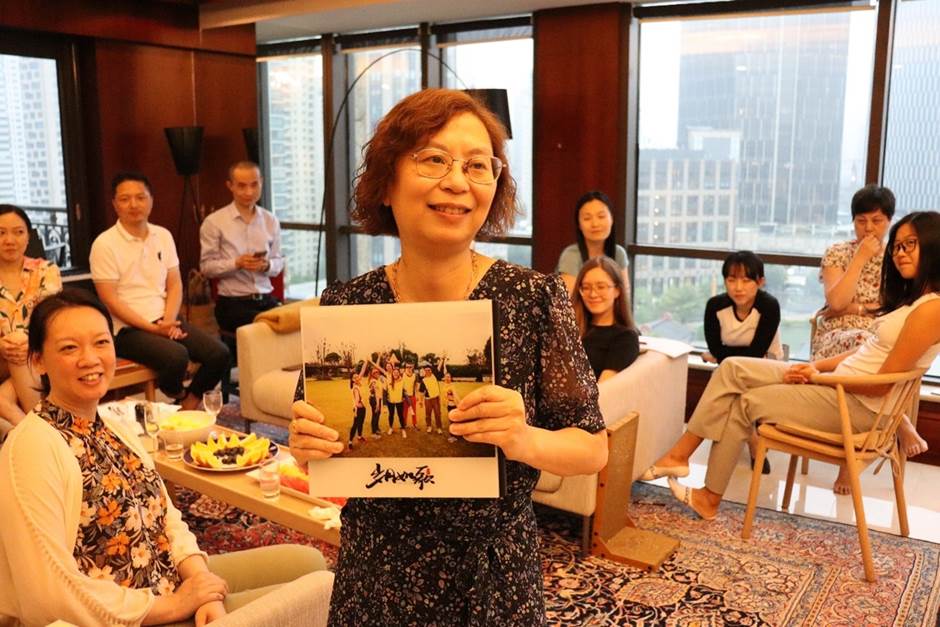 In June we said farewell to our dear colleague Lucy Zhaohui Wang, who has been working for the Norwegian Consulate in Shanghai for 24 years and is now retiring. Throughout her career, Lucy's professionalism and passion for her work, and her commitment to delivering high-quality services as Senior Project and Consular Affairs Advisor have been truly remarkable. Thank you, Lucy, for your dedication, invaluable contributions, and the positive impact you have had on our team. We wish you all the best for your retirement.
More photos are available here: https://www.instagram.com/p/CttKx3oAKKW/
Norwegian brands featured at the Children, Baby and Maternity Expo (CBME)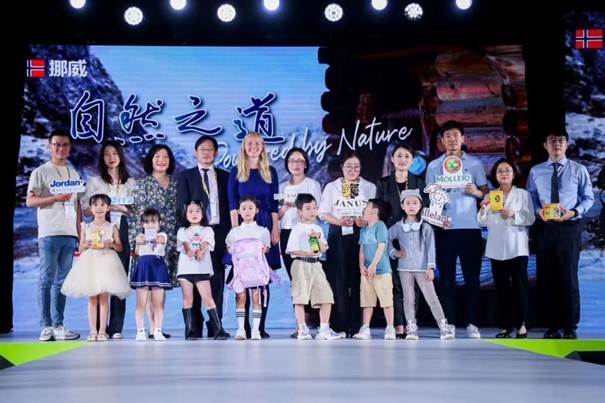 "Powered by Nature — The Norwegian Childcare Brands Show" was held successfully at the Children, Baby and Maternity Expo (CBME), the world's largest trade fair for children, baby, maternity products and services. Seven Norwegian brands – Jordan, Möllers, Janus, Beckmann AS, Hurra, Lillelam AS and Lifeline Care were presented both at the event and during the exhibition. We hope these Norwegian brands offering high quality products will meet the demands from Chinese families' pursuit of quality and safety when raising children.
You can find more photos and a video here: https://www.instagram.com/p/CuGle23trr3/
Norwegian healthcare products presented at HNC Health & Nutrition 2023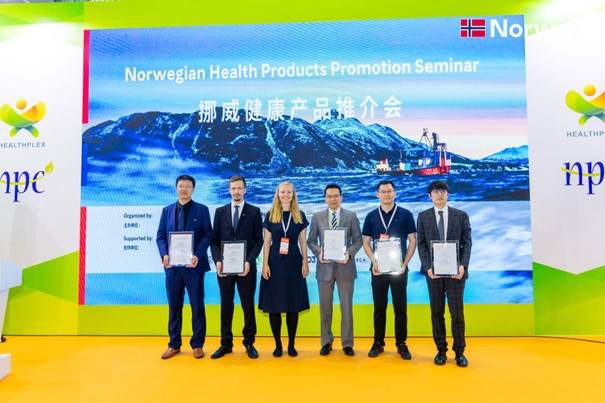 'Origin from Norway - Norway Health Products Promotion Seminar' was organized during the HNC Health & Nutrition Exhibition 2023. Selected Norwegian brands of food and healthcare products were featured in the event, including Aker BioMarine ASA, Aurora, West Norway, Flokk, Hurra, Norsund Gruppen, NYO3 and Romega. Norway is known for its pristine natural environment, with crystal-clear fjords, clean air, and abundant natural resources. This unique setting has made it possible to produce some of the finest and purest health and nutritional products in the world, having the potential to make a positive impact on the health and well-being of Chinese consumers.
More photos can be found here: https://www.instagram.com/p/Ctx4l8qtLz2/
Congratulations to Kongsberg Maritime and Yara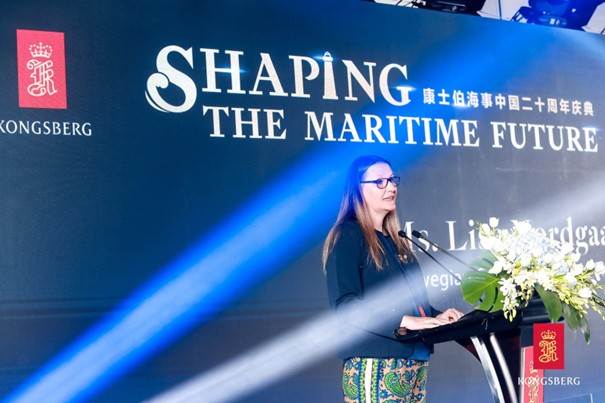 Finally, we would like to congratulate Kongsberg Maritime with their 20th anniversary and Yara with their new fertilizer plant in Anhui!
Stay updated on what we do at the Consulate General by following our social media accounts:
LinkedIn: Royal Norwegian Consulate General in Shanghai
Instagram: norwayinshanghai
Weibo: 挪威驻上海总领事馆